Located in a historic building in the heart of Sicily's fascinating capital midway between the city's port and the Quattro Canti district, Cantunera is a theatre and eatery that serves lunch Tuesday through Saturday, with shows by arrangement for larger groups of visitors.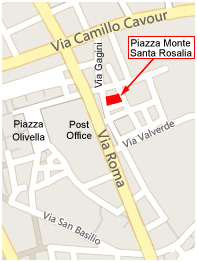 The cuisine is the most traditional, most authentic Sicilian, with nothing improvised or nouvelle. Delights like caponata (aubergine salad), pasta alla norma, Palermitan beef cutlets, and grilled swordfish, accompanied by regional Sicilian wines. A typical meal runs to less than 20 euros.
Cantunera was founded by musician Sara Cappello (shown), one of the last performers of traditional Sicilian folk music sung in the Sicilian language. Ms Cappello has performed in Italy and around Europe.
You'll find Cantunera in Piazza Monte Santa Rosalia, a tiny square off Via Gagini a block away from Via Roma near the main post office. (Find us on Google Maps.)
Come to Cantunera. And experience the truest Sicily.
Email us at CappelloSara@virgilio.it (reservations are suggested).