Hotels, Tours and Much More
Plan your entire trip right on this page!
FAST TRIP-PLANNING LINKS
Top Sicily Destinations • Scenery & Geography • Tours • Sightseeing • Travel Books • Weather • Restaurants • Maps • Museums • Annual Events • Tour Guides • Sicily's Airports • Public Transportation • Internet & Mobile • Excursions • Currency Converter • Sicily's Beaches • Cooking Classes

In association with Booking.Com, the largest online hotel reservation service (part of the Priceline network), we offer reservations at fine hotels in Sicily's major cities. Villas and bed & breakfasts too. Reserve your accommodations by clicking on a linked locality in the following map or list. To reserve now, have your itinerary, travel calendar and credit card ready. It's easy, convenient, secure and reliable. (In fact, the easiest hotel reservation site to use!) Economical too, because these special prices, as well as room availability, are far better than what you'll get by booking directly with the hotels. For additional localities around the world, try a GLOBAL SEARCH. There are at least four good reasons to reserve with Booking.Com – even if you usually reserve through another service.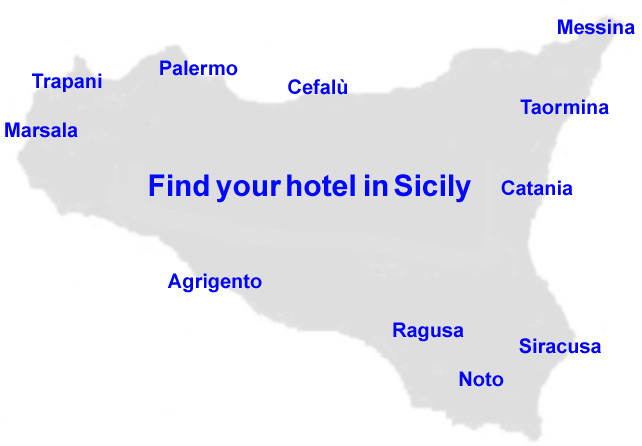 Agrigento • Catania • Cefalù • Marsala • Messina • Noto • Palermo • Ragusa • Siracusa • Taormina • Trapani • ALL of Sicily • Global Search
Why book with Booking?
• Lowest Rates: Whether you're staying in a city, by the coast or in the countryside, Booking.com guarantees you the best available rates, comparable to the "priority rates" offered by the hotels to travel companies who "block" dozens of rooms each night, and certainly better than the infamous "rack rate."
• Payment at Check-in/Check-out: In most cases, you pay when you arrive, not before. Your credit card will be approved, and funds reserved, at the time of your reservation, but you actually pay at the hotel. (This policy varies, and some establishments bill you when you reserve.)
• No Reservation Fees: The Booking.Com reservation service is free. They do not charge any booking fees or add any administration fees – and in many cases, rooms can be cancelled free of charge.
• Secure: The Booking.Com reservation system is secure and your credit card and personal information are encrypted. Booking.com works to high standards to ensure your privacy.
Booking.Com is part of Priceline.Com (Nasdaq: PCLN), the world leader in booking accommodation online. Each day, over 475,000 room nights are reserved on Booking.Com.
• Read this if you've always used another reservation site: We've been there too, and we'll admit that the differences between one service and another are sometimes subtle. Then there's the question of loyalty to a brand you know. We understand. But consider that our map makes it especially easy to find a hotel anywhere in Sicily, while Booking's site presents other kinds of lodging in a very user-friendly format – even changing the currency and language is easy. We also happen to prefer Booking's customer service to what we have experienced on competing sites. Think about it. Whatever service you choose, enjoy your trip to Sicily!
Established in 1996, Booking.Com guarantees the best prices for every type of property, from small, family-run bed & breakfasts to executive apartments and five-star luxury suites. Truly international, Booking.Com is available in more than 40 languages, and offers over 300,000 properties in 183 countries.
For a number of years, Best of Sicily was affiliated with another well-known hotel reservation service. After very careful consideration, we chose Booking.Com, and it's the service our staff uses to make personal hotel reservations – in Italy and around the world. Initially, the main reason for this was that Booking's site was easier to use.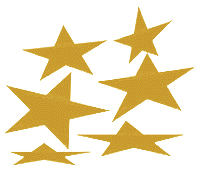 Star Ratings: The star ratings indicated at Booking.Com and on other reservation sites for Italian hotels are those designated for each establishment by the Italian tourism board, with five stars representing the highest general level of quality and services. While we don't spend much time counting stars, they're a good way to compare service and accomodation very generally. The difference between 3-star and 5-star rated hotels may seem fairly obvious, but a difference of one star (for example, between 4-star and 5-star hotels) is usually more subtle. How are the hotels ranked? The system can be a little subjective at times, but benchmarks include: ratio of full-time staff to guests, number of restaurants and fully-staffed bars in the hotel and meals served, whether there's a dedicated concierge desk, size of larger rooms and suites (and whether there are suites), presence of porterage (bellman service), wi-fi coverage, number of staff on duty all night, whether there's "room service" of meals, presence of in-house laundry service, availability of parking facilities, "extra" features (pool, beach, spa), and so forth. Is there a price correlation between stars and euros? Yes, but only in a very general sense, and within a category (4-star hotels, for example) rates may vary considerably. A "superior" 3-star hotel may be generally comparable to a 4-star. And different rating systems (including private ones such as those of the Michelin® publications) may give the same hotel different rankings. We like stars, but we're not obsessed with them.
Top of Page