Magazine Index
Best of Sicily
Arts & Culture
Fashion
Food & Wine
History & Society
About Us
Travel Faqs
Contact
Map of Sicily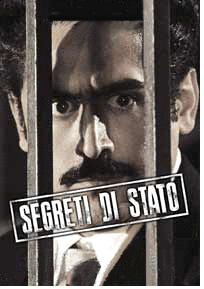 A new film dealing with a key political event in postwar Italy bears all the marks of highly refined historical fiction. Segreti di Stato (released in English as "Secret File") recounts the story of the "Massacre of Ginestra" of May 1947. This was the murder by gunfire of eleven Communists during a political march at rural Portella della Ginestra, outside the Sicilian town of Piana degli Albanesi. Not only were people killed, but nearly thirty were injured. The crime, historically blamed on the band of the charismatic bandit Salvatore Giuliano, was previously depicted in Michael Cimino's film The Sicilian, starring Christopher Lambert and John Turturro, which portrayed the rustic renegade as a Sicilian Robin Hood. The real Giuliano was killed under mysterious circumstances and a number of alleged accomplices arrested, but officially the mass murder was never solved. Mafia complicity has always been claimed, because organised crime opposed the Communist Party while supporting the Christian Democrats, who effectively controlled Italian politics for forty years. Obviously, the case was politically charged and hotly controversial.
Director Paolo Benvenuti has been making movies since the 1960s, though few have found audiences outside Italy. Here he reconstructs events based largely on research in various Italian archives, and documents declassified by the American Office of Strategic Services (precursor of the CIA). His conspiracy theory is that elements as diverse as the Italian and American governments, the Vatican and the Mafia sought to suppress the Communist movement and tacitly supported the massacre. It's an interesting, though not entirely convincing, hypothesis. What is certain is that a number of social forces clearly stood to gain by breaking down the Communist movement at that moment in what was then Italy's most heavily populated region. Giuliano's involvement has always been placed in doubt. He was not a Mafioso, nor was he closely connected to any of the forces Benvenuti cites as culprits. Giuliano's vocal support of the Sicilian independence movement did not readily fit into the designs of any criminal organisation, political party or Catholic oligarchy. On this score, at least, Benvenuti is on solid ground. He's also correct in implying the event's profound, if often overlooked, effect on Italian politics of the 1950s. Conspiracies, however, are difficult to prove, especially when more than half a century has passed since the events took place. Like Oliver Stone's JFK, which Benvenuti mentions as an influence, Segreti di Stato is perhaps better appreciated for its dramatic element. This is not lacking.
Starring Antonio Catania as the lawyer and David Coco as Pisciotta, Giuliano's comrade, Segreti di Stato is a masterful piece of cinematic work, slick and polished yet capturing some of the grittiness of its era. It thoroughly depicts the hypocrisies of an investigation and trial in the fledgling Italian Republic following more than eighty years of corrupt monarchy, two decades of Fascist dictatorship and too many years of wartime compromises. The performances are flawless. Watching this movie, you actually believe that you are witnessing real events.
In this story, the skilled lawyer presents forensic and ballistic evidence that the establishment chooses to ignore. With all due respect for the Italian Republic, this is a feasible plot, emotionally convincing if juridically unproven. It's clear that the initial investigations and trials were sloppy and biased, possibly resulting in conclusions and verdicts decided well in advance of the judicial process.
Segreti di Stato brings to mind several Italian films of its genre, besides The Sicilian (actually an American production). Il Prefetto di Ferro (&quotThe Iron Prefect") dealt with the efforts of Fascist-era judge Cesare Mori in combatting Sicily's rural Mafia. More recently, Muro di Gomma (literally "Wall of Rubber") dealt with the destruction, probably by Libyan, French or NATO fighter craft, of an Italian airliner near Ustica on its way to Palermo, and the subsequent cover-up of the details by the Italian secret service.
Paolo Benvenuti drew some of his inspiration from his friend the late Danilo Dolci, the tough and determined Piedmontese social activist who spent four decades in Sicily grappling with complex issues like organised crime and political corruption. Dolci was fighting these omnipresent evils long before it became politically correct or socially trendy even to mention the word Mafia. He had strong convictions about the massacre. It will take more than a movie to unveil its mystery.
About the Author: Catania native Michele Parisi, who presently resides in Rome, has written for various magazines and newspapers in Italy, France and the United Kingdom. He has written other articles for Best of Sicily.