Magazine Index
Best of Sicily
Arts & Culture
Fashion
Food & Wine
History & Society
About Us
Travel Faqs
Contact
Map of Sicily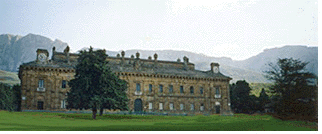 Ficuzza is a park, nature reserve and small hamlet in the mountains south of Palermo in the township district of (but not too near) Corleone. Ferdinando I of the Two Sicilies (the kingdom of Naples and Sicily) reigned from Naples but was forced to reside in Palermo on two occasions - during the Neapolitan republican revolution at the end of the eighteenth century and again a few years later during the French occupation of most of southern Italy. Ferdinando liked to rule, but he seems to have liked hunting even more.
Master architect Giuseppe Venanzio Marvuglia was commissioned to design two royal residences near Palermo, each in the middle of a hunting reserve. The Chinese Palace is a Chinese Revival style home just outside Palermo. At the same time, the hunting lodge of Ficuzza was built in a very simple, Spartan, classical Baroque style typical of English country halls of its period, with provisions for a wine cellar and a secret entrance used by the king to escape with his mistresses. local stone was used in the construction. The British, who maintained thousands of troops in Sicily, certainly influenced this choice, at least culturally, and the retreat became famous for its hunts, attended by British officers. Boars, wolves, hare, rabbit, game birds and wild cats were among the creatures hunted.
The extensive preserve is not generally open to the public except for a few areas, and the palace itself. Yet it is one of the most extensive parks in western Sicily, featuring a bird hospital and sanctuary, and a man-made lake (part of Palermo's water supply) fed by the dimunitive Frattina River and various runoff streams. There are extensive woodlands surrounding the Rock of Bussambra, the highest peak in the Sikanian Mountains, which is a rocky ridge overlooking the reserve. There is also a small village, called Ficuzza, first built to house royal retainers. Today, the park is well-managed, but for many years its trees and other natural assets were in constant danger of theft or destruction, while the palace itself was damaged, having been sacked and vandalized. Apart from local vandals, a German military unit housed here in 1942 left the hall in poor condition.
In recent years an effort has been made to re-introduce fauna that flourished in the park in the nineteenth century, including hare, boar and birds of prey. This has met with with mixed results, but it is clear that preservation is more important now than it was a few years ago. Historically, Ficuzza is an interesting monument, though not yet well-equipped for visitors - a factor which keeps it off most tourist itineraries.
About the Author: Architect Carlo Trabia has written for various magazines and professional journals, as well as this online magazine.