Magazine Index
Best of Sicily
Arts & Culture
Fashion
Food & Wine
History & Society
About Us
Travel Faqs
Contact
Map of Sicily


Purchase fine wines from Sicily directly from the winery for sale in your wine shop or restaurant. Sicilian wines for wholesale export anywhere in the world.


Stay at a working winery near Alcamo in the hills of Sicily's enchanting wine country. Or just drop by for a country lunch. Visit our site for more information.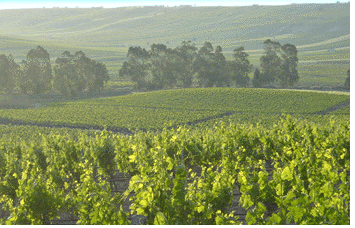 Italy's largest contiguous grape-growing region lies in the far west of Sicily, straddling the low but rugged Gibellina Mountains in what is still sometimes called the "Mazara Valley." It is a vast viticultural area larger than those of Piedmont, Veneto or Tuscany, and the hearty wines produced here under the Sicilian sun are still used to "fortify" the weaker potions created in northern Italy. That, and frequent use in making strong Marsala wine, was their traditional destiny for the last two centuries. More recently, Sicily's wine renaissance has changed both the substance and image of Sicilian wines.
The heart of the region will be found between Salemi and Marsala. More broadly, the viticultural region extends from the suburbs of Marsala south-eastward toward Menfi, framed by the ancient Greek sites of Segesta and Selinunte, including localities such as Alcamo in the northwest, Trapani in the northwest, and Castelvetrano in the south. The larger cities are not without their charm, but it's the smaller towns and hamlets, with the occasional castle or farmhouse, that capture the imagination. And, of course, vineyards as far as the eye can see. The rolling hills planted with vines are themselves the main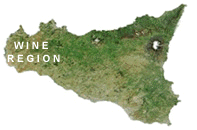 attraction; the mountains are merely a backdrop. It's a good place to breathe the tranquility of the real, rural Sicily of centuries past.
Though the Greeks are usually credited with the introduction of viticulture in Sicily around 600 BC (bringing several grape varieties with them during their extensive colonization), the Phoenicians, too, probably raised grapes in this part of Sicily, especially near flat coastal areas. There is also evidence that the Elymians (or Elimi or Elami), western Sicily's native people, raised indigenous grapes and made a form of wine. There is another large wine region in "Hellenic" eastern Sicily, developed around Mount Etna and extending southward to Catania and Siracusa (Syracuse). Until a few years ago, the wineries of western Sicily were perhaps too closely linked to the Marsala wine industry, but many now cultivate grape varieties (not traditionally associated with Marsala) on younger vines introduced recently. This has changed the face of western Sicily as newer vines have been planted to replace older ones.
The Sicilian wine page presents an overview of Sicily's wines and spirits.
About the Author: Vincenzo Mormino has written about wildlife and nature for Best of Sicily and hard-copy publications.