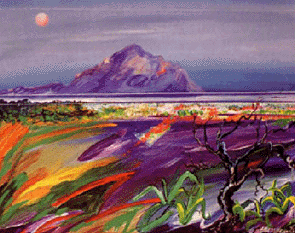 Angelo Denaro is a native of Palermo, where he has lived and worked most of his life except for some time in Spain and France early in his career, which he began in advertising. Born in 1940, Denaro could be said to represent part of the trend of truly free expressive art in a democratic Italy, something that began with the first generation to come of age following the Second World War. For many years he worked as an art teacher, but in fact his painting career has had many facets. Denaro has illustrated books of poetry, painted public murals and staged one-man shows in Italy, Germany and the United States.
His vibrant and colourful work, often executed in what used to be called "mixed media" (such as pastel mixed with oil or acrylic), captures landscapes or cityscapes in a modern, stylish way.
Though Denaro's work is beautiful, it's amazing that this kind of art even exists in an age of computerized graphics and recycled ideas. Forty years ago, acrylic was still considered a new and exciting medium that might replace oil (it never did); today almost everything is digital. Pencils and brushes seem like objects from antiquity.
Some painters are unafraid of color. As master colorists, they manipulate shades and hues to create tangible impressions of the world as they see it. Denaro is one of these increasingly rare birds. Not an illustrator but a true artist.
Angelo Denaro's works, while strictly modern, evoke something of the traditional. The perspectives are modernist, the details painterly. Pure colour is used to express shape and form. Objects and architecture are prominent elements, but so is nature itself. Philosophical themes, though sometimes present, are not usually prominent. Instead, these compositions --mostly paintings on canvas-- draw the viewer's eye to the subject itself, in all its intrinsic complexity.
About the Author: Antonella Gallo, who teaches art in Rome, has written numerous articles on arts and artists for Best of Sicily.