Magazine Index
Best of Sicily
Arts & Culture
Fashion
Food & Wine
History & Society
About Us
Travel Faqs
Contact
Map of Sicily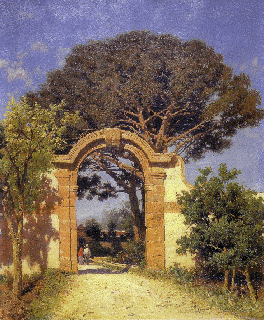 Certain artistic styles are difficult to define. A kind of "romantic realism" flourished in European oil painting during the nineteenth century. Eventually eclipsed by Impressionism, it was a convention rather than a movement, based loosely on Old Master's influences. The painting of Francesco Lo Jacono, who lived until 1915, was part of this general trend.
In his work, people and settings are often idealized, though not to the point of fantasy. When Lo Jacono began painting, photography was still in its infancy, and realist paintings and engravings were often preferred to images produced with this new technology. In those days, the paintings had the advantage of color, which photography had yet to achieve with satisfactory results.
His compositions reflect his classicist background. Lo Jacono's father, Luigi (1810-1880), was also an accomplished artist. Francesco spent much of his professional life between Naples and Palermo, formerly the capitals of the Kingdom of the Two Sicilies. As a younger man, he actively participated in the Risorgimento movement which established the unitary state (the Kingdom of Italy) that supplanted this old realm. Indeed, some of Lo Jacono's earliest and best-known works are battle scenes of the unification war and Garibaldi's troops.
He was born in Palermo in 1838. By the 1850s, Francesco had apprenticed with his father and in the studio of Salvatore Lo Forte. In 1856 he went to Naples to study under Filippo Palizzi. He began to exhibit in 1859. From 1860 until 1862, he served in Garibaldi's forces, reaching Rome --which the Piedmontese failed to take. His father, Luigi, and brother, Salvatore, also served in the Sicilian phase of the campaign. Francesco was taken prisoner in Aspromonte (a forested region of Calabria), where Garibaldi was shot and wounded. Following the war, he exhibited in Florence and elsewhere, particularly in Paris, Rome, Naples and Palermo.
In 1884 he was invested as Knight Commander of the Order of the Crown of Italy. In 1909, the city of Palermo celebrated fifty years of Lo Jacono's artistic career, and architect Ernesto Basile presented him a gold medal of recognition. Following Lo Jacono's death, the "socialist" art that emerged (linked to Fascism and other political trends) combined with Surrealism and other movements to marginalize this style. It was only in the 1950s that a renewed appreciation for traditional nineteenth-century art sparked a new interest for "veristic" painters like Francesco Lo Jacono.
Many of Lo Jacono's clients were aristocrats or wealthy citizens. His work was in demand for its style and imagery, but by the 1880s also for the fame of its artist. The variety of the artist's work is remarkable, ranging from portraits to landscapes to seascapes. In stark contrast to photographs of the same period, his paintings and engravings present a Sicily bathed in innocence. Pastoral scenes evoke a serene simplicity. In a Lo Jacono painting, even rustic poverty seems dignified. Perhaps nostalgia need not reflect reality perfectly.
About the Author: Antonella Gallo, who teaches art in Rome, has written numerous articles on arts and artists for Best of Sicily.