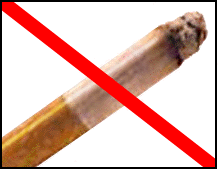 Italy's health minister had proposed it for years, enacting legislation in 2003 which, for the last few months (since January 2005), has made it illegal to smoke in any (and every) hotel, restaurant, bar, pub, school, store, auditorium or public building in Italy. The new law levies a range of fines which double for offending smokers who light up in the presence of children under twelve and nursing mothers, as well as obviously pregnant ones. ranging from 27 to 270 euros, the fines are applicable to managers as well as the smokers themselves, complementing the prohibition on trains and planes. In a nation where most adults are smokers, cigarette sales have fallen off by more than 25 percent in just a few weeks, though cigar and pipe tobacco sales are unaffected. It seems that regular smokers are smoking less.
The so-called "Sirchia Law" (named for the health minister) has had its intended effect. Law number 3, article 51, dated 16 January 2003, was established specifically to protect the health of non-smokers: "Tutela della Salute dei Non Fumatori." Until recently, Italy's smokers were infamous for their rudeness when asked to put out their cigarettes, and few restaurants had non-smoking areas. Almost overnight, ash trays have disappeared.
The root of the problem was both social and cultural. While the Italian government requires warning labels on cigarettes and other tobacco products, national campaigns to discourage smoking are all but absent in Italy. Though Italy taxes cigarettes at high rates, it also controls the "state monopoly." Yes, the Italian government actually sells cigarettes. A conflict of interest? Many Italians think so.
The new law brings Italy into line with European Union standards. It may improve the health of some citizens and even discourage smoking among young people. It will certainly make dining more pleasant for the millions of non-smokers who visit Italy each year. In principle, every hotel room in Italy is now a "non-smoking" room. In Sicily, where outdoor areas of restaurants are open for most of the year, inconvenience to smokers is minimal.
Tobacco is grown in Italy, where much of it is used in the production of "Tuscan" cigars. Cigar sales remain strong, though in Palermo (Sicily's largest city) there are only three premium cigar vendors whose shops are equipped with humidors.
In Italy, smoking transcends political ideology, but the recent laws reflect the present government's efforts to bring Italy into a mainstream European and American social orbit. And that includes Sicily.
About the Author: Palermo native Roberto Paglia has written about social issues and education for several Italian, British and American newspapers. This is his third contribution to Best of Sicily.