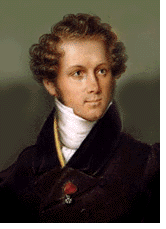 Although Sicily's "Second City," Catania, cannot boast royal tombs nor imperial mausoleums, it does possess the hallowed remains of the island's greatest musical talent: Vincenzo Bellini. His tomb can be visited at the famous Baroque cathedral of Catania, but his music is full of life. The romantic and tragic operatic composer was born in Catania at the end of 1801 and died quite young in France in 1835. Yet in those three short decades he produced operas of such sublime beauty and sentiment that even today, after almost two centuries, he can be ranked alongside longer-lived and highly productive contemporaries such as Gaetano Donizetti and Giuseppe Verdi. Indeed, all three were masters of the Italian operatic school of "bel canto." That is to say, dramatic theatre pieces set to music with sweet and memorable melodies that showcase the vocal powers of great singers! Vincenzo Bellini showed himself to be one of the great craftsmen of this movement.
Probably displaying a natural propensity for music at an early age, he was allowed to travel to Naples, then not merely the capital of the Kingdom of the Two Sicilies but a bustling, vibrant and colorful centre of culture. Bellini studied at the Music Conservatory with some of the greatest contemporary teachers in Europe of this refined art form called "lyric opera," whose showcase was the San Carlo, one of Italy's most important opera houses.
His first incursions into the world of operatic theatre were highly appreciated if a bit archaic stylistically. Yet, he came to the attention of a well-known impresario, Domenico Barbaja. This Neapolitan artistic entrepreneur introduced the young Bellini to the famous opera house of Milan, La Scala. Thanks to Barbaja, Bellini was commissioned to compose Il Pirata in 1827.
This maiden work was a tremendous success and it established for the young composer not only a celebrated style and technique but also a very productive partnership with the librettist Felice Romani, who would collaborate with Bellini on almost all his operas, and with the noted soprano Giuditta Pasta. Together, they created works of art their contemporaries could only marvel at. They were an inspired trio the likes of which could be compared to the later American triumvirate of talent on the Broadway stage of Rodgers and Hammerstein interpreted by Mary Martin.
What ensued was a succession of beautiful operas displaying with each passing year a growing sophistication, and for Bellini an artistic liberation from the dominance of that other contemporary giant, Gioacchino Rossini --a friend of Bellini.
With careful attention to the original libretto by Romani, the young genius weaved in to the opera long meandering vocals always full of melody and sentiment while peppering the music with hints of remembered Sicilian folk songs.
Of his ten operas the more memorable are I Capuleti e i Montecchi in 1830, based on Shakespeare's Romeo and Juliet, La Sonnambula in 1831, the tragic and ancient story of Norma with the magnificent Signora Pasta singing the title role and, finally in 1835, I Puritani. With the performance of this last work, Paris, where Bellini was then living, toasted the maestro.
Like Mozart, Schubert and others, Bellini was struck down on the threshold of his career's peak. He died in September 1835 in a Paris suburb of intestinal disease and a liver ailment. The world, and his home island in particular, will remember Bellini as long as opera is performed, and must always wonder what otherwise might have been.
About the Author: Beniamino Inserra is Best of Sicily's resident opera critic and the author of numerous hard-copy articles.