Magazine Index
Best of Sicily
Arts & Culture
Fashion
Food & Wine
History & Society
About Us
Travel Faqs
Contact
Map of Sicily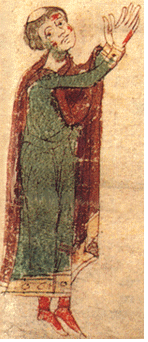 Cynical, biased, eccentric, perhaps a touch nasty, Peter of Eboli is one of the principal chroniclers of the Swabian era, and particularly Frederick II, of which he was a contemporary, and of Sicily's Norman kings, about whom he wrote after their deaths. He was thus a chronicler as well as a compiler of history, more reliable at the former than the latter, and remains somewhat controversial today. Yet to this Benedictine monk (the image shown is a self-portrait from one of his manuscripts) is owed much of our knowledge of Sicily's Golden Age.
Peter was born at Eboli, south of Naples in the foothills of the mountains leading toward Potenza, some time after 1150. He seems to have been of a noble family, possibly Norman, but this is not known for certain. By the late 1190s, Peter was a court poet of Henry VI, King of Sicily and Holy Roman Emperor (perhaps best known in Sicilian history as the father of Frederick II).
It appears that he was also a physician, and lived for a time at Palermo, where in 1196 he composed a volume of verse (Liber ad Honorem Augusti, sive de rebus Siculis) to honour the emperor. Peter of Eboli, who had previously resided at Montecassino, the premier Benedictine monastery, was something of a sycophant, as least so far as the Swabians were concerned. His perspective is sometimes unnecessarily critical of the latter norman kings, namely Willian I, Willian II and particularly the claimant Tancred. Nevertheless, his illuminated manuscript is a precious reference, and reasonably accurate regarding events closer to 1200, as well as court life of the period. Peter of Eboli died around 1221.
Peter's Gesta Federici (Deeds of Frederick) has been lost to time. It surely would have increased our knowledge of Frederick Barbarossa. (Contrary to popular belief, it was not written about Frederick II.) He also authored a book about the thermal baths of Pozzuoli, near Naples. This was a kind of tourists' guide to a natural resource considered curative.
Nowadays it is all too easy to be cynical about Peter's biased points of view. The historian John Julius Norwich, in particular, sought to consider the monk's observations critically but with a balanced eye. In an age before printing, manuscripts such as Brother Peter's serve to provide us with information on events beyond mere legal and bureaucratic records, complemented by works such as those of the court geographer Abdulla al Idrisi. Perhaps we should also remember that even today's sophisticated news organisations are sometimes accused of political, nationalistic or self-interested bias. For his time, Peter of Eboli was as accurate as one could expect.
About the Author: Freelance journalist Daniela Paglia formerly taught history and Italian studies in a high school in Catania.