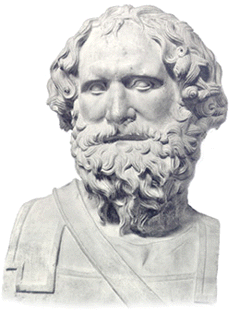 Stesichorus, one of the nine fathers of Greek lyric poetry, was born in Himera around 640 BC (BCE) and lived until 555 BC. We know little of him beyond the few of his works which have been handed down to us. His given name and even his appearance are in doubt; the sculpted image shown here is not Stesichorus, whose actual name was probably Tisias. "Stesichorus" was probably a nickname. Literally it means "one who masters the chorus."
A few poems recounting details of the Trojan War are attributed to Stesichorus, whose Orestia is thought to have influenced that of Aeschylus. According to legend, Stesichorus wrote a few verses critical of Helen of Troy, was blinded in retribution, and had his sight restored upon writing a palinode retracting his earlier, negative statements. In his Phaedrus, Plato retained a few of Stesichorus' lines about Helen having remained in Egypt and therefore never arriving at Troy. This is particularly interesting if the some aspect of the story of the Trojan War was based on a historical conflict.
Similarities in theme have been pointed out between his work and the better-known epics of Homer, who may have inspired him. Some of Stesichorus' lost works were said to have been erotic in nature. It is difficult to compare classical lyric poetry directly to any modern artform, but in a very general sense rap music, with its rhymes, themes and musicality, might be regarded as an updated, very modern form of lyric poetry. Such a comparison may offend purists, but in ancient Greece and Sicily lyric poetry was meant to entertain ordinary people rather than snobs.
The lyric poetry of Stesichorus celebrated gods and heroes, and described their emotions rather than those of people. The adventures of Hercules at Thebes and Troy stand out among these. The most famous episode of Stesichorus set in Sicily is the tale of the foolish shepherd Daphnis. Stesichorus wrote in the Doric dialect and was very popular in his own time, leading some historians to consider him the first "literary celebrity" of Greece. This was not to last, however.
When Stesichorus denounced (through the allegory of the horse who sought to punish the stag for invading its pastures and then become man's slave) the adventurism of the general Phalaris, popular opinion forced him to flee Greece for Katane (Catania), where he died and was buried before the Stesichorean Gate. A street in old Catania commemorates the great poet and wise sage.
About the Author: Ignazio Lo Verde lectures on Greek classics and other subjects.