Magazine Index
Best of Sicily
Arts & Culture
Fashion
Food & Wine
History & Society
About Us
Travel Faqs
Contact
Map of Sicily
Editor's Note
This is part a series dealing with specific aspects of Sicily's travel and tourism industry. Other articles in the series are linked from the Travel Agent Page.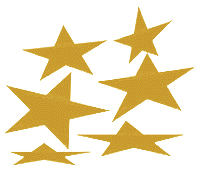 Travel books, websites and critics love to talk about hotel ratings, often expressed in a number of stars. But what does it really mean? What is a "five-star" hotel and how does it differ from one awarded three or four stars? And who decides which hotel is worth five stars, or even six, and what are the criteria applied in the review process? These are good questions, and whether you're looking for lodging for two people or twenty, it helps to know what these ratings really mean.
First, I think I should make it clear that Italy has an "official" system (with five stars identifying the best hotels) which is usually what is referred to when an Italian tour operator identifies the quality of a certain hotel. This system is managed by the national tourism board, a political body administered by political appointees in a country where political corruption is not uncommon. There are also numerous "private" evaluations, with Michelin's being the best known, so there's really no universal system for classifying hotels in Italy. In my experience, there is no "perfect" system and, formal rating systems aside, the reported experiences of six customers with the same hotel may vary so widely that it's hard to believe they even stayed in the same place! I believe that the best we can do is explain some of the factors that come into play with hotel evaluations so that you'll have at least a general impression of how it works in Italy, where tourism is a very big part of the national economy.
In general, it's the specific services which are considered when a hotel is rated. It isn't only the quality of those services, but in many cases whether they exist at all. Not every hotel, for instance, has a full time concierge. Here are a few of the questions that critics or evaluation officials ask: Is there parking available? Is there a restaurant and bar in the hotel and, if so, what are their hours and what is their quality? Is there room service and is it available late into the night? Is there an in-house laundry service available to guests? How large are the rooms, and what kind of amenities are they equipped with --television, air conditioning, internet access? Does the hotel have additional utilities such as a gym or spa? Does it offer the use of a shuttle bus to the airport or to the center of town? What's normally the audible ambient noise level in the rooms? How many suites are there? Are there meeting facilities?
Next we come to the actual rating of the hotel. Here's where the fun begins. Now I know that ratings are supposed to be unbiased but in Italy --and probably many other countries as well-- that isn't always so. I remember how, a few years ago, the owners of a new hotel in a southern Italian city, unhappy with having their establishment rated with four stars, persuaded an evaluation official to grant them an additional star so that theirs would be one of just a few five-star hotels in town. I don't know if any money changed hands, but it was crazy to see their hotel, which lacked most of the services I've mentioned, placed ahead of a far superior hotel nearby. Worse than crazy, because it was misleading to guests expecting, and paying for, something that wasn't offered.
The consensus among professionals in the hospitality industry is that rating systems are useful but only to a certain point. In Italy, few of us would probably want to stay in anything rated with fewer than three stars. There are "superior" three-star hotels which approach the quality of four-star hotels, and a few "superior" four-star hotels whose quality is comparable to that of five-star ones. However, the designation "superior" is not an official one. The one-star designation is no longer in use; who would want to stay at a one-star hotel?
There's also a widespread belief, entertained by foreigners, that Italy's official hotel ratings are inflated, so that a hotel rated four-star in Palermo or Taormina wouldn't get four stars in London or Miami. There seems to be some accuracy in that perception but it's not easy to quantify.
Farm house lodging (agriturismo) is not rated, nor are bed-and-breakfasts, but I must say that in Italy the better-advertised of each is quite good, perhaps because somebody who spends money on advertising is likely to spend it on service too, but that's just my own theory.
I don't think there's a universal conclusion or lesson to be gleaned from all this. No simple wisdom. You just have to be careful and not presume that all hotels, or star rating systems, are created equal.
About the Author: Catherine Marks has worked on the 'American' side of the Sicilian tourism industry since 1997, organizing tours for several travel firms; before that, she managed a medium-size hotel in Turin for 2 years.