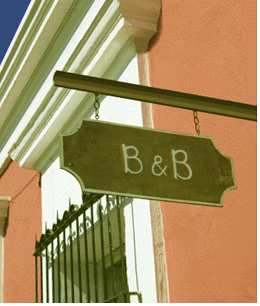 Most travel services are reasonably easy to define. Some aren't. "Bed and breakfast" is one of the latter. Here's how one popular source describes bed and breakfasts:
"Bed and Breakfast (or "B&B") is a phrase, originating in the UK and US but now in general use, describing an establishment that provides overnight accommodation and then breakfast, but usually does not offer other meals. In most cases, bed and breakfasts are private homes with fewer than five bedrooms available for paying guests. Typically, guests are accommodated in private bedrooms with private bathrooms. Often, the owners themselves prepare breakfast and maintain the rooms. A property which hires professional management is not considered a bed and breakfast, but rather an inn, guest house or small hotel."
Accepting this definition made sense to the Italian government agencies which regulate bed and breakfasts in Sicily and other parts of Italy. In fact, a number of bed and breakfasts have sprung up around Sicily, especially in larger cities like Palermo, Catania, Messina and Siracusa, offering visitors a lodging choice that is more inviting, and sometimes less expensive, than a hotel or pensione (the Italian word for a very cheap guest house).
True hospitality begins at home. Italian law makes it clear that to qualify as a bed and breakfast (the English term is used) an establishment must be part of a residential dwelling where the owner actually lives for at least ten months of each calendar year. Here, alas, is where things get tricky.
In 2008 Palermo's tourism regulating agency conducted an extensive "spot check" of dozens of bed and breakfasts throughout that city of almost a million. What did they find? Not the owners but low-paid help who had been instructed to explain (to guests as well as inspectors) that the homes' owners were "away" on holiday or even on extended, month-long vacations.
Hence the first warning about Sicilian bed and breakfasts. Unfortunately, it's not the last.
One of the problems with Sicily's bed and breakfasts is that so many are located in dreary, anonymous, high-rise apartment buildings built during the last seventy years or so. In principle, this need not dissuade you, but these places certainly lack character compared to what your expectations of a cozy family home may be.
That's really the whole idea of bed and breakfasts --charm and the human element. If these are not present then you may as well stay in a small hotel. Here I must frankly admit to a strong preference toward the more historically and architecturally appealing properties operated by owners who truly understand this uniqueness and can convey the feeling to you, their guest. My wife and I have been to Sicily three times and, personally, I find the history and culture endlessly interesting. The last two visits we stayed exclusively at bed and breakfasts.
What is appealing about some of Sicily's bed and breakfasts is that they're located in historically interesting areas where you can see the sights while getting to know the "real" Sicily, or just make your way to a beach. That said, there is a certain "bed-and-breakfast lifestyle" that appeals to some more than others. It's an approach that's compatible with a leisurely pace which permits genuine exploring rather than superficial sightseeing or vacationing. If you're accustomed to four-star hotels with 'round-the-clock service, and reluctant to renounce that kind of accommodation, staying in a bed and breakfast may not be for you. That's not to say that bed and breakfast accommodations are at all spartan --far from it.
When the owners are present (as they should be), bed and breakfasts offer the advantage of allowing you direct contact with "locals" whose knowledge of their city is probably better than what you can presume from hotel employees. Call it "local perspective" that makes you feel as though you've really found a piece of Sicily, almost like your own niche. This contrasts sharply to most hotels. Very few Sicily-based hotels have real concierges, and many hotel staff spend little free time in the areas of the hotels where they work, so they're not always very helpful.
While the relatively low price is a traditional appeal of bed and breakfasts, today there is no firm rule that every bed and breakfast must be cheaper than every hotel. Better bed and breakfasts, such as the ones in historical homes or those offering extra services (things like little kitchens or laundry service) may cost just as much as some hotels. Some bed and breakfasts are actually small but comfortable apartments.
Let's say that you usually get what you pay for. Most of the time, a B&B that charges just 40 euros per night per person won't be nearly as good as one that charges more than double that price. While keeping this generality in mind, remember that the establishment must stand on its own two feet in terms of quality. If the rates are at the higher end of the scale, ask if there's a discount if you'll be staying more than two nights, but work this out in advance (when you reseve), either by email or by phone.
Remember that a "continental" breakfast is the norm in Italian establishments. Usually, this is a crescent roll and a cup of coffee or juice. Also, the better bed and breakfasts work exclusively based on reservations but do not accept credit cards.
In selecting a bed and breakfast, location (near interesting sights or an inviting beach) and convenience (being easy to get to) are both important, but try to get a feeling for the atmosphere and also the owners --even if your research is being done on-line. This is a situation where personality is an important consideration. Quality among bed and breakfasts varies greatly no matter where you are, and in Sicily this seems to be doubly true.
In Italy, bed and breakfasts are essentially a city phenomenon, though some are located in small towns. In Sicily the rural counterpart is the "guest farm," known in Italy as agriturismo.
Best of Sicily has a page listing bed and breakfasts.
About the Author: Robert Savoia is a New York-based travel consultant. He and his wife have stayed at dozens of bed and breakfasts in the United States, Canada and western Europe.