Magazine
Best of Sicily
Arts & Culture
Fashion
Food & Wine
History & Culture
About Us
Travel Faqs
Contact
Map of Sicily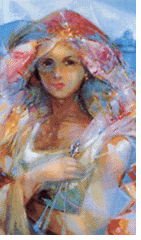 It isn't often that an artist embodies an entire culture, bridging the gap between fine art and popular tradition. The feat is even rarer when the artist is a relatively young painter in the classical vein. Occupying such a unique niche is Sebastiano Caracozzo. He was born at Mistretta, a town in the Nebrodi mountains of northeastern Sicily, and resides in Palermo, where he is one of the artists of Studio d'Arte, a collaborative studio and gallery in central Palermo operated by a group of Sicily's best painters. Caracozzo's work has been shown in a number of individual and group shows throughout Italy, and he has received his share of awards. His style has found favor with the general public, and his work appears in the permanent collections of numerous localities in Sicily and Calabria. Apart from these large canvases, he has been commissioned for a number of murals. "Stylized realism" is as descriptive a term as any for his art. Human figures and scenic backgrounds combine to create intriguing, often complex, contexts. He is a master of color, but Sebastiano Caracozzo's monochrome creations are what attract many people to his work, which is found in many private collections. He is a true artist. Every Caracozzo painting is different from every other. He uses oil directly, sometimes establishing forms roughly in monochrome before finishing them in color. Many of his paintings, though rendered predominantly in oils, incorporate other techniques as well. Nothing reproduced photographically can convey the subtle mastery of shapes, colors, or the essence of images that reach out to touch your very soul.
Sebastiano Caracozzo is represented by Studio d'Arte, Via Giacalone 29, Palermo, Italy.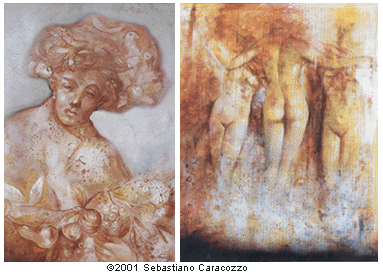 About the Author: Artist Antonella Gallo teaches art in Rome.