Magazine
Best of Sicily
Arts & Culture
Fashion
Food & Wine
History & Culture
About Us
Travel Faqs
Contact
Map of Sicily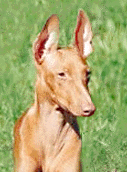 To look at him, he's a rather unusual canine. The Cirneco, Sicily's native hound, looks like a small red Doberman with grossly oversized ears. Known variously as the Sicilian Hound and Sicilian Greyhound, the Cirneco of Sicily is closely related to the Kelb Tal-Fenek ("rabbit hunting dog") of Malta, and like that breed may be descended from the Tesem ("Pharaoh Hound" or "Wolfhound") of ancient Egypt. Part of the greyhound family, the Sicilian Hound has been bred in Sicily since ancient times. The dog is depicted in a mosaic at the ancient Roman villa outside Piazza Armerina, and also in Greek Sicilian coins. His Egyptian origins, though debated, would be quite logical considering the seafaring Phoenicians' colonization of Sicily and other parts of the Mediterranean. The Cirneco is strongly identified with the region of Mount Etna, where it was traditionally used to hunt rabbit and hare on rocky volcanic slopes. A slighthound, it is a "sight dog," meaning that it spots its prey before chasing it, rather than relying on smell, though, in fact, the Cirneco has a keen sense of smell compared to the greyhound. It is believed that the Cirneco once roamed wild in Sicily, and is little changed over many centuries. Its large ears are its most distinctive feature. The breed was only standardized in 1939, largely through the efforts of the eccentric aristocrat Agata Paternò Castello, who bred Sicilian stock with Maltese specimens. Similar, though somewhat larger, dogs were also known in the Balearic and Canary Islands, classified as scenthounds.
With a shorthaired coat ranging in color from tan to deep red, the Sicilian Hound, though only about fifty centimeters high, is quite active and rather fast for a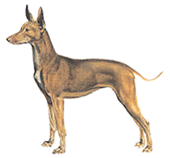 dog its size. He is slightly larger than the Whippet and Italian Greyhound. The name "Cirneco" may derive from the Latin cernere meaning "to seek attentively," or from the Greek Kyrenaikos (and Latin Cirenaicus), for a region in northern Africa. Nobody knows for certain.
The Sicilian Hound does not appear to have been bred with the larger, and somewhat longer-haired, Norman Deer Hound introduced in Sicily during the eleventh century by the Norman knights. However, the Cirneco retains his place as a "primitive hunting dog." It is popular at shows as well as racing events. Few Sicilians still hunt rabbit with these dogs. Nowadays most Sicilian Hounds are kept as pets. Like Sicily's wild cats, the Cirneco's origins are African. The breed is perhaps the oldest in Italy, challenging the Italian Greyhound and Neapolitan Mastiff for that distinction. It seems that any place with a strong identity should have its own special breed of dog, and Sicily has the Cirneco.
About the Author: Vincenzo Mormino is active in wildlife preservation throughout Sicily. He has written about the purple swamp hen and wild cat for previous issues.