Magazine
Best of Sicily
Arts & Culture
Fashion
Food & Wine
History & Culture
About Us
Travel Faqs
Contact
Map of Sicily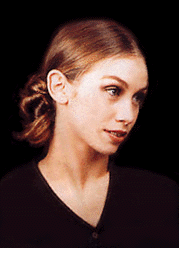 Superlative among the world's best dancers. At twenty three, Sicily's prima ballerina. A star of the Paris Opera Ballet. Pure talent, highly refined. A graceful rose in full bloom. Perfection personified. On the rare occasions that she performs in Sicily, the audience's cognoscenti instinctively know that they are witnessing an uncommon, almost monumental, talent, a flawless jewel forged by a lifetime of dedication. Few will know that the dancer's earliest formation was a product of one of Sicily's best ballet schools, but her performance speaks for itself. In one of the most demanding arts, it is the stuff that fosters enduring fame. A singular performance, based on rigidly prescribed choreography yet highly interpretive movements. If the moment itself seems fleeting, its impression lasts forever. Whether the stage is in Paris, New York, London or Tokyo, the public's reaction to her is the same, the reflexive result of an archetypal appeal. In an ultra-competitive field, she has emerged as something decidedly different. The harshest critics recognise in her that most unconventional creature --a dancer by definition. Creativity in motion, born to express herself as few others ever could. There's a sensation that if, at this moment, you were asked to preserve for posterity a single ballerina, a unique exemplar of an endangered species, it would be this woman. She is Eleonora Abbagnato.
Her youth makes any observations about her life seem superfluous, perhaps intrusive. Like most young dancers who reach this level of competence, she started early, in the Palermo school of Marisa Benassai. A ballerina's education begins but never truly ends as long as she is still performing. Typically, the formative years, often at

the age of eight or ten, are the most difficult. During that impressionable phase, asked to execute a complicated movement, Eleanora once responded, "I'll do it when I know that I can do it well." Hard-headed, but for a good dancer, perfectionism is second nature. Considering the process, exceptional talent usually reveals itself by the time a girl is thirteen. Always exceptional, Eleonora was fortunate enough to have an equally exceptional instructor, who encouraged the Abbagnatos to enroll their fourteen year-old daughter as a student of the quasi-legendary Parisian Claude Golovine-Bessy. This meant a new home, a new country and a new language, but Eleanora accepted the challenge.
In Europe, many of the better ballet companies have their own schools, and the Paris Opera School under Madame Bessy's direction is considered one of the best in the world, supplying dancers to the Paris Opera Ballet, founded by Louis XIV as the Royal Academy of Dance. One of the few criticisms levelled at the school is that some of its dancers, destined to be principals, are simply too good to dance background parts. No ballet school in Italy has a programme that can compare to Bessy's, nor are there ballet companies in the Italian South to offer opportunities to a gifted ballerina of Eleonora's calibre. Though they boast good orchestras, the large, publicly funded opera houses of Palermo and Catania are without resident ballet companies, a circumstance which, complete with local politics, clientelism, union squabbles and other backstage intrigues, is unlikely to change anytime soon. (Swan Lake only comes to Palermo's Teatro Massimo with visiting companies.)
The emergence of a prima ballerina is not an everyday event, but a question of an audition before a panel of judges, followed by a debut on stage. Abbagnato owes that timely transformation to the jury of the Paris Opera Ballet, where she was already a dancer for several years, but her evolution was hers alone. Asked her impressions about being selected, she responded, with typical Abbagnatesque modesty, "The Paris Opera is a place where competition is stiff and the responsibilities of defined roles reign supreme. For me, it was kind of bittersweet that the day after my selection people treated me differently."
Clearly, this prima ballerina is no prima donna. Whether it's in La Bayadére, with Nureyev's hallmark choreography, or in Roland Petit's Clavigo, it is impossible to overlook the selfless skill Abbagnato brings to her art. A distinctive signature for a distinguished dancer.
About the Author: André Mantegna writes about entertainment and fashion related topics for several magazines published in Italy and the United Kingdom. This article was written exclusively for publication by Best of Sicily.