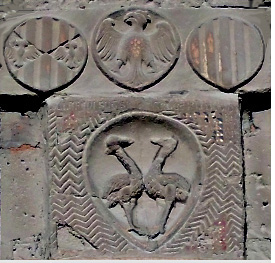 The Sclafani family has been extinct since the end of the fourteenth century, but their legacy survives in their palatial home and the church, Saint Augustine (Sant'Agostino) they sponsored in central Palermo. Both structures bear their distinctive coat of arms, two cranes. A somewhat similar design was shared by the Grua family, symbolizing a surname that means "crane."
The Sclafani family is thought to have been of Norman or Lombard origin. They were already in Sicily long before the War of the Vespers in 1282.
Palazzo Sclafani, whose medieval portal is shown - with the Sicilian coats of arms of the Aragonese and Swabian dynasties - was built by Matthew (Matteo) Sclafani in 1330. Matthew of Sclafani was count of Adernò from 1303 and baron of Sclafani, Cimina, , Chiusa, Centorbi, Santa Margherita, Melinventre, Cavalera and other fiefs.
Beginning in 1333 he was one of the high judges of Palermo. Powerful as he was, there is more to his story than these rather mundane details, for through his wife, a Chiaramonte, Matthew was related to one of the most powerful, infamous families of Sicily. Indeed, Palazzo Sclafani was meant to compete against the Chiaramontes' Steri in grandeur. There was, in effect, a competition to see who could spend more money on a palatial home in town.
The two buildings are nothing alike. The Steri is actually a fortified castle, while Palazzo Sclafani, with its large arched windows, was more of a palace in the new style then emerging in much of Europe. Some of its rich details foreshadow gothic residential architecture. Designed by Bonaiuto Pisano, Palazzo Sclafani is located on Piazza Vittoria next to the police headquarters, and since 1832 has housed army offices. From 1435 until 1832 it was a public hospital.
Saint Augustine Church, located a few steps from the Teatro Massimo, is similar in its "Romanesque Gothic" style to the Church of Saint Francis of Assisi. Like Palazzo Sclafani, it has been greatly modified over the centuries.
The Sclafani family did have one advantage over their Chiaramonte cousins, namely survival for another decade or two. So ended the subtle rivalry between two of western Sicily's most powerful clans. Survival of the fittest, as it were.
About the Author: Palermo native Vincenzo Salerno has written biographies of several famous Sicilians, including Frederick II and Giuseppe di Lampedusa. This article is the third in our Historic Families series.