Magazine
Best of Sicily
Arts & Culture
Fashion
Food & Wine
History & Culture
About Us
Travel Faqs
Contact
Map of Sicily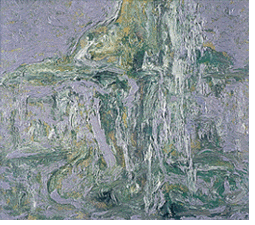 The abstract oil painting of Pietro Zuccaro owes much to the legacy of Pollock and, for its technique, Monet. It's an unorthodox combination of styles. Averaging a metre or more in length or width, these rather large paintings are typified by a thoroughly modern use of oil --large globs and strokes of paint on raw, unprimed canvas. If little that is created today could be said to be truly innovative, Zuccaro's work brings a different interpretation to the style often referred to as abstract expressionism. His work is distinguished for two overwhelmingly obvious features, namely vivid colours and a certain sense of form. The latter is really a question of texture more than shape. One seems to be a consequence of the other. The viewer is left with the impression, rather than the precise perception, of subjects blurred almost beyond recognition, worked by an interpretive artist, and then brought back into sharp definition, their forms forever altered.
Born in Catania in 1967, Pietro Zuccaro has been influenced somewhat by Sarnari, Guccione and several other artists little known outside Italy. His work has had little exposure beyond Italian shores.
Instinctively, one ponders the natural setting for a particular work of art, and for most of Zuccaro's work that setting seems to be open space uncluttered by competing textures and possibly conflicting messages. Fontana 2001 (Fountain 2001), shown here, is actually a smaller work, at 41 x 45 centimetres, and one of the more representational. It seems typical of this form of art that one scarcely preceives the subject until the title of the painting is revealed, so remote is the individual vision from each viewer's reality. But for anything one can witness or imagine --a landscape, a still life, a living creature-- there are infinite impressions. If painting were poetry, this would be a new, minimalist, form of haiku, simple yet highly developed and, from a distance, often monochromatic.
The artist is represented by Galleria La Murzia in Palermo, and by Galleria Andrea Cefaly in Catania.
About the Author: Artist Antonella Gallo teaches art in Rome.