Magazine Index
Best of Sicily
Arts & Culture
Fashion
Food & Wine
History & Society
About Us
Travel Faqs
Contact
Map of Sicily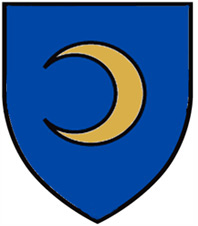 Their home, inherited by their heirs (the Trigona family), was one of Palermo's most imposing mansions, and the history of the Celestre (sometimes Celeste) family is typical of those of many of Sicily's aristocrats.
The family is thought to be of French origin, though this is only a theory. The name comes from the Latin, Italian and French words for "celestial" and the elegantly simple coat of arms, a golden crescent "moon" on a blue field, is canted for the surname. As a common noun, celeste also refers to a lighter "sky blue."
One Peter (Pietro) Celestre obtained the fief of Santa Croce, near Ragusa and Modica, in 1450, and this became a barony two decades later, but only in 1598 did his descendants obtain permission to "colonise" the barony by erecting a town (thus increasing their tax base). He was castellan of Noto nearby. Giovan Battista, who may have been a descendant, worked in royal administration from 1594 in the Noto district. In 1602 his feudal holdings were elevated to a marquisate; he thus became "marchese di Santa Croce," now the town of Santa Croce Camerina.
A few years earlier, Giovan Battista's son, Pietro, had wed Francesca Cifuentes Imbarbara, the daughter (and heiress) to the barony of Alia, in the province of Palermo. Under Sicilian Succession - a feudal practice which would be abolished by the House of Savoy following Italian unification - it was possible for the daughter of a titled nobleman to inherit his title and lands in her own right if there were no nephews or other close male kin (to 2nd degree cousins) to succeed. Moreover, an untitled man who married a titled woman could use her title by courtesy, so Pietro was known as "barone di Alia." He held several bureaucratic positions in the government and resided, for the most part, in Palermo.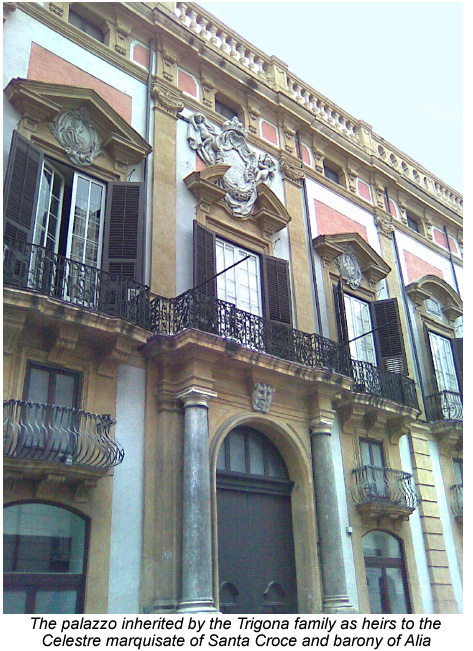 Since antiquity a settlement had existed on the site, but permission to "colonise" Alia was obtained only in 1617 when Francesca was baroness. She and her son, Giovanni Battista, are buried in the parish church.
The Celestre family undertook a serious reconstruction of Santa Croce following the earthquake of 1693. A century later there were some two thousand residents in the town.
Pietro's descendant, Tommaso Celestre, marquis of Santa Croce and baron of Alia, was a high court judge in Palermo from 1780 to 1782, but it was another Celestre, one of the many Giovambattistas, who undertook construction of the large palazzo in Via Maqueda beginning in 1756. The wealth derived from taxing residents of Santa Croce and especially Alia made this possible.
The chief architect was Nicolò Anito, and the style, though not pure Sicilian Baroque, reflected the styles popular in Spain and Italy at the time. It is particularly similar to certain residences constructed in Naples, inspired by the Royal Palace of Caserta begun a few years earlier (in 1752) for King Charles de Bourbon of Naples and Sicily (the Two Sicilies). For a time it was considered the most sumptuous palazzo in Palermo, but its grandeur was soon eclipsed by Palazzo Gangi and Palazzo Butera, both extensively modified during this period. Whether the Celestre could truly afford to build such a palace is an open question, for they lacked the vast wealth of these other families, but as recently as 1848 they had enough income from Santa Croce to be Peers of the Realm entitled to a hereditary seat in parliament.
In 1857, Romualdo Trigona became the universal heir of the last Celestre, an ageing cousin named Marianna, only surviving child of Giovambattista Celestre. Following her death in 1866 he inherited the Celestre titles (marchese di Santa Croce and barone di Alia) but - more importantly - the grand palace, where he lived, and what was left of a few Celestre holdings around Sicily. At that time, the inheritance of real property followed the same lines as that of incorporeal property (nobiliary titles and coats of arms). Feudalism itself was abolished in 1812, but into the early years of the twentieth century the succession to a nobiliary title of feudal origin invariably entailed inheritance of palaces, villas and any landed estates associated with the title; as recently as 1949, when the land reforms forced the partition of large (formerly feudal) estates, noble families such as the Trigona were still quite wealthy.
The Trigona would stand out in any list of Sicilian noble families. Sant'Elia, which accorded them the title of prince, was a relatively small holding near Santa Flavia east of Palermo, but their estates in south-eastern Sicily were extensive. They were even influential in demesnial (royal) towns like Piazza Armerina. A certain Herman Trigona was appointed castellan of Mistretta by Frederick II in 1239. Later, James (Giacomo) Trigona wed Margaret of Aragon, daughter of James of Aragon, himself a natural son of Peter II (1304-1342), the monarch who died in Calascibetta near Enna.
In 1870 the palatial home in Via Maqueda was rechristened Palazzo Trigona Celestre, and nowadays it is sometimes called simply "Palazzo Sant'Elia." The Trigonas, who had dozens of properties and titles, were - and are - most often identified by the most important ones, but the Celestre (or "Celeste") crescent is prominent in the sculpted coats of arms above the two principal portals of the palace. In 1984, the Palermo provincial government acquired the building from the various owners that had purchased it, one section at a time, from the Trigonas over the years since 1921, and completed a restoration in 2004. Today the palace is used for exhibits and events and houses a few public offices.
In many ways, the Celestre are emblematic of aristocratic families whose affluence and influence declined in the years after 1860, though in this case their heraldic heritage is borne by another family (for the Trigona are still among us). Villa Trigona, one of the family homes in Bauccio outside Piazza Armerina, is located on a road which appropriately shares the name "Santa Croce" of the Celestre marquisate inherited in 1866. Today, in an Italy where titles of nobility are not recognised in law, a noble family's possession of an important ancestral residence may be the only outward sign of aristocracy past or present. Were it still a family property, Palazzo Sant'Elia would certainly be in this category.
As a footnote, it was a later Romualdo Trigona (1870-1929) who suffered in 1911 when his wife, Giulia, the 34 year-old mother of his two daughters and a lady-in-waiting to the Queen of Italy, was murdered in Rome by her lover, the military officer baron Vincenzo Paternò del Cugno. Giulia, née Mastrogiovanni Tasca di Cutò, was related to a number of aristocrats, including Giuseppe Tomasi di Lampedusa, author of The Leopard. This Romualdo Trigona, who returned to Sicily with his two young daughters, was elected mayor of Palermo in 1913.
About the Author: Palermo native Vincenzo Salerno has written biographies of several famous Sicilians, including Frederick II and Giuseppe di Lampedusa.