Magazine Index
Best of Sicily
Arts & Culture
Fashion
Food & Wine
History & Society
About Us
Travel Faqs
Contact
Map of Sicily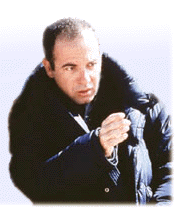 His films touch the soul of Sicily, transcending the ordinary, the conventional, the stereotypical. Giuseppe Tornatore was born and raised in Bagheria (outside Palermo). He started working very young as a photographer, publishing in various photographic magazines. At the age of sixteen he staged two plays by Pirandello and De Filippo. For the cinema he has made various documentaries, including Il Carretto, highly acclaimed at several regional and national film festivals in Italy.
In 1979 be began a long collaboration with RAI (Italy's national television network), for which he directed several programs. From 1978 to 1985, he was chairman of the CLCT Cooperative, which produced Giuseppe Ferrara's film 100 Days in Palermo, with Lino Ventura. Tornatore also co-wrote the screenplay and directed the second unit. In 1986 he made his debut in feature films with Il Cammorrista ("The Gangster"), starring Ben Gazzara. Freely adapted from the book by Giuseppe Marrazzo, this singular motion picture won Tornatore a Golden Globe for best new director.
Rural life is a hallmark of Tornatore's "Sicilian" movies. Nuovo Cinema Paradiso, which took place in small-town Sicily, was the film that put Tornatore on the map with international audiences. It won the Oscar for best foreign film in 1990. The Star Maker, set in post-war Sicily, was released in 1995, followed by Malèna in 2000. The social statements of Malèna, an emotional story which takes place in a fictional Sicilian town during the war, are powerfully thought-provoking.
Americans as well as Italians have found Sicily fertile cinematic territory. The eccentric Milanese director Roberta Torre comes to mind. It's difficult to overlook the fact that Tornatore's movies, compared to Francis Ford Coppola's Mafia tales (The Godfather) and Michael Cimino's stories (The Sicilian), depict the real Sicily and real Sicilians. Luchino Visconti's The Leopard, starring Burt Lancaster (based on the di Lampedusa novel), was directed exceptionally well. But Tornatore, a younger director, is not afraid to confront, in a serious way, difficult historical and social issues that most Sicilians themselves rarely discuss --including Fascism and the Second World War-- through the eyes of individual characters and situations. With time, he is earning respect as that rarest of cinematic talents --a "Director's Director."
He rarely gives interviews, preferring to let his work speak for itself. Artistically, that's a solid position. Giuseppe Tornatore's work speaks well of its creator.
Tornatore has never been timid about casting inexperienced actors or even non-professional ones. Here's what he had to say about the subject when The Star Maker (filmed in places like old Poggioreale) opened to rave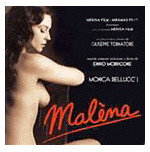 reviews:
"Deciding to cast a non-professional, or worse still, someone who you don't even know if and where you'll find him or her, is like asking the first person you come across to hold onto your savings. You never know if you'll ever get your money back. The search for non-professional actors has no rule. It can be a question of feeling, or simply luck. It can be fun or excruciating. During the shooting of The Star Maker, one morning we were stuck because an actress hadn't turned up on the set. We thought something had happened to her and that she was delayed but would eventually arrive. We didn't have an alternative shooting schedule. We were in a tiny town in the middle of nowhere and it was impossible to find another actress that could take her place. The missing actress finally called. In tears, she told us that she had unexpectedly been called by the Education Ministry for a teaching job --I don't know where-- and if she missed the interview, she would lose the opportunity of a permanent position. She was terribly sorry but, between taking part in a Tornatore film and a 'stable job' she had no doubt which one to choose!"
About the Author: Michele Parisi, who presently resides in Rome, has written for various magazines and newspapers in Italy, France and the United Kingdom.