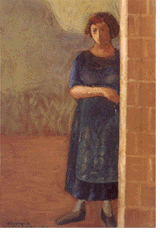 Born in Corleone in 1897, Pippo Rizzo was an artist whose style was strongly influenced by Cubism, the Bauhaus, Art Deco and other movements which marked the early decades of the twentieth century. Viewed from such a perspective, Rizzo was part of a trend, rather than a trailblazer. But his oil paintings, graphics and design work (fashion and furniture) combined such mainstream styles with Sicilian folk art to produce something truly unique, transcending the Socialist art that typified the Fascist era. Donna sulla Soglia (Lady on the Threshold), shown here, is actually one of his more conventional paintings, one of many from the 1930s that characterise a particular style and technique. The artist was quite versatile in his use of media. He often ventured from the primitive to the stylised to the abstract. In many of his works one finds an echo of Picasso or Matisse.
Compared to the art of many of his Italian contemporaries, Rizzo's was rarely overtly political or politicised. His statements were altogether more universal.
With his wife, Maria, Rizzo founded a futurist art gallery in Palermo in 1925. His visionary side, though never as developed as that of a surrealist painter or science fiction illustrator, was remarkable for 1930s Italy. However, it did not challenge the aesthetic ideas of Fascism in the way that Vitaliano Brancati's writings sometimes did. In stark contrast to masters such as Picasso, Rizzo was not a philosophical revolutionary.
As a young man, Pippo Rizzo studied in Rome and exhibited in Berlin and Buenos Aires. Over the years, he designed posters for the Venice carnivals. He taught art in Rome and, from 1936 to 1960, in Palermo. He then returned to Rome as dean of an art institute until retiring in 1962. He died in Palermo two years later.
Rizzo's work is best viewed in the context of the times in which he lived. Though distinctive in some ways, his paintings were not always easy to sell in an age of Abstract Expressionism. As a visionary, he was an exceptional teacher. He enjoys a special niche as a "Palermitan Picasso."
About the Author: Artist Antonella Gallo teaches art in Rome.