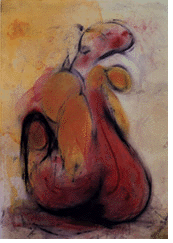 Her best work is almost surreal, and if there's an artist whose work characterizes the current "Palermo Style," Giuseppe D'Agostino's is a good example. Painting on canvas or paper, she creates forms from impressions that reveal themselves from the colour and medium she works with. She actually works with a wide range of subjects, from still life to abstract. "Womb of Necessity," shown here, is a thought-provoking but universally acceptable work. Other themes, relating to war and other social realities, force the viewer into real, though occasionally uncomfortable, emotions.
Born in Palermo in 1958, D'Agostina lives for her art. In addition to teaching, she has exhibited extensively, and her work has found a home in collections throughout Italy but also in the Netherlands, Germany and England.
Her appealing use of color often conceals the fact that many of her subjects are developed using distinctive forms and shapes. The subject matter is such than almost everybody enjoys D'Agostino's work, even when they don't feel very strongly about it. Her works are painterly, showing a talent and vision rarely captured by illustrators or bland realists.
And what of the Palermo Style (or perhaps even the "Palermo School") embodied in the work of Giuseppa D'Agostino and some other local artists. It's difficult to say, but D'Agostino has established herself as one of the cornerstones of this informal Sicilian movement.
About the Author: Artist Antonella Gallo teaches art in Rome.