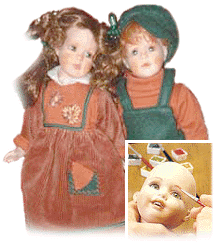 As any young girl will tell you, every one of her dolls has its own personality. Looking at the porcelain dolls created by Arianna, Sicily's foremost maker of collectable dolls, it's difficult to argue with this logic. Each of these creations is unique, and the character and gaze of each seems different from that of every other. The Italian pronouns "lei" (she) and "lui" (he) seem overwhelmingly appropriate here. Looking at one of these dolls, a word like "it " just isn't sufficient.
It's a painstaking process. A flaw at any stage is enough to send a head, hand or foot to the scrap heap, a kind of dolls' limbo for the unchosen. For over thirty years, the creative force of Arianna has been Francesca Guanta, a master of her craft. She oversees a lengthy procedure whose every step is important.
It all begins with casting of the ivory-white porcelain forms. The more common terra cotta ceramic art, resulting in vases, plates and other glazed objects, is better known in Sicily. Mixing and baking porcelain is a refined art, but compared to terra cotta and other ceramics porcelain allows for finer, more delicate forms, with no need for glazing. Porcelain is typically a solid, white, stone-like substance, dense and crystalline. The Arianna firm produces a porcelain not unlike that of Capodimonte, near Naples.
Details like glass eyes are incorporated into the dolls' faces. Then the painting begins --by hand. Brows, lashes, lips. The process is not unlike the craft of a makeup artist. Creating the dolls' clothing is much like a tailor's craft. Or perhaps that of a very creative fashion designer. We're in Italy, after all.
From a distance their faces look similar. It's up close that they assume their own distinctive character. Here in Sicily (Arianna is based in Taormina), doll making could almost be described as a cottage industry. Like lace making, it's a dying art.
That wasn't always the case. In Sicily, there used to be a tradition of custom making dolls to resemble, at least in a general sense, the Sicilian girls who possessed them. That was before the age of plastics and mass production. Nowadays, few parents would encourage their daughter to play with a porcelain doll for fear that a precious work of art could be damaged. Today, dolls like Arianna's become heirlooms. In that way, they live forever.
About the Author: Artist Antonella Gallo teaches art in Rome.