Magazine Index
Best of Sicily
Arts & Culture
Fashion
Food & Wine
History & Society
About Us
Travel Faqs
Contact
Map of Sicily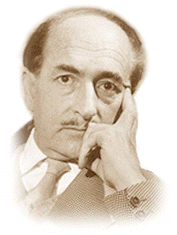 Salvatore Quasimodo, one of Sicily's better known poets, was also a critic, editor and sometime translator. He was born in Modica, near Ragusa in southeastern Sicily, in 1901, the son of a railway stationmaster --an important position in the days before widespread use of automobiles. Salvatore initially studied engineering but after leaving school worked at several jobs in civil engineering. He had always loved to write, and his brother-in-law, the novelist Elio Vittorini, encouraged him to pursue writing professionally. His early published work was featured in magazines. His first collection of poems, Waters and Lands, was published in 1930. It includes work written over a number of years, much of which reflected the moods prevalent in Sicily during that time. In 1938, Quasimodo became a magazine editor and, in 1941, a professor of literature in Milan. And Suddenly It's Evening, published in 1942, remains his most widely read book, but Day After Day (1947) presents touching impressions of post-war Italy, while Life Is Not a Dream, published two years later, offers interesting insights into Italian life.
He rarely resided in Sicily after the 1920s. Quasimodo's work may be divided, stylistically and thematically, into the nostalgic pre-war period and the somewhat existentialist post-war period.
His early nostalgic work eventually gave way to the metaphysical. He was one of the founders of "Hermeticism," an Italian style with roots in the French symbolist school. Salvatore Quasimodo received the Nobel Prize for Literature in 1959. It is little known that he also translated Greek and Latin epic poetry into Italian.
Quasimodo's personal life was interesting, and in a sense probably was reflected in his inspiring poetry. He was briefly imprisoned for opposing Fascism. Like many anti-Fascists, he joined the Communist party after the war, but resigned when the party prevailed upon him to write political poetry. His first wife died in 1948, and Quasimodo married a famous Italian dancer. His daughter was born outside marriage in 1935. His last work, To Give and to Receive, was published in 1966. Quasimodo died in Naples in June of 1968, but his distinctly Sicilian literary spirit lives on.
About the Author: Palermo native Vincenzo Salerno has written biographies of several famous Sicilians, including Frederick II and Giuseppe di Lampedusa.