Scenic Transfers in Sicily
Interesting, personalized point-to-point transportation between cities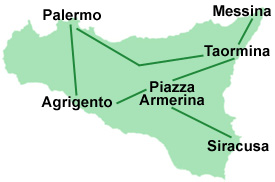 Sometimes you want personalized transportation from point to point without organizing an actual tour — perhaps stopping along the way to see a few interesting sights. Getting from (for example) Taormina to Palermo takes only a few hours, and a number of places of interest (such as Piazza Armerina) are located en route. Alternately, you could travel between Palermo and Taormina via the Nebrodi Mountains. (See our map of Sicily for ideas.)
The whole idea of a scenic transfer, instead of taking the fastest possible route to your destination, is that it allows you to see more of the real Sicily up close. It's much more than simple "point-to-point" transportation. Of course, we offer faster transfers too.
Personalized travel has never been easier!
Prices start at 380 euros for two (2) passengers one-way between Palermo-Taormina and Palermo-Syracuse.
We also plan completely personalized itineraries of Sicily, with a driver or fully independently (drive-yourself).
CONTACT US at tours@bestofsicily.com indicating "scenic transfer" in the subject line, or by phone at +39 091 626 9685, or fax +39 091 380 9900. From the United States or Canada you may also contact us at 312-239-0420. (Please remember that there's a six-hour time difference between Central European Time here in Italy and American Eastern Time in Toronto and New York.)
ABOUT US: Best of Sicily promotes corporate incentive holidays and conferences (and other travel services) organized by Chat & Tour (under the trade name 'Tradizione Turismo'), a Sicily-based travel services company affiliated with the IATA (International Air Transport Association) and ASTA (American Society of Travel Agents). Best of Sicily itself is more than a destination guide; it's a general interest publication about Sicily and Sicilian-oriented topics, with over two million readers each year.
IMPORTANT: A num­ber of in­depen­dent "guides" in Si­cily offer ex­cur­sions (driv­ing you from place to place). Un­fortunate­ly, most of those found on the inter­net are not li­censed as tour guides, tour oper­ators or taxi driv­ers. This means that they probab­ly lack ac­cident in­surance that covers a client who (for ex­ample) in­curs an in­jury while walk­ing from the guide's parked car to an archeo­logi­cal site, such as the temples at Agri­gento and Se­gesta. Worse yet, some of these "guides" may de­ceive you into believ­ing that they are li­censed when they are not. In Italian law, on­ly a proper­ly li­censed com­pany qual­i­fies for the in­sur­ance de­scribed. In Italy the tour­ism/trav­el in­dustry is high­ly reg­u­lat­ed for your pro­tec­tion.

Print this page
©2017 Best of Sicily, Palermo, Italy. Unauthorized use is illegal.
This page is a paid advertisement.