---
Sicily | Sights | Cities | Tours | Contact
---
Lectures by Real Historians

Our Peoples of Sicily highlights and grand tours include lectures based on books about Sicily, but we can add this feature to almost any tour. This offers you the benefit of an interesting experience normally included in tours sold by universities and historical organizations. Indeed, Louis Mendola and Jacqueline Alio, the authors of many books about Sicily, have lectured groups organized by universities as well as organizations like YPO — for which they are "resources" (lecturers).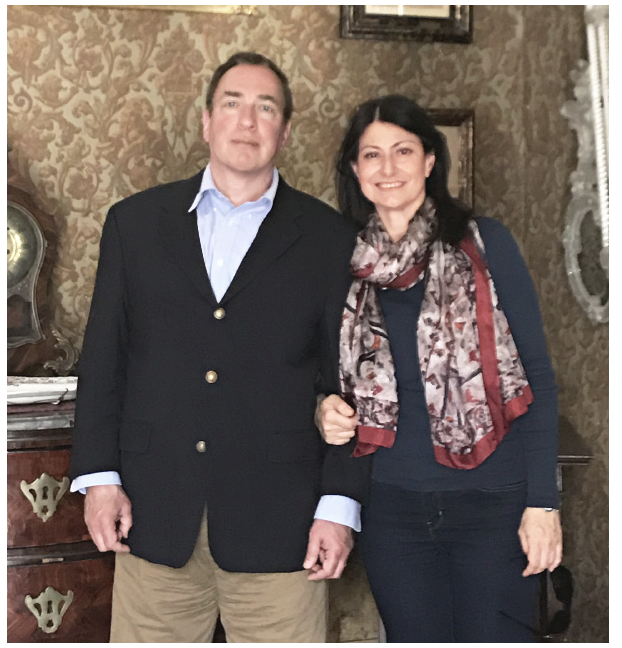 Some tour guides are exceptional, and in Italy those licensed professionals are required to have earned university degrees, but not many offer a truly "professorial" level of lecture quality. Sicily's universities boast some fine professors of history, art and archeology, but very few speak even "passable" English. There's really no substitute for a lecturer who speaks English with native proficiency. We work with two of Sicily's best Anglophone historians, the authors of numerous books, including several written with each other as one of the few authorial couples of works in English dealing with southern Italy. Their books are known to many thousands of readers, constituting a global "tribe" of dedicated followers. They wrote the first English-language guide to the field of Sicilian Studies.
Lou Mendola began writing significant academic articles about the Middle Ages in southern Italy, as early as the mid-1980s. Most of his books are landmark works, such as the first history of the Kingdom of the Two Sicilies written in English, and the first guide to Sicilian genealogical research. He has also translated chronicles of the thirteenth century into English from Latin and Sicilian. He has been interviewed by the BBC and consulted by the Vatican, the Order of Malta (the world's oldest order of chivalry) and royal families — he even worked on a project for the King of England. (Lou Mendola interviewed on the Italian American Podcast)
Jackie Alio is a leading expert on the women of medieval Sicily. She wrote the first biography (in any language) of Queen Margaret of Sicily, who rests at Monreale, and a compendium of biographies of Sicily's queens of the Norman-Swabian era (until 1266), along with the first academic monograph on Sicilian queenship. She effected the first English translations, from Sicilian, of the entire "Frederican Canon" of poems composed by Frederick II. Her translation of the Contrasto of Cielo of Alcamo, the lengthiest poem of the thirteenth-century Sicilian School, is one of the finest. She has been interviewed by The History Channel, Discovery and other media. (Jacqueline Alio interviewed about Queen Margaret on the Italian American Podcast)
In the scholarly sphere, Lou and Jackie have actually "defined" several of the primary references consulted in their field in certain ways. For example, their translations of chronicles — notably those of "Jamsilla" and "Ferraris" — necessitated dividing what were essentially lengthy, unbroken blocks of Latin text into chapters which are now cited when referencing these works. Even one of the codices of the Assizes of Ariano, a legal code enacted in 1140, lacked clear division into sections until it was published in the biography of Queen Margaret in 2016. Scholars now use these systems in citations, much as readers refer to verses in scriptures such as the Bible and Koran.
A common phenomenon in lectures about Sicily — or any part of Italy — by those from outside the place is that they are sometimes colored by a "foreigner's" point of view rather than the perspective of somebody having roots in Sicily and actually living here. Jackie and Lou bring you an objective yet sympathetic vision of Sicily's trimillennial history and very distinctive culture.
Speaking candidly, while a number of historical scholars in Sicily have done good work, there's no substitute for real knowledge presented in real English. Here you're getting more than an improvised talk from somebody who wrote a superficial thesis at university. Rather, these are historians who are actually shaping the field. Besides Lou and Jackie, we have several specialists, such as an archeologist who has worked on digs at ancient sites in Sicily. No other agency in Sicily offers lectures by so many Anglophone experts of academic calibre.
Topics: Subjects range from multiculturalism over the centuries to Sicilian women in history. Among other topics are medieval and Baroque Sicily, Jewish Sicily, Muslim Sicily, culinary heritage, the Second World War and organized crime.
Details: Running to an hour or slightly more, these talks can be planned in Palermo for groups of as few as four participants, usually as pre-dinner cocktail lectures in a local restaurant — we're partial to several in the central part of the city having scenic roof-top terraces. Please CONTACT US for fees, which are less per-person for a larger group.

Sicily | Sights | Cities | Tours | Contact
---
© 2022 Best of Sicily Travel Guide.