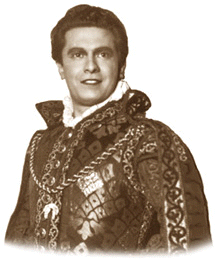 Sadly, over the last year the world of opera has lost two of its grandest tenors.
Undoubtedly, the demise in September 2007 of Luciano Pavarotti stole the headlines of the music world in a way that few other operatic singers could. "Big Luciano" was a cultural superstar. In a sense he was to opera what Frank Sinatra was to popular music. Ironically, early in 2007 the man whom Pavarotti looked up to as a model also succumbed to the grim reaper.
That older tenor was the great Giuseppe Di Stefano. Maestro Di Stefano was born on 24 July 1921 in Motta Sant'Anastasia, a town near Catania. Although Di Stefano considered entering the Catholic priesthood, his obvious vocal talents impressed everyone, including his parish priest, and propelled him forward into a singing career.
His first professional role was in a French opera performed in Reggio Emilia immediately after the second World War. He sang the role of Des Grieux in "Manon" by Jules Massenet. He quite impressed the public, the critics and most importantly the impresarios with the excellence of his delivery. His voice had a rich timbre while at the same time it could be either passionate or soft depending on the aria. Many operatic aficionados also appreciated his clear diction and physical presence. He could rightly be called "regal."
These qualities helped him to repeat this success at the "sanctum sanctorum" of world opera houses, Milan's La Scala, in 1947. His triumphs did not end here. The very next year Di Stefano went to New York to perform in Giuseppe Verdi's "Rigoletto" as the Duke of Mantua. His rendition of "La donna è mobile" won a standing ovation at the Metropolitan Opera House.
His personal repertoire included most of the lyric tenor roles: "L'elisir d'amore" by Donizetti, "Tosca" by Puccini, "Faust" by Gounod, "Il Trovatore" by Verdi and "I Puritani" by his fellow Sicilian Vincenzo Bellini. In fact, because he was Sicilian himself, his portrayal of Turiddu in the one-act operatic tragic masterpiece "Cavalleria Rusticana" is still considered the definitive performance by many.
During this tour Di Stefano even had the honour of performing Verdi's "Requiem" at Carnegie Hall, with the legendary Arturo Toscanini conducting.
On the international stage Di Stefano began a fruitful and artistically satisfying collaboration with the greatest soprano and diva of the mid-twentieth century, Maria Callas. Though they sang together many times on the great stages of Europe and America and recorded their performances, it was her last recital tour of 1973 that brought their professional and personal relationship into the public eye.
Unfortunately, it was a project cut short in the following year because of vocal problems for both artists. Despite this, the two remained loyal friends and colleagues until Callas' untimely death.
While Di Stefano deservedly won Italy's "Orfeo" music award, the seventies saw his career somewhat eclipsed. His great contemporary rival was Mario Del Monaco, who was better able to tackle the heavier tenor roles that Di Stefano's lyric voice simply could not, such as Verdi's difficult "Otello."
It was a musical situation similar to the later rivalry between Luciano Pavarotti and Placido Domingo. Happily, however, Di Stefano continued recording for posterity with such colleagues as Victoria de los Angeles, Antonietta Stella, Zinka Milanov, Licia Albanese, Renata Scotto and Leontyne Price. Naturally, his name will always be linked, above all, to the great Callas.
Although he continued to appear in public for specific recitals or concerts his last role was in Puccini's final opera "Turandot" as the elderly Emperor --a fittingly royal exit for such an imposing presence as Di Stefano. This was in the summer of 1992.
Sadly, in retirement in Africa this great talent was the victim of senseless violence in late 2004 which robbed the world not only of a great voice but also of a cordially gallant Sicilian gentleman. His death occurred on 3 March 2007.
About the Author: Beniamino Inserra is Best of Sicily's resident opera critic.