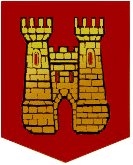 If you think (for just a moment) about Sicily's medieval institutions, it is obvious that there was never, strictly speaking, a reigning "queen of Sicily" who ruled in her own right. Each of Sicily's queens was legally a "queen consort" whose only status, function and role was based on marriage to the reigning monarch.
That said, several were actually regents until their young sons (future kings) reached the age of majority. That was the case, for example, of Constance de Hauteville, widow of Emperor Henry VI and mother of Frederick II. Whatever their official duties, apart from producing as many male heirs as possible, some of Sicily's early queens were indeed very strong women. This was certainly true of Elvira of Castile, Sicily's first queen, wife of Roger II, the island's first king.
Elvira was born in Toledo around 1100 to King Alfonso VI of Castile by his fourth wife, Isabella. It is thought that Isabella may have been the Zaida, initially Alfonso's Muslim mistress, who was baptised as Isabel.
Alfonso's reign was marked by a certain degree of internal dissent and chaos, and of course warring with the Moors. Yet following his death a series of equally violent wars erupted among Spain's various Christian states. His kingdom, like Roger's in Sicily, was a multicultural, polyglot society of Christians, Muslims and Jews, but characterised by less accord and cooperation than what was then known in Sicily. Nevertheless, the environment into which Elvira was born was not too different from Sicily's.
Elvira was born at the end of the colourful era of El Cid (Rodrigo Diaz de Vivar), who had served her father in his struggle against the Muslims. The Cid's exploits are much romanticised. A sober reading of history reveals that the motives of the Cid (from the Arabic sayyid meaning "lord") were occasionally mercenary, and he sometimes fought alongside Muslims against Christians.
The young princess wed Roger II in 1117, when the monarch was twenty-two and she was about seventeen. However, she rarely saw him in the years immediately following. Roger spent much of his time in military exploits, often against his own rebellious barons in mainland Italy. Like his father (Roger I), he was Great Count of Sicily, but fellow Normans were reluctant to recognise the superior authority of somebody whose immediate ancestors were little more than their knightly peers.
Roger had illegitimate children (most notably Simon of Taranto born around 1122), but the Arab women of the "harem" in his fortified palace in Palermo were, at least nominally, silk weavers.
It was when Roger was crowned, as Sicily's first king, in 1130 that Elvira became queen. Her authority increased, but she seems to have exercised her power at court only rarely. She bore Roger a number of children, most of whom predeceased their father, including Henry (who died in infancy), Roger (died 1148), Tancred (died 1138) and Alfonso (died 1144). William succeeded Roger II as King William I. Adelisa wed Joscelin, count of Loreto; she died after 1169, and was probably just the best-known of the daughters of Roger and Elvira.
Elvira died early in February of 1135, following eighteen years of marriage, and Roger went into reclusion out of profound mourning, for so long that rumors spread that he was dead. He did remarry (to Sibyl of Burgundy) much later, in 1149, but Elvira was the wife of whom he was fondest. Constance, who wed Emperor Henry VI and bore Frederick II, was the daughter of Roger's third wife, Beatrice of Rethel.
Roger's children were not always at peace with each other. William I, who earned from his subjects the unflattering nickname "William the Bad," disdained his illegitimate half-brother, Simon, and divested him of the lucrative County of Taranto, a wealthy port city in Apulia. As retribution, Simon plotted with Matthew Bonello, the lord of Caccamo (a fortified town in the foothills of the Madonie Mountains), to overthrow William during a revolt in Palermo in 1161. One of William's young sons was killed in the chaos.
Elvira, Beatrice and Elvira's uncrowned sons (Henry, Roger, Tancred and Alfonso) were buried at the twelfth-century Church of Saint Mary Magdalen, a Norman-Arab structure now within the courtyard of the carabinieri barracks along Piazza Vittoria near Porta Nuova in central Palermo. Although the church has been restored to its original condition, the graves' markers disappeared long ago.
Elvira of Castile was Sicily's first queen, and not the last foreign-born consort. The last one, Maria Sofia, who lived well into the twentieth century, was also born far beyond Sicily.
About the Author: Palermo native Vincenzo Salerno has written biographies of several famous Sicilians, including Frederick II and Giuseppe di Lampedusa.