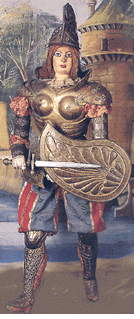 What else are vacations for? A Sicilian holiday with the children will be fun, especially if you're renting a villa or enjoying any kind of independent travel.
Children --especially, little boys, it seems-- are fascinated by volcanoes, and unless you live in Hawaii Mount Etna is the kind of thing they probably don't have back home. An excursion to the summit is an enjoyable family adventure, and access is easy. There are also several volcanoes on the nearby Aeolian Islands, which include Stromboli, Lipari and the eponymous Vulcano.
Another great idea nearby is Etna Land, a theme complex with a water park, small zoo and dinosaur exhibit. It's near Catania along the SS 121 Misterbianco-Paterno road (reached from the A-19 autostrada at the Misterbianco exit). Over on the western side of the island there's Città del Mare, on SS 113 outside Terrasini, near Palermo airport. There's a hotel and activities like sailing and scuba diving.
But getting to the water won't be difficult. There are dozens of public beaches in Sicily. It seems that one is never very far away. It's wonderfully warm from June to September, so pack that bucket and spade and have the little ones start building castles.
Speaking of castles, they can be another great experience for curious youngsters - and a good way to learn about history. Those recommended are "complete" structures rather than hilltop ruins with just a few walls standing. A few favourites stand out for their typically medieval feudal flavour: Caccamo (near Termini Imerese), Catania (Ursino Castle), Carini (near Palermo's airport), Mussomeli (in the Sicanian Mountains between Caltanissetta and Agrigento), Milazzo (on the coast west of Messina), Montalbano Elicona (in the Nebrodi Mountains), Piazza Armerina (south of Enna). Hours can be fickle, so check ahead for open times.
In summer months some of these towns such as Piazza Armerina plan the occasional palio - a costume festival of medieval knights and maidens, and various events.
Theme parks are not a big part of the local culture but they're becoming more popular. Two of the newer ones are the Madonie Adventure Park near Petralia Sottana in the scenic Madonie Mountains, whose focus is outdoor activities like mountain biking, archery, horse riding and even an obstacle course. All the things kids love. There's also the Sicily Bio Park, in Villagrazia di Carini near the Palermo airport. The park's emphasis is nature, and it has a mini-zoo of small animals. The schedules of both parks are seasonal, with more open days and longer hours in spring and summer, so make sure they'll be open when you plan on visiting.
Marionettes are another part of Sicily's colourful medieval tradition. The Pasqualino Marionette Museum (in Piazzetta Niscemi) in central Palermo houses one of the largest collections of marionettes, with items from around the world. It also stages regular puppet shows recounting the stories of medieval knights and ladies.
If the children like to ride, you might consider one of the guest farms (agriturismo) that have horses.
Sometimes it's just a question of making an ordinary outing more interesting than usual. While it isn't an excursion in itself, a cableway ride can be an adventure for children if you're going to Erice (from Trapani) or Taormina (from Mazzarò on the coast). The cableway on Mount Etna was damaged by lava a few years ago and is not presently in service.
Anybody who travels much with young children knows how particular their tastes can be, and you can't order fish fingers and hamburgers for them at every restaurant. Italian cuisine has become so internationalised that it's rare not to find something on the menu that a young child will eat. Pizza is an obvious choice, and until now I've never met a child who didn't enjoy Sicily's tastiest summer speciality, ice cream - which comes in dozens of flavours.
To get your (older) children interested in Sicily, this site has a links page of Sicily resources for children over the age of 12, Sicily for Students. A guide for parents and teachers is linked from it.
About the Author: Travel agent Stefania Lanza lives in London, where she works for a company specialised in independent travel and villa rentals in Sicily.