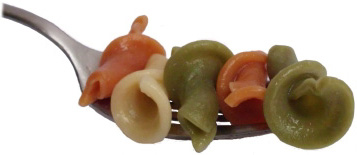 Sicilian cuisine is such a delicious departure from the "Italian" food most of us are used to that learning to prepare something Sicilian is a logical "next step" for any food aficionado planning a trip to our sunny island. Not all cookery classes are created equal, however.
Apart from the nature of the lesson itself, either a demonstration or a "hands on" cooking experience, the setting of a cooking lesson can be almost anything imaginable: a rural estate, a city restaurant kitchen, a country villa - even a private home with its own well-equipped kitchen.
Until six or seven years ago only a few Sicilian chefs offered cooking classes, and to some clients their rates seemed inflated. A harsh judgement, perhaps, because with transportation (and perhaps a guide) it's only logical that costs can add up. Private cookery lessons are, in fact, something of a luxury, but it's easy enough to inquire about precise pricing before you reserve them. That said, we much prefer those instructors whose websites publish prices, but one or two listed here make you inquire for that information - a practice we don't completely condone. Apropos pricing, most full-day classes cost between 100 and 200 euros per participant, but this varies greatly depending on what is included: shopping for ingredients, lodging, transportation, a visit to a nearby sight or cultural attraction, a wine tasting, a guide or interpreter. A week-long series of lessons, with lodging and meals, will typically cost over a thousand euros per participant - and probably closer to €1,500 - but (again) this varies widely based on what is actually included. So compare features but keep an open mind.
Let's avoid the supposed "rivalry" between celebrity chefs (Martha Stewart versus Nigella Lawson is the best-known) and focus on culinary experiences that await you. If you've read Eat, Pray, Love - instead of just watching the movie - you know that Elizabeth Gilbert spent the last part of her Italian culinary sojourn in Sicily, though in the film adaptation Julia Roberts never makes it south of Naples.
In researching this piece I spoke to our staff and some travel industry people as well as some chefs. While we agreed that we generally prefer professional chefs, we'd have to say that some "dedicated amateurs" are better teachers and certain well-known Sicilian restaurant chefs are highly overrated by the local media. At the same time, we recognise that the number of semi-qualified "cooking instructors" and self-styled "experts" in Italy is nothing short of ridiculous. What we don't like too much (and therefore didn't seriously consider listing here) are travel agencies and cooking schools outside Sicily that promote "outsourced" pseudo-chefs around the island as part of an annual culinary tour to Sicily. Expressed another way, we prefer supporting local businesses and we also believe that - as with other personalised travel services - most clients (or students or diners) enjoy exercising a certain degree of genuine choice when they plan their activities.
It has to be real. If you're in Sicily you probably want to learn the traditional cuisine, not trendy fads or the nouvelle. Listing a chef who has created a "new" recipe for caponata or invented "Sicilian sushi" (I'm not making this up) wouldn't be very useful. It's about the food, not the chef as a personality. If you think Sicily (population 5 million) has only 3 or 4 exceptional chefs, think again! If you want a private class with just your few traveling companions, make sure you specify that when you reserve; otherwise you may find that your "exclusive" cooking class is full of a dozen (or more) unfamiliar students, even if you enjoy their company.
This isn't the place to make the case for one or the other kind of class. There's really no "perfect" choice except what's right for you and your itinerary - so our selection includes chefs and establishments from around Sicily. In other words, each type of offering and a good example. That's something that few websites ever do, eager as they are to promote one enterprise or another for a share of the profits.
Some of the following also offer wine tastings. (Links take you to pages where you can read details and inquire about rates, and all chefs or programs listed here can work with English-speaking clients.)
Market Cooking Classes: This is where you literally go to an outdoor market to purchase ingredients, make your meal and eat it. Sounds simple enough, yet hardly anybody in Sicily offers anything like this (though it's popular in Tuscany). We have two suggestions here. Vincenzo Clemente, proprietor of Cin Cin Restaurant in central Palermo, does it well (reserve directly). So does a chef we know at a restaurant in Taormina on the other side of Sicily (reserve through Sicily Concierge).
The Historic Home in the Old City: Located near Palermo's Quattro Canti, this is an intimate setting in the oldest part of Sicily's largest city. And the lessons are with a real cook, not a detached "aristocrat" trying to exploit the tourism market. Read more at PalermoGuide.net
The Hilltop Estate: Well, this is actually Eleonora Consoli's historic eighteenth-century villa and small farm in Viagrande on the lower slopes of Mount Etna (the only thing cooking on the summit is the molten lava). Fluent in English, she is well-known in Italy as a culinary author and "television chef" and she was one of the very first Sicily-based chefs to give cooking lessons to an international clientele. There is lodging available. Read about Signora Consoli at CucinadelSole.it
This isn't the only cookery program to offer you rooms on the premises...
The Historic Winery: While Count Testa isn't the only aristocrat in Sicily in the wine business, his estate, Tarantola (which also rents rooms), has an exceptional rustic restaurant and chef. It's in the heart of Sicily's scenic wine country, so beyond his extensive vineyards (and small olive grove) are more vineyards. Here the perfect lunchtime cooking lesson with Lucrezia, the house chef, typically follows a morning visit to nearby Segesta and perhaps a wine tasting with the Count. Read more at PalermoGuide.net
The Historic House in a Small Town: Last but not least is Love Sicily. With her husband Ronald, Sicily native Katia Amore has south-eastern Sicily's cookery landscape covered with her charming accommodations in Modica. Here the idea is that you stay for a few days of cooking lessons and excursions (to Siracusa, Ragusa or Noto). Visit their site for prices and other information: LoveSicily.com
Local Ingredients: Some of the rural chefs who offer these cooking classes use the produce of their own organic farms exclusively. More often, some of the fruits and vegetables are organic. You can be sure that most of the ingredients are local and therefore seasonal, with the dishes prepared varying depending on when you visit. You'll literally taste Sicily.
Recipes and Sicilianità: There's no substitute for actual cooking lessons but... if you can't make it to Sicily consider a good cook book. Both Mary Taylor Simeti and the late Anna Tasca Lanza have authored several volumes (in English) which present Sicilian recipes with a generous dish of Sicily's multicultural culinary history.
About the Author: Roberta Gangi has written numerous articles and one book dealing with Italian cultural and culinary history, and a number of food and wine articles for Best of Sicily Magazine.