Home Page
Site Search
Sights & Activities
Localities • Places
Good Travel Faqs
Sicily's Top 12
Hotels • Planning
Maps of Sicily
Weather • Climate
Nature • History • People
Food • Wine • Dining
Arts • Literature • Culture
Monthly Magazine
Sicilian Identity
Sicily Links
Contact • Follow

EXCURSIONS for Agrigento, Segesta and Erice with regularly scheduled departures from Palermo almost every week of the year. Why drive or hire your own chauffer? Join one of our con­venient day tours! Expect a small group and great service from the only company that offers these tours regularly. Visit our site for details on these excep­tional Palermo excursions.

See Sicily with a great Sicily tour!
• Small group size, usually fewer than 16.
• Convenient itineraries with just 2 or 3 hotel check-ins.
• Tours almost every week.
• Good prices because there's no re-seller between you and us.
• "Must-see" sights plus a few "secret" ones.
• Choice of several tours.
• Exceptional tour leaders/guides.
• Good hotels and restaurants.
• Personalized services like airport pick-up or extra nights before/after your tour, because our staff of Sicily travel specialists is based in Sicily.
• Visit us right now for details, FAQs and reservations. We also do custom tours, for groups of any size.


Personal Travel in Sicily
Shouldn't your tailor-made vacation be arranged by your own travel expert in Sicily? Sicily Concierge will plan your trip from arrival to departure, whether it's a one-day excursion or a one-week itinerary. You can expect real travel services from real travel agents.

Start dreaming, and visit Sicily Concierge. Castles in the clouds are just the beginning.

Agrigento
Related pages: Selinunte • Ancient & Medieval History • Timeline • Sicanians • Greeks • Carthaginians • Romans • Arabs • Normans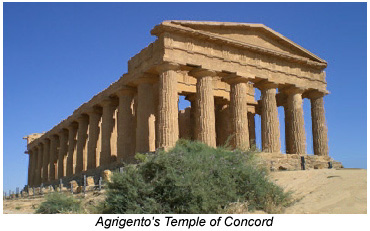 Located on a plateau overlooking Sicily's southern coast, Agrigento was founded as Akragas around 582 BC (BCE) by a group of colonists from Gela, who themselves were the immediate descendants of Greeks from Rhodes and Crete. The area was inhabited much earlier; a female skull (that of the "girl of Mandrascava") found near Cannatello is half a million years old. A Mesolithic village at Point Bianca, farther down the coast toward Montechiaro Castle, dates from 6000 BC. The Sicanians may have descended from that civilization. Akragas was renamed Agrigentum by the Romans, and Girgenti by the Arabs, only to be christened Agrigento in 1927, but the place is the same.
Greatly enlarged by Berbers beginning in the ninth century, the medieval city of Agrigento is not without a certain charm. High in the historical center of the city, the Romanesque Gothic cathedral, built during the fourteenth century, still displays some of its medieval character, as does the thirteenth-century Church of San Nicola (St Nicholas). Unfortunately, the Saracen fortress believed to have stood at Agrigento has not stood the test of time. The Greek temples, theatres and ruins, and even the archaeological museums, are located outside the city proper.
Akragas, named for the nearby river, flourished under Phalaris (570-554 BC), and developed further under Theron (488-471 BC), whose troops participated in the Battle of Himera in 480 BC, defeating the Carthaginians. Agrigento was destroyed several times during the Punic Wars, suffering particularly extensive damage during a siege by Roman forces in 261 BC, but always rebuilt. The Greek poet Pindar (518-438 BC) described Akragas as "the most beautiful city of the mortals." Akragas' most famous citizen was the philosopher and scientist Empedocles (490-430 BC).
In the Valley of the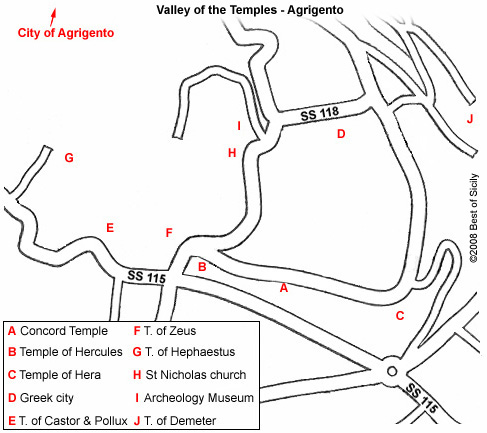 Temples are the ruins of numerous temples but also necropoli, houses, streets and everything else one would expect to find in an ancient city. There is a small amphitheatre, as well as several auditoria, and a fine archeological museum. Unfortunately, most of the temples at Agrigento are in ruins, with pieces strewn about, and several appear to have never even been completed. Part of the Temple of Hera (Juno), built around 450 BC, is still intact. Its style has been compared to that of the temples at Paestum, near Salerno. The Temple of Concord (named retroactively), built around 440 BC, is in far better condition, and at night the illuminated temple is a sight to behold. A number of telamons (large segmented stone columns in the form of human figures) have been preserved.
Ancient Agrigento's importance declined under the Byzantines and Saracens, who encouraged settlement of the medieval city (present-day Agrigento) several kilometers from the Valley of the Temples. The Normans, however, recognized its importance, and it was during the Norman rule that beautiful churches were constructed in and around the city.
The ancient city's architectural character seems more Greek than Roman. What's missing are the thin, reddish bricks so typical of Roman sites like Solunto and Taormina. Despite its location virtually in the shadow of a modern city, the Valley of the Temples is surrounded by olive groves and almond orchards that render its ambience altogether natural, though a number of illegally-built houses mar the landscape. The almond blossom festival held in February is a spectacular event full of folklore.
The ruins of a Roman villa are located at an archeological site a few kilometers up the coast from Porto Empedocle. Though Porto Empedocle itself is today essentially a shipping town, there is a nice beach nearby. The birthplace of Luigi Pirandello, (1867-1937) a Nobel prize-winning author, is located in the tiny hamlet of Caos, where his house is a museum.
For Visitors: Sample the local cuisine if you have a chance. Except for a visit to the Valley of the Temples and the archeological museum nearby, and perhaps a quick glimpse of the cathedral and San Nicola if you're a real medievalist, it probably isn't worth spending more than a day in Agrigento. Since this part of Sicily is torrid from the end of June through late September, we suggest, if possible, that you visit Agrigento during spring or autumn, when the fields are still green and the wildflowers are blossoming.
Hotel Reservations are easy with the online reservation system on our travel planning page, where you'll find convenient links to information on flights, hotels, car rentals, restaurants, weather and even travel books.
Last revision February 2016.