Timeline of Ancient & Medieval Sicily
Prehistory • Native Peoples • Phoenician, Carthaginian & Greek • Roman • Vandalic-Gothic • Byzantine • Arab • Norman • Swabian • Angevin • Aragonese • Spanish
Some "non-Sicilian" events are listed to indicate parallel history or to establish historical context.
» 85,000 BC (BCE) - Homo Sapiens Sapiens (genetically modern humans) migrate out of Africa via southern Arabian peninsula. Genetic differentiation (including superficial "racial" variation) begins.
» 45,000 BC - "Modern" humans begin to populate Europe, migrating westward. Anthropological variations develop among isolated communities. Artistic culture begins to develop. Genetic haplotypes M173 and M343 probably introduced into Sicily around 30,000 BC.
» 10,000 BC - Neolithic peoples are present across mainland Europe and in Sicily. Indo-European cultures arrive with subsequent waves of migration. Proto-Celts' culture was probably Indo-European but Sicily's Proto-Sicanian language may have had fewer Proto-Indo-European influences. Addaura cave drawings (outside Palermo) dated to 8000 BC or earlier. Pleistocene Epoch ends, followed by Holocene (present epoch).
» 8000 BC - Probable introduction of agriculture (initially wheat and other grains) in Sicily by eastern Mediterranean neolithic farmers (possibly predecessors of earliest Indo-Europeans); probable initial influx of M172 haplogroup into Sicilian gene pool.
» 7000 BC - Neolithic jewels crafted in Sicily.
» 4000 BC - "Proto-Sicanians" present in neolithic Sicily and Malta, where they build the world's oldest structures and invent the wheel. Earliest Sicilian religion practiced. Equally advanced Minoan (Cretan and Aegean) civilization flourishes in eastern Mediterranean.
• Early Native History: Sicanians, Elymians, Sikels
» 2800 BC - Stonehenge (in England) and earliest pyramids (in Egypt) built a thousand years after construction of first Maltese temples.
» 2000 BC - Non-Indo-European Sicanian culture dominant in Sicily.

Use of copper tools ("early Bronze Age"), possibly indicating non-Sicilian influences, prevalent by 2500 BC.
» 1800 BC - Distinct "native" Sicanian culture identifiable across Sicily. Mycenean and Late Minoan cultures present in isolated eastern localities.
» 1700 BC - Hittites in Anatolia; possible connection to Sicily's Elymians. (Anatolian origin also suggested for Trojans and Etruscans.)
» 1500 BC - Mycenaean trade with Sicanians or Sicels of Aeolian (Lipari) Islands and parts of the Ionian coast (at Thapsos). Ausonians, an Italic people, also trade with Lipari islanders.
» 1300 BC - Ramses II pharoah in Egypt, but references in Biblical Book of Exodus may be to another personage. Probable period of introduction of olive trees in Sicily by peoples of Aegean cultures.
» 1200 BC - Arrival of Sicels (Sikels), an Italic people, in eastern Sicily, around this time. Iron Age begins in Greece.
» 1100 BC - Elymians (possibly from Anatolia in Asia Minor), arrive in western Sicily (Erice and Segesta).
» 1000 BC - Indo-European languages and societies identified based on linguistic similarities.
• Phoenicians, Carthaginians and Greeks
» 735 BC - Naxos founded as first permanent Greek colony in Sicily.
» 733 BC - Syracuse (Siracusa) founded as Greek colony.
» 705 BC - Greeks assimilate Sicels' city of Enna, with which myth of Persephone becomes identified.
» 700 BC - Phoenicians establish Punic city of Zis (Palermo) and other trading posts (including Motya and Kfra or Solunto) in western Sicily. Phoenician alphabet (basis for Roman and Greek letters shown at right) introduced.
» 730 BC - Zancle (Messina) settled.
» 729 BC - Katane (Catania) settled by Chalcidians from Naxos.
» 688 BC - Gela founded.
» 650 BC - Himera (Termini Imerese) founded.
» 630 BC - Selinus (Selinunte) established.
» 580 BC - Akragas (Agrigento) founded.
» 396 - Tyndaris colonised
» 504-466 BC - Hippocrates and Gelon (from 478), as tyrants of Syracuse, rule most of eastern Sicily.
» 490 BC - Athenians defeat Persians at Battle of Marathon. Persian wars begin, lasting until 479.
» 480 BC - Carthaginians under Hamilcar (encouraged by Xerxes of Persia who has won victories in Greece) defeated by Gelon of Siracuse at Battle of Himera. Persians eventually defeated at Battle of Salamis.
» 455 BC - Aeschylus dies at Gela.
» 452 BC - Sicel leader Ducetius (died 440) leads revolt.
» 431-404 BC - Peloponnesian War.
» 415-413 BC - Athenians invade eastern Sicily, defeated in 413.
» 410-405 BC - Carthaginians invade western Sicily, destroying Himera in 409.
» 409 BC - Birth of Dion, later tyrant of Syracuse.
» 405-367 - Dionysius I rules as "tyrant" (leader) of Syracuse
» 400 BC - Carthaginians, residual Phoenician civilization in north Africa, establish permanent presence at Palermo. Wars between Carthaginans and Greeks (and subsequently with Romans) continue. Greeks re-name Zis Panormos ("all port").
» 398-396 BC - Another war of some Greek cities against Carthaginians.
» 398 BC - Plato in Syracuse; suggests Sicily as model of utopian society. Syracuse has emerged as Sicily's most important city and will remain so until the 10th century when Arabs re-populate Panormos (Palermo).
» 367-344 BC - Dionysius II is leader of Syracuse. Philip II rules Macedonia 359-336.
» 346-345 BC - Another Carthaginian war in Sicily. Alexander the Great rules Macedonia 336-323.
» 339 BC - Timoleon restores democratic law in Syracuse.
» 330 BC - Alexander the Great conquers Persia.
» 317-289 BC - Agathocles, native of Himera, tyrant of Syracuse and then (304) king.
» 311 & 280 BC - Carthaginian invasions of western Sicily.
» 310 BC - Greeks under Agathocles invade Carthaginian territories of African coast. Treaty signed in 306.
» 278 BC - Pyrrhus of Epirus fights "Sicilian Campaign" against Syracuse supported by Taormina.
» 265-215 BC - Hieron II king of Syracuse. His death signals beginning of Roman control of Sicily.
» 264 BC - First Punic War (Romans against Carthaginians), ending in 241. Second Punic War in 218, ending in 201.
» 227 BC - Sicily becomes first Roman province but Syracuse resists.
» 212 BC - Syracuse finally falls to Romans. Archimedes killed.
» 208 BC - Qin dynasty begins construction of Great Wall in China.
» 146 BC - Romans defeat Carthaginians in Third Punic War. Romans call Palermo Panormus. Earliest Jewish communities in eastern Sicily.
» 136-132 BC - Slave revolt led by Eunus with base at Enna. Slaves conquer large area before defeat by Roman army.
» 104-100 BC - Slave revolt led by Salvius.
» 70 BC - Cicero prosecutes Verres, corrupt governor of Sicily.
» 55 BC - First invasions of Britain by Julius Caesar.
» 29 BC - Virgil begins writing Aeneid.
» 23 BC? - Diodorus Siculus, historian, dies.
» 6 BC? - Birth of Jesus.
» AD 59? - Saint Paul preaches in Syracuse en route to Rome.
» AD 117 - Under Trajan the Roman Empire reaches its greatest geographic extent around this time.
» AD 122 - Roman emperor Hadrian orders construction of wall in what is now Scotland.
» AD 251 - Saint Agatha martyred; later venerated as patroness of Catania.
» AD 303-306 - Diocletian's persecution of Christians. Saint Lucy (of Syracuse) martyred.
» AD 306 - Constantine the Great rules until 337. Permits open practice of Christian religion.
» AD 324 - Constantinople (Byzantium) founded.
» 325 - Council of Nicea defines Christian doctrine and determines accepted New Testament scripture. By now Syracuse is Christianized.
» 330 - Capital of Roman Empire transferred to Byzantium (Constantinople).
» AD 380 - Christianity official religion of Roman Empire.
» AD 378 - Roman army defeated at Battle of Adrianople during Gothic War. (Goths had been forced into Roman territory by the invading Huns.)
» 395 - Roman Empire splits into Western and Eastern (or "Byzantine").
• "Barbarian" Period: Vandals and Goths
» 410 - Visigothic sack of Rome under Alaric; political fall of Western Roman Empire begins.
» 440 - First Vandal landings in Sicily under Genseric.
» 468 - Complete Vandal occupation of Sicily, lasts until 476.
» 476 - Ostrogoth rule until 535; Odoacer deposes last (western) Roman Emperor. Beginning of Middle Ages usually dated from this time.
» 491 - Ostrogoths take complete control of Sicily from the Vandals. Their leader, Theodoric, son of Alaric, kills Odoacer in 493.
» 521 - Birth of Mohammed.
» 535 - Ostrogoths in central Mediterranean are under attack by Byzantines; Gothic rule of Sicily ends in 535 except for brief invasion and occupation of some regions in 550.
» 527-565 - Rule of Justinian I as Eastern Roman ("Byzantine") Emperor. Established lasting legal code.
» 529 - Saint Benedict founds religious order.
» 533-535 - Byzantines under Belisarius defeat Vandals (in Tunisia) and Goths (in Sicily) and annex Sicily to Byzantine Empire.
» 537 - Hagia Sophia basilica built in Constantinople, world's largest church epitomises Byzantine culture.
» 550 - Totila, Ostrogoth leader, invades Sicily but Byzantines reclaim control following his defeat at Taginae in 552.
» 568 - Longobards invade Italy, contesting Byzantine control of many regions.
» 590 - Gregory the Great becomes bishop of Rome (pope).
» 633 - Death of Mohammed.
» 652 - Small Arab force lands in Sicily but soon departs.
» 655 - Jews of Syracuse begin construction of the mikveh.
» 660-668 - Constans rules Byzantine Empire from Syracuse.
»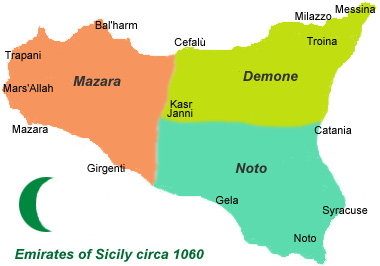 711 - Arabs invade Spain.
» 726-787 - Iconoclast Controversy.
» 732 - Charles Martel defeats Arabs at Tours.
» 771 - Charlemagne becomes king of Franks.
» 827 - First major Arab incursion (over 10,000 men sailing from Tunisia) under Asad ibn al-Furat, general of emir Ziyadat Allah I ibn Ibrahim of Ifriqiya.
» 831 - Bal'harm (Palermo) occupied by Aghlabid dynasty of Tunisia. Emirate of Sicily eventually established but island often administered by governors.
» 831-838 - Continued rule of much of Sicily by Ziyadat Allah I, who sponsored al-Furat's invasion in 827.
» 838-841 - Rule of al-Aghlab Abu Affan ibn Ibrahim ("Abu Iqal"), brother of Ziyadat Allah I.
» 841-856 - Rule of Muhammad I Abul-Abbas ibn al-Aghlab Abi Affan.
» 851 - Death of governor (and general) Al-Aghlab Abu Ibrahim, who administered most of Sicily from Bal'harm
» 856-863 - Rule of Ahmad ibn Muhammad. Occasional Viking landings or raids on Sicilian coasts.
» 859 - Enna (Kasr'Jannis) captured by Abbas ibn Fadhl, governor of Sicily.
» 863 - Rule of Ziyadat Allah II ibn Abil-Abbas. During 9th century Arabs introduce mulberries (for silk making), oranges and sugar cane.
» 863-875 - Rule of Muhammad II ibn Ahmad.
» 875-902 - Rule of Ibrahim II ibn Ahmad.
» 878 - Jafar ibn-Muhammad conquers Syracuse, Byzantine capital of Sicily.
» 902-903 - Rule of Abdullah II ibn Ibrahim. By now Arab Bal'harm (Palermo) has supplanted Byzantine-Greek Syracuse as Sicily's most populous and important city and all of Sicily is under Arab administration.
» 903-909 - Rule of Ziyadat Allah III ibn Abdillah.
» 910 - Fatimids now rule Sicily. Cluniacs founded, follow Benedictine Rule.
» 913 - Emir Ahmed ibn-Kohrob declares independence of Sicily, evicting Fatimid governor from Bal'harm, but troops of Fatimid ruler, Abdul'Allah al-Mahdi Billah (Said ibn Husayn), restore the island to their dominion.
» 934 - Death of Abdul'Allah al-Mahdi Billah (Said ibn Husayn).
» 948 - Fatimids (who decide to move their capital in Egypt) entrust Sicily to local Kalbids. Conflict among Sicily's emirates.
» 948-954 - Rule of Emir Hassan al-Kalbi. First kanats built under Palermo.
» 954-969 - Rule of Ahmad ibn al-Hassan.
» 967 - Sicilian-born Jawhar as-Siqilli founds Al-Qahira (Cairo) in name of Fatimids.
» 969-982 - Rule of Abu al-Qasim.
» 982-983 - Rule of Jabir

al-Kalbi.
» 983-985 - Rule of Jafar al-Kalbi.
» 985-990 - Rule of Abd-Allah al-Kalbi.
» 990-998 - Rule of Yusuf al-Kalbi.
» 998-1019 - Rule of Ja'far al-Kalbi.
» 1000 - Approximate time of Viking landings in North America, possibly with Christianised leader Leif Ericsson. L'Anse aux Meadows in Newfoundland is a Norse settlement and both the Groenlendinga Saga (the Greenlanders' Saga) and Eiriks Saga (Erik's Story) mention such sea travels. Normans are residual Norse civilisation in northwestern France.
» 1016 - Norman knights first participate in battles in Italy.
» 1019-1037 - Rule of al-Akhal.
» 1038-1042 - Byzantine forces of George Maniakes briefly occupy parts of eastern Sicily; army includes Greeks, Normans, Lombards and Norse Varangian Guard with Harald Hardrada.
» 1040-1053 - Rule of Hasan as-Samsam. Following his death, and extinction of Kalbid dynasty, three principal emirs divide control of Sicily: Ibn al Hawas at Kasr'Jannis (Enna), Ibn at Timnah at Siracuse and Catania, Abdullah ibn Haukal at Trapani and Mazara.
» 1054 - Great Schism between eastern and western Christianity. Many Sicilian Christians remain "eastern" (Orthodox) until circa 1200.
» 1056 - Arab poet Ibn Hamdis born in Syracuse.
» 1060 - Unsuccessful Norman incursion into coastal northeastern Sicily; permanent presence after Battle of Messina (1061).
» 1066 - Battle of Hastings leads to complete Norman conquest of Saxon England. Battle of Messina was partial pattern of this invasion of an island from a continent; some Norman knights fight at both battles. Norman culture influences English government, law, architecture and language.
» 1072 - Battle of Palermo ends in early January with Norman occupation under Roger I and Robert de Hauteville. Nicodemus removed from authority over Christian community. 'Latin' Benedictines soon introduced in Sicily, where previously monasteries were Orthodox.
» 1081 - Suppression of revolt led by renegade 'emir' Bernavert (Bin al Wardi) at Catania; another of his revolts was suppressed at Syracuse in 1085.
» 1083 - Roger I appoints Latin (rather than Orthodox) bishop of Palermo and Gallican Rite is introduced in new churches.
» 1084 - Bruno founds Carthusian Order in Germany.
» 1087 - Ibn Hammud, emir of Kasr'Janni (Enna), last major Arab stronghold, surrenders to Normans in 1087; Noto falls in 1091. Dozens of fortified Arab-founded (or re-populated) towns dot the island: Calascibetta, Caltanissetta, Caltagirone, Mussomeli, Marsala (Mars'Allah), Misilmeri, Cammarata...
» 1095 - Roger II, future king of Sicily, is born.
» 1096 - First Crusade begins; some Norman knights participate under Bohemund de Hauteville (later Prince of Antioch), brother of Roger I.
» 1097 - Odo of Bayeux, Earl of Kent, younger brother of William the Conqueror, King of England, dies in Palermo en route to the Crusade while visiting Roger I. His nephew, William's son Robert "Curthose," continues on to Palestine.
» 1098 - Roger I, as Great Count of Sicily, becomes Papal Apostolic Legate, with rights to approve island's Catholic bishops. Cistercians founded as offshoot of Benedictines. Later establish monasteries in Sicily.
» 1099 - Crusaders conquer Jerusalem.
» 1101 - Roger I dies, succeeded by Simon, his eldest living, legitimate son, who is still a minor. Roger's consort, Adelaide del Vasto of Savona, is regent.
» 1105 - Roger II succeeds his elder brother Simon (1093-1105) as ruler of Sicily under Adelaide's regency.
» 1112 - Roger is knighted (this ceremony marks his age of majority and sovereign authority following 'regency' under his mother).
» 1113 - Order of Saint John (Knights Hospitaller) based in Palestine chartered by Pope Paschal II. Establish commanderies in Sicily and later (in 1530) receive Malta from Charles V, King of Sicily and Holy Roman Emperor. (They remain there as Knights of Malta until 1798.)
» 1119 - Knights Templar founded in Palestine. Preceptories in Sicily confiscated by Frederick II following Sixth Crusade. (Order suppressed definitively by papal order in 1312.)
» 1123 - Knights of Saint Lazarus founded in Palestine around this time; order aids lepers and eventually operates Saint John of the Lepers, Palermo, as lazar-house.
» 1130 - Roger crowned first king of Sicily (known henceforth as "Roger II"). On his orders Saint John of the Hermits, an Orthodox monastery in Palermo, is ordered rebuilt in Norman-Arab style as Benedictine abbey, completed in 1148. (Site may have housed a mosque for several decades prior to 1072.) Palatine Chapel built during this pereiod.
» 1139 - Second Lateran Council makes celibacy mandatory for Roman Catholic priests; until now Catholic priests were permitted to marry before ordination.
» 1140 - Roger promulgates Assizes of Ariano, important legal code asserting royal authority. Gothic movement begins in France but Romanesque style dominates in Sicily.
» 1143 - Martorana church (Palermo) built in Norman-Arab style for Greek Orthodox community by George of Antioch. In this year Nilos Doxopatrios, an Orthodox cleric of Palermo, authors theological treatise supporting the Eastern (Orthodox) church over the Latin (Roman Catholic) influences introduced by the Normans.
» 1154 - "Book of Roger" completed by Abdullah al-Idrisi. Roger dies and reign of King William I "the Bad" begins.
» 1158 - Quaid Le Brun (Thomas Brown), treasurer at William's court, returns to England to reform exchequer of Henry II, thus influencing European accounting principles. Brun uses Hindu-Arabic numerals, later popularised in Europe by Leonardo Fibonacci of Pisa (briefly a guest of Frederick II in Sicily) in 1202
» 1160 - Death of hermit saint, Rosalie (possibly a Sicilian of Norman ancestry), later heavenly patron of Palermo.
» 1161 - Matthew Bonellus of Caccamo leads revolt of Norman barons.
» 1166 - Reign of young King William II "the Good" begins under his mother's regency. Queen Margaret gives hospitality to exiled kin of Thomas Becket. Gradual Latinization of Sicilian language continues; Roman Catholic influence in religion.
» 1170 - Benjamin of Tudela visits Sicily. Peter Waldo establishes evangelical Waldensian church, precursor of Reform (Protestant) movement.
» 1171 - Saladin defeats Fatimids in Middle East.
» 1174 - Work begins on Monreale Abbey in Arab village of Bal'at overlooking Palermo. Style is Norman-Arab on Romanesque plan with Byzantine mosaic icons, including earliest holy image of Thomas Becket (canonized in 1173).
» 1177 - William II marries Joan, daughter of Henry II of England (sister of Richard Lionheart).
» 1184 - Ibn Jubayr visits Sicily and records his impressions.
» 1190 - Richard Lionheart, brother of Queen Joan of Sicily, occupies Messina with Philip II of France for several months en route to crusade.
» 1193 - Death of Saladin.
» 1194 - Holy Roman Emperor Henry VI von Hohenstaufen arrives. Teutonic Order of knights, arrives, establishing Saint Mary of the Germans (Messina) and obtaining Cistercian properties (Magione in Palermo).
» 1198 - Frederick II king until 1250, marries Constance of Aragon. Swabian German influences in Sicily. Islam and Greek Orthodoxy tolerated but practiced by ever-smaller minorities. Sicilian language is Italic with foreign influences.
» 1204 - Crusaders sack Constantinople during Fourth Crusade.
» 1206 - Mongols unite under Genghis Khan (Temujin), who conquers large parts of Eurasia. Later corresponds with Frederick II.
» 1210 - Francis of Assisi meets Pope Innocent III; founds Order of Friars Minor (Franciscans).
» 1215 - Magna Carta in England. Dominic of Osma (of Caleruega, Spain) founds Order of Preachers (Dominicans or "Blackfriars"). By 1500 this is the leading monastic and teaching order in Sicily, supportive of the Inquisition.
» 1217 - Cleric, translator and scientist Michael Scot (born 1175) translates "On the Sphere" by the Arab astronomer Al-Bitruji (or Alpetragius, who died circa 1204).
» 1221 - University of Naples founded by Frederick II.
» 1223 - Following execution of Arab rebel leader Morabit (in 1222), thousands of Arabs from Iato area, who had revolted with their leader Ibn Abbad (or Benaveth), are deported to Lucera in Apulia. Many Muslims have already converted to Christianity, usually as Catholic rather than Orthodox. Jews from occupied Jerba (in Tunisia) invited to Sicily.
» 1229- Frederick II, accompanied by Saracen guards and Sicilian and German knights, goes on Sixth Crusade as King of Jerusalem. Signs peace with Muslims without war.
» 1230 - Upon his return from Jerusalem Frederick suppresses most Templar preceptories and Hospitaller commanderies in Sicily in favor of Teutonic Knights.
» 1231 - Constitutions of Melfi become legal code for Kingdom of Italy under Frederick II.
» 1233 - Cathars of France persecuted as heretics by first Inquisition.
» 1240 - Ciullo of Alcamo composes poetry in Sicilian language. First of a series of revolts by Sicilian Arabs, including some Christian converts, but Frederick retains trusted Saracen guards and court officers.
» 1244 - Fall of Jerusalem to Muslims.
» 1266 - Charles of Anjou (brother of Louis IX of France) becomes king of Naples and Sicily following defeat of Manfred Hohenstaufen, natural son of Frederick II, at Battle of Benevento. Young Conradin, a (legitimate) grandson of Frederick II and last Swabian claimant, is executed in 1268 following Battle of Tagliocozzo. Hohenstaufen imperial line now extinct. Angevin period begins. By now Sicily's remaining Muslims have converted to Catholicism.
» 1282 - Vespers revolt expels Angevin French and makes Peter of Aragon King of Sicily. Charles "the Lame," son and heir apparent of Charles I, imprisoned as hostage in fortress of Cefalù in 1284.
» 1285 - Death of Charles I. Charles "the Lame" succeeds as Charles II of Naples but does not rule Sicily.
» 1302 - Peace of Caltabellotta treaty signed between Aragonese and Angevins.
» 1321 - Dante Aligheri's Inferno (part of his Divine Comedy) mentions several popes, Frederick II and Frederick's chancellor Pietro della Vigna (1190-1249).
» 1353 - Giovanni Bocaccio's Decameron mentions Palermo's Cuba palace and King William II of Sicily.
» 1337 - Hundred Years War formally declared between England and France; English invade France in 1346.
» 1347 - Ships arriving at Messina from eastern Mediterranean bring bubonic plague (Black Death) to Europe. By 1400 more than 20 million Europeans are dead from this disease.
» 1377 - Chaos following death of King Frederick IV until arrival of his dynastic successor King Martin continues into 1392. Chiaramonte, Alagona, Peralta and Ventimiglia families (the "Four Vicars") usurp royal authority. Andrea Chiaramonte eventually beheaded.
» 1380 - Tatars defeated at Kulikovo by Russians commanded by Dimitri Donskoy (who completed construction of the Kremlin in 1367).
» 1415 - Battle of Agincourt.
» 1420 - Early Renaissance (reflected in construction of Florence cathedral) foreshadows changes in art, architecture, literature, music and philosophy.
» 1428 - Francesco Laurana, early Renaissance sculptor, establishes workshop in Palermo.
» 1442 - Sicilian and Neapolitan crowns united under Alfonso V as "Two Sicilies" though Sicily legally remains a kingdom. Henceforth the Kingdom of Sicily is politically linked to peninsular Italy.
» 1447 - Johannes Gutenberg invents printing press using movable type; prints Bible in 1455. (Rudimentary printing plates were developed earlier in China but this publication marks beginning of mass publication.)
» 1453 - End of Hundred Years War. Constantinople falls to Ottomans. End of Middle Ages usually dated to this year, but sometimes to 1492 or 1500. Renaissance has begun. Sicilian-born Antonello da Messina is part of this new movement.
» 1478 - Spanish Inquisition begins.
» 1492 - Edict against Jews forces widespread conversions and some emigrations in 1493. Albanian refugees arrive following Turkish invasions of Balkans. Spanish period begins with unification of Spanish Iberian lands and continues in Sicily until 1700s. Inquisition widely introduced in Spanish-controlled lands, including Sicily. Columbus lands in America, initiating mass European colonisation.
» 1516 - Holy Roman Emperor Charles V, King of Spain and ruler of much of western Europe, becomes King of Sicily. To guard against pirate raids and Ottoman attacks, he grants administration and governance of Malta to the Order of Saint John in 1530 without actually ceding sovereignty; order renders annual feudal tribute of a falcon as vassal until expulsion in 1798. Charles (1500-1558) is figuratively said by historians to be Europe's last 'medieval' monarch.