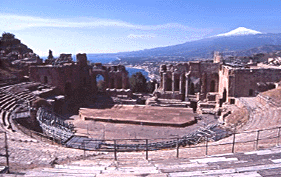 It runs contrary to all "conventional" wisdom - except perhaps for the independent-minded suggestions on our own Sicily travel faqs page - but I'm going to make an unconventional recommendation: Visit Sicily in Winter, especially in January, February or early March.
Why? Here are a few good reasons:
• If your interests are mainly cultural and historical, as opposed to sun worshipping, you'll find fewer crowds at the most important archaeological and historical sites.
• That goes for resorts like Taormina, too, where you'll find the streets refreshingly free of "tourists."
• In some ways you'll find that service in restaurants and hotels is better. They'll be happy to see you during a season when patrons are fewer.
• Your holiday - the entire vacation - will cost less during the "low" season. Especially flights and hotels.
• Shopping in early January allows you to take advantage of the After-Christmas sales on everything from coats to shoes.
• There will still be snow in the Nebrodi and Madonie mountains, and you can ski on Mount Etna.
• In some ways, it's the best time for golf in Sicily.
• It won't be too hot (as it is in July and August).
• You'll be able to take advantage of a culinary "season" rarely experienced by visitors - for example, the delicious sea urchins of February.
• Enjoy Agrigento's delightful Almond Blossom Festival, in late February, or Siracusa's Saint Lucy Festival earlier in the month.
• The nights will be cool, and there may be a touch of rain, but not enough to ruin your vacation. Check out the seasonal weather patterns.
Think about doing something unconventional. Be different.
About the Author: Travel agent Stefania Lanza lives in London, where she works for a company specialised in independent travel and villa rentals in Sicily.