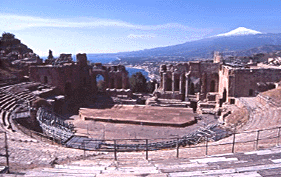 Yes, I know... It runs contrary to all "conventional" wisdom - except perhaps for the independent-minded suggestions on our own Sicily travel faqs page - but I'm going to make an unconventional recommendation: Visit Sicily in Winter, especially in January, February or early March.
Why? Here are a dozen good reasons:
• If your interests are mainly cultural and historical, as opposed to sun worshipping, you'll find fewer crowds at the most important archaeological and historical sites.
• That goes for resorts like Taormina, too, where you'll find the streets refreshingly free of "tourists." In the present economic climate, you may even find hotel rates far superior to those of a normal "low season."
• In some ways you'll find that service in restaurants and hotels is better. They'll be happy to see you during a season when patrons are fewer.
• Your holiday - the entire vacation - will cost less during the "low" season. Especially flights and hotels.
• Shopping in early January allows you to take advantage of the After-Christmas sales on everything from coats to shoes.
• There will still be snow in the Nebrodi and Madonie mountains, and you can ski on Mount Etna.
• In some ways, it's the best time for golf in Sicily.
• It won't be too hot (as it is in July and August). Winter in Sicily is like late autumn or mid-spring in many parts of Britain and the US.
• You'll be able to take advantage of a culinary "season" rarely experienced by visitors - for example, the delicious sea urchins of February.
• Enjoy Agrigento's delightful Almond Blossom Festival, in late February, or Catania's Saint Agatha Festival earlier in the month.
• The nights will be cool, and there may be a touch of rain, but not enough to ruin your vacation. Check out the seasonal weather.
• You'd prefer the convenience of a small group tour instead of travelling independently? Forget the misplaced advice from travel agents about there being no tours available early in the year. This year we offer several tours of Sicily with start dates in these early months - and special discounts if you purchase any tour before February 28th.
Think about doing something unconventional in 2011. Then do it.
About the Author: Travel agent Stefania Lanza lives in London, where she works for a company specialised in independent travel and villa rentals in Sicily.