Home Page
Site Search
Sights & Activities
Localities • Places
Good Travel Faqs
Sicily's Top 12
Hotels • Planning
Maps of Sicily
Weather • Climate
Nature • History • People
Food • Wine • Dining
Arts • Literature • Culture
Monthly Magazine
Sicilian Identity
Sicily Links
Contact • Follow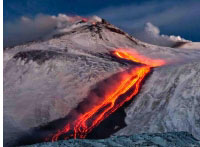 Active Ex­cur­sions on Etna. From hik­ing to jeeps to quads, ex­plore Eu­rope's great­est vol­cano with expert guides. Don't miss the ex­peri­ence of a life­time! Read more about these fan­tastic Etna ex­cur­sions.

Per­sonal Travel in Si­cily
Shouldn't your tailor-made vaca­tion be ar­ranged by your own travel ex­pert in Si­cily? Sicily Con­cierge will plan your trip from ar­rival to de­parture, whether it's a one-day excur­sion or a one-week itinerary. You can ex­pect real travel services from real travel agents. Start dream­ing, and visit Sicily Con­cierge. Castles in the clouds are just the begin­ning.


See Si­cily with a great Si­cily tour!
• Small group size, usual­ly fewer than 16.
• Con­venient itineraries with just 2 or 3 hotel check-ins.
• Tours al­most every week.
• Good prices be­cause there's no re-seller be­tween you and us.
• "Must-see" sights plus a few "secret" ones.
• Choice of several tours.
• Excep­tional tour leaders/guides.
• Good hotels and restaurants.
• Person­alized services like air­port pick-up or ex­tra nights before/after your tour, be­cause our staff of Si­cily travel specialists is based in Si­cily.
• Visit us right now for de­tails, FAQs and reserva­tions. We also do cus­tom tours, for groups of any size.



Enjoy a delightful stay amid citrus groves on a charming farm near the coast just outside Catania, conveniently located near Taormina and Etna. Visit our site for details.
Taormina and Naxos
Related pages: Mt Etna • Ancient & Medieval History • Timeline • Greeks • Carthaginians • Romans • Arabs • Normans

We've taken to describing Taormina, a nineteenth century haunt of the English aristocracy, as a Sicilian Monte Carlo, without the casino or royal family. But anybody who has been to Monte Carlo, or even Positano (on the Amalfitan coast south of Naples), will find Taormina faintly similar yet very different. It has long been Sicily's most famous resort town. It was here, in romantic Taormina, that a self-exiled D.H. Lawrence was inspired to write Lady Chatterly's Lover, one of the most passionate and erotic love stories of its era. Taormina has endlessly winding medieval streets and tiny passages, each with its own secrets - great restaurants, cafés and ice cream bars.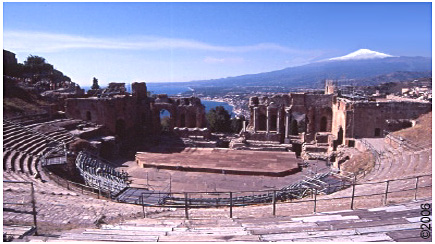 Some of these intriguing places are secluded gardens hidden by stone walls, others are set on terraces overlooking the coast or in more public but equally pleasant squares. Taormina is beautiful by day but in the evenings its atmosphere is simply enchanting, whether you stroll the illuminated streets or indulge in the view of the coast over a delicious dinner. Then there's the rarer spectacle of Mount Etna's nocturnal fires as lava flows along the snow-covered slopes of Europe's greatest natural wonder, leaving a stream of steam and light in its wake. Within its eternal stone walls, old Taormina has fascinating archeological monuments and medieval homes like Palazzo Santo Stefano. Magnificent views of the sea complete the picture. The most famous is the view overlooking the Greco-Roman amphitheatre, one of Sicily's largest, with Mount Etna and the sea in the background.
If you're looking for a long glimpse of Sicily's beauty and history from many angles in a single place, Taormina is a good choice. The city is located on a plateau below Mount Tauro, for which it is named, where there are the ruins of two medieval fortresses. Taormina's ancient Greek splendor, medieval charm and unique views of Mount Etna and the Ionian coast afford the visitor a lasting impression of Sicily.
Taormina was settled by the people of nearby Naxos, an older Greek settlement, around 395 BC, on a Siculian city. These early residents had fled the tyranny of Dionysius the Elder, who eventually conquered Taormina anyway, in 392 BC. The city was named Tauromenion in 358 BC, and figured prominently in the regional politics of the next two centuries.
The city supported Pyrrhus, King of Epirus, against Syracuse in 278 BC. It was from Taormina that he conducted hisSicilian campaign, with the aid of some ten thousand troops. Yet, Taormina was one of the first Sicilian cities to support Rome during the Punic Wars. Eunus took the city during the slave revolt, and when the Romans finally occupied the city they massacred thousands of slaves.
Taormina flourished in the time of Julius Caesar, only to suffer under Octavian, who retaliated against the city for its support of Pompey by expelling most of its inhabitants and offering their homes to Roman soldiers. Prosperity followed for the Romans of Taormina.
Ovid wrote of the "sweet mullet and tender eel" of Taormina's waters. Writing in the first century, Pliny the Elder praised Taormina's wines. The city's splendor, so evident even today, survived the fall of the Roman Empire, but her importance diminished. The "Saracen" castle atop Mount Tauro was probably built by the Saracens on an older Byzantine structure, and later enlarged by the Normans. Another fortress stood on still higher ground in the Castelmola district. Taormina's medieval and ancient

city walls remain very much in tact in the old city.
Though it is only about 200 meters above sea level, Taormina seems much higher. The Greek amphitheatre was built in the third century BC, and expanded by the Romans, who enlarged the stage and added a partial roof (now destroyed). Reserved seating existed even in Greek times; a seat bears the inscription of the name of Philistide, wife of Hieron II of Syracuse. The world famous view of Mount Etna and the sea beyond the theatre is breathtaking. The theatre is the site of dramatic performances during Summer; the seasons alternate with those of Segesta, the site of Sicily's other large Greek amphitheatre.
The odeon (odeum), a much smaller Roman theatre, is located near the Church of Saint Catherine (Santa Caterina), which obscures it. On the site of Saint Pancras Church, just beyond Porta Messina (the Messina Gate) outside the medieval city walls, was a temple dedicated to Zeus, a wall of which was incorporated into the present structure. (Saint Pancras is believed to have been an early priest or bishop of Taormina's Christian community.) Another eastern Sicilian example of the phenomenon of temples being converted to churches with the introduction of Christianity is the cathedral of Syracusa.
Indications of Taormina's ancient street plan are evident, and Roman mosaic floors have been found in the ancient villas in the area. Even Palazzo Corvaia, built during the fourteenth century, was constructed on Roman foundations. Taormina has a good archeological museum (near the amphitheatre), though many of the city's more important finds are housed elsewhere.
Taormina's streets retain much of their medieval flavour, as do many of the churches and residences. The city's "Duomo" is not actually a cathedral (as its name implies), but this Norman-Arab church, built over an earlier, Paleo Christian structure, dates from the twelfth century. The Badia Vecchia (Old Abbey) is a fourteenth century construction. A medieval Byzantine (Orthodox) mosaic icon of the Theotokos ("Mother of God") is perfectly preserved in the archway passage under the Clock Tower along Corso Umberto I leading into Piazza 9 Aprile. There are also some charming Baroque and recent structures. There has been a British presence, and a charming Anglican church, at Taormina for many years. D.H. Lawrence (1885-1930) lived nearby, and based several of his stories on local events.
The larger castle (in the Castelmola district) overlooks the city. It affords a spectacular view, though it is somewhat distant from Taormina and is not particularly well preserved.
Several beaches are close by, and Mount Etna is an excursion. The scenic Alcantara Gorge, a small canion, is located about a twenty minute drive south and west of Taormina on the Alcantara River off Route 185. Volcanic activity created the beautiful basalt formation.
Naxos, considered Sicily's oldest Greek city, is located just a few kilometers from Taormina (in the locality known as Giardini-Naxos) near Cape Schisò. Little remains here except for structural foundations and the pavement stones of ancient streets, but Naxos was once a flourishing city much larger than ancient Taormina. It was founded by the Chalcidensians as Sicily's first Greek colony in 735 BC.
For Visitors: There are a number of restaurants that offer seafood, exceptional pizza and other local cuisine. Taormina's main streets are full of places to buy craft items, especially fashion, jewelry, ceramics, mosaics, puppets and even porcelain dolls. While few of these items are actually made at Taormina, many are of the highest quality. The beach at Giardini-Naxos is a few kilometers away, and there are plenty of hotels in the area. A funicular cableway connects the old town to coastal Mazzarò below. There's a train station at Giardini nearby, but it's easier to reach Taormina by express bus from Catania and its airport. You'll have to park your car outside town. Taormina holds a film festival (attracting talent like Hugh Grant and Tom Cruise) and concert series each summer. Don't overlook coastal Giardini, which has some nice seafood restaurants and pizzerias. The only caveat regarding Taormina is that is can be quite crowded from April through September, so we recommend visiting during the cooler, "low season" months.
Hotel Reservations are easy with the online reservation system on our travel planning page, where you'll find convenient links to information on flights, hotels, car rentals, restaurants, weather and even travel books.