Selected Beaches in Sicily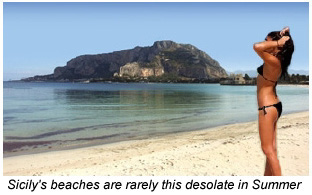 Get current and seasonal weather info on our Sicily weather page. The following are public beaches listed according to their nearest city or town. Please note that they may be somewhat distant from the localities indicated and may not have lifeguards. This is a selective list; beaches we consider less than enticing, such as Aspra near Bagheria, are excluded for various reasons (for example: too pebbly, too dirty, full of broken glass, bad location next to active railway lines). In the Aeolian (Lipari) Islands, there are several beaches which are not always referred to by name. A beach map follows on this page; our map of Sicily will be helpful in finding Sicilian localities. (For the eclectic subject of nudity on public beaches in Italy see our Sicily travel faqs page.) The oft-heard term lido usually refers to a "semi-private" beach which has chairs, parasols, children's areas, lifeguards and windsurfing facilities. Some Sicilian beaches are divided into public and private areas. Sicily's beaches are just one part of a splendid coastline; if time permits, explore some of our island's scenic regions too.

Cleanest Waters? In 2016 five Sicilian beaches were awarded the Blue Flag for their waters being among Europe's cleanest. This is a rating based on specific scientific standards rather than subjective ones. They are Porto Paolo (Menfi), Pozzallo and Ispica (Ragusa), Fiumefreddo-Cottone (Catania), Spiaggia Bianca (Lipari) and Marina di Ragusa.
• Aeolian Islands (Lipari Islands): These islands have numerous beaches. Spiaggia di Sabbia Nera (Black Sand Beach) on Vulcano is unique. Salina offers Pollara Beach. On the larger island of Lipari is Spiaggia Bianca (White Beach) and Ponente (Marina Lunga).
• Agrigento: San Leone, Scala dei Turchi (near Realmonte and Montallegro), Siculiana Marea, Gelonardo (east of Siculiana), Torre Salsa (near Siculiana).
• Alcamo: Beach is Alcamo Marina. Balestrate Beach is nearby.
• Augusta: Agnone Bagni and Brucoli (nearby).
• Avola Marina, south of Siracusa.
• Balestrate, on the Tyrrhenian coast west of Palermo near Castellamare del Golfo and Alcamo.
• Brolo, on the Tyrrhenian coast west of Messina.
• Campofelice di Roccella, between Termini Imerese and Cefalù.
• Capo Bianco, near Montallegro and Realmonte in the Sciacca area.
• Capo Calavà, near Gioiosa Marea (along Tyrrhenian near Messina).
• Capo d'Orlando, on the Tyrrhenian west of Messina. Nearby is also the slightly more secluded Cape Calavà.
• Castellamare del Golfo: Best public beach in the area is Balestrate.
• Catania: La Playa, Marina di Cottone (Fiumefreddo),
• Cefalù has its own beach; Lascari and Pollina Beaches are to the west.
•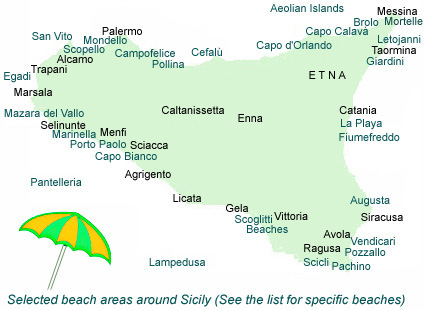 Egadian Islands: Cala Rossa on Favignana and Cala Minnola on Levanzo.
• Gela. See Scoglitti below.
• Gioiosa Marea (along Tyrrhenian near Messina): Capo Calavà.
• Isola delle Femmine, west of Palermo.
• Lampedusa, an island off the southern coast, boasts Spiaggia dei Conigli.
• Lascari, near Pollina west of Cefalù.
• Licata, near Gela east of Agrigento. The Scoglitti beaches begin to the east of Licata.
• Mazara del Vallo: Beach is divided into several sections.
• Menfi (near Sciacca): Beach is Porto Paolo, a name shared with a coastal area near Pachino.
• Messina: Mortelle (near Lido Tirreno) is north of the city on the Ionian side of the Peloritan Cape.
• Milazzo (gateway to Aeolians) is west of Messina.
• Marinella: Near Selinunte.
• Modica: Sampieri Beach.
• Montallegro (west of Agrigento near Sciacca and Realmonte): Capo Bianco.
• Pachino (southeast Sicily): Isola delle Correnti, Morghella and Carratrois (Porto Paolo near Capo Passero), San Lorenzo and Spinazza (both near Marzamemi), Granelle Beach.
• Palermo: Mondello (very crowded in July and August), Arenella (same name as beach near Siracusa). To the east toward Cefalù: Lascari, Pollina, Salinelle.
• Pantelleria (island off the Sicilian coast): Balata dei Turchi.
• Pollina (east of Cefalù): Pollina and Finale di Pollina. Nearby: Lascari and Salinelle.
• Porto Paolo, outside Menfi near Sciacca (a beach area near Pachino has the same name).
• Ragusa: Capo d'Aliga, Pineta del Gelsomineto, Pozzallo, Punta Secca, Acate, Marina di Ragusa. Also see Scoglitti (below).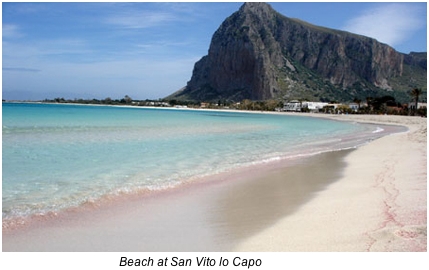 • San Vito lo Capo, near Trapani.
• Sciacca: Triscina, Porto Paolo (Menfi), Capo Bianco (near Realmonte and Montallegro).
• Scicli: Capo d'Aliga.
• Scoglitti, on the southeastern coast near Vittoria and Ragusa, has several beaches, namely Baia del Sole, Baia Dorica, Bianco Grande, Bianco Piccolo, Cammarana, Costa Fenicia, Forestale, Lanterna, Passo Marinaro. (This is Sicily's most extensive network of sandy shores.)
• Scopello: Guidaloca. Also see Zingaro (below).
• Selinunte: Marinella. Menfi is nearby
• Siracusa: Fontane Bianche, Arenella.
• Taormina: Giardini (Recanati Beach), Letojanni, Fondachello, Mazzarò.
• Tindari: Maranello, Oliveri.
• Vendicari: Calamosche Beach near Pachino and the southeastern tip of Sicily along the Ionian Sea.
• Zingaro, west of Palermo near Scopello.