Home Page
Site Search
Sights & Activities
Localities • Places
Good Travel Faqs
Sicily's Top 12
Hotels • Planning
Maps of Sicily
Weather • Climate
Nature • History • People
Food • Wine • Dining
Arts • Literature • Culture
Monthly Magazine
Sicilian Identity
Sicily Links
Contact • Follow

See Sicily with a great Sicily tour!
• Small group size, usually fewer than 16.
• Convenient itineraries with just 2 or 3 hotel check-ins.
• Tours almost every week.
• Good prices because there's no re-seller between you and us.
• "Must-see" sights plus a few "secret" ones.
• Choice of several tours.
• Exceptional tour leaders/guides.
• Good hotels and restaurants.
• Personalized services like airport pick-up or extra nights before/after your tour, because our staff of Sicily travel specialists is based in Sicily.
• Visit us right now for details, FAQs and reservations. We also do custom tours, for groups of any size.


Personal Travel in Sicily
Shouldn't your tailor-made vacation be arranged by your own travel expert in Sicily? Sicily Concierge will plan your trip from arrival to departure, whether it's a one-day excursion or a one-week itinerary. You can expect real travel services from real travel agents.

Start dreaming, and visit Sicily Concierge. Castles in the clouds are just the beginning.


The travel guide for Palermo and northwestern Sicily. Sights, hotels, restaurants, shopping, tours. Come See Palermo.


Sights of a timeless city. Personal tours of Palermo with your own guide, at your own pace, and your own itinerary.


Dine in a rustic restaurant, or enjoy rural lodging, hiking, wine tastings, cooking classes and more. Visit our working winery near Alcamo and Camporeale in the hills of Sicily's enchanting wine country. Visit our site for more information.

Scenic Sicily by Region
Landscapes, coasts, mountains and valleys in your Sicilian travels
»West & Val di Mazara »Northeast & Val Demone »Southeast & Val di Noto »The Heartland »The Islands
Related pages: Flora, Fauna, Geography • Mountains • Coasts • Country Life • Nature Reserves • Pictorial • Mount Etna • Beaches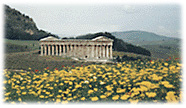 Here's a secret: Those websites and guide books that instinctively (perhaps arbitrarily) divide Sicily into the Ionian and Tyrrhenian coasts or the plains of Catania and Trapani are only telling you a tiny part of the story of the scenery and landscapes of our island. Scenic itineraries planned for their own sake are to be encouraged, but for thirty centuries people have been coming to Sicily with specific destinations in mind, even if they didn't always know exactly what to expect when they got here. When the Normans arrived (in 1061) they found the island divided into three Arab emirates based largely on the geography of coasts, valleys, mountain passes and beaches that one could travel on horseback or on foot. Like the ancient Greeks before them, the emirs and knights even considered the weather and climate of each region. Today, the most interesting and convenient roads trace these traditional routes. Doesn't it make sense to follow them? Our approach is firmly rooted in history as well as geography and topography. Sicilian country life is nothing like what you'll encounter in the island's frenetic cities. We invite you to discover one or more of Sicily's three "valleys" or the heartland and small islands. Along the way, think about visiting one of Sicily's Top 12 Places. To ease you into thinking about experiencing Sicily one piece at a time, our region map with live links precedes descriptions of each region; our large road map is good for details, while Sicily's major parks and nature reserves are listed on the Sights to See page. Let's go, or, as the Sicilians say, Amonì!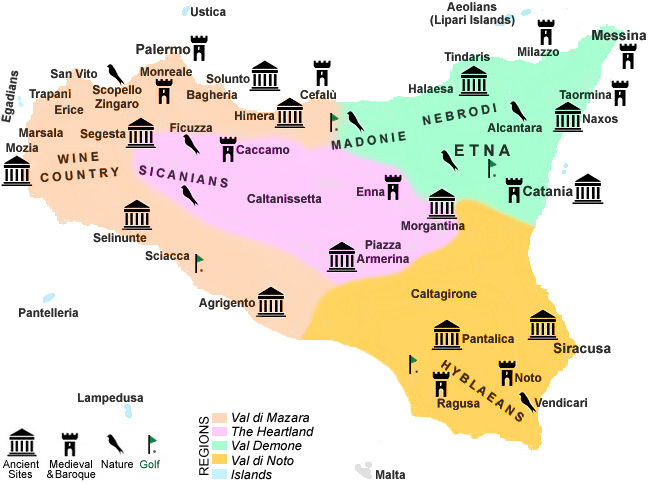 »West & Val di Mazara »Northeast & Val Demone »Southeast & Val di Noto »The Heartland »The Islands
• The West and Val di Mazara
This region is characterised by its great diversity. Each valley seems like a niche of scenic nature or endless farmland, bordered in the east by high Madonie Mountains and the impressive Sicanian range, which overlooks endless wheat fields and - in Spring - wildflowers like colourful snapdragons, poppies and daisies. The three most magnificent ancient Greek temples of Sicily, which are all in this region, are each set in different environments. Segesta's is set on a hill surrounded by valleys and mountains, Agrigento's is on a plain amidst olive groves and almond orchards, and Selinunte's lies on high ground overlooking a coastal plain and beaches.
Trapani also lies on flat land. Here you'll find the marshy salt pans wind mills that make this piece of Sicily seem almost Dutch. Erice, nearby, stands on an isolated mountain. In this far west of Sicily is the island's main wine region. If the most scenic viticultural landscape seems elusive, here's our best suggestion. From Salemi, take the SS 188 toward Marsala. You'll find little traffic but an endless series of gently rolling hills carpeted with vineyards as far as the eye can see - a place whose magical vistas rival those of any grape-growing region on either side of the Atlantic, from the Loire Valley to the Napa Valley.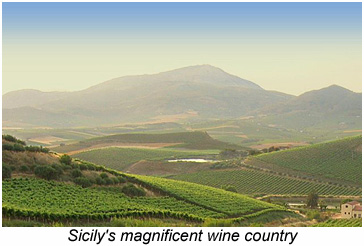 The natural heritage of the region is preserved in several reserves, most notably Lo Zingaro near Scopello, a hilly haven of wild fauna and flora in grass and bush lands overlooking the coast.
• The Northeast and Val Demone
It almost goes without saying that volcanic Mount Etna, with its majestic slopes and woodlands, reigns undisputably over this region, and at almost 3350 meters it's Sicily's highest mountain, but one of our favorite excursions is a vist of the Alcantara Gorge, a canyon formed by Etna's lava and waters. Of all the things that come to mind in this region, two that stand out are the mountains and the way they tumble steeply down to the coast. The Riviera dei Ciclopi, which follows the Ionian coast northward from Catania, takes its name from the rocky islets the ancient Greeks believed were boulders hurled at Ulysses (Odysseus) by the dreaded Cyclops which lived atop Mount Etna. Over on the Tyrrhenian side are the Aeolian Islands, with their exceptional beaches.
In northeastern Sicily there are two important mountain ranges - the Nebrodi and the Peloritan. We've also placed the eastern part of the Madonie Mountains in this region. Though the highest peaks of the Madonie are slightly higher, the Nebrodi Mountains are an impressive range, boasting extensive forests. These beach and conifer woods will challenge any preconceived notion of what "Mediterranean" landscapes should be. Our favourite drive is along the SS 289 from Cesarò high in the mountains to San Fratello and Sant' Agata Militello, a truly lush area that, with its high snowfall from late December into the middle of March, often looks more Swiss than Sicilian. A stop at Villa Miraglia, a lodge on the SS 289 in the middle of the forest, offers a chance to sample lamb, goat and the boarish Nebrodian Black Swine native to this region, and it's not far from a path leading to Mount Soro - at 1847 meters the highest peak in the chain.
Though much of Sicily was lushly forested in antiquity - when the Phoenicians and Greeks arrived - the Nebrodi and Madonie were the principal source of timber during the Middle Ages, especially for things like shipbuilding during the Aragonese period. Today a few specimens of the rare Nebrodi Fir (or Sicilian Pine) are protected in the Madonie Mountains.
This is the region of the island that receives the highest amount of precipitation , and the only lasting accumulation of snow.
• The Southeast and Val di Noto
The Hyblaean Mountains, which Sicilians call the Iblei, are the culmination of an extensive series of rolling green hills that one English writer christened Ragusa-shire. Though they're not very high, the Iblei do boast some interesting natural features. Cavagrande Cassibile is a canyon which, unlike Alcantara near Etna, was formed out of the limestone, and the ancient necropoli of Pantalica were carved into another such gorge.
The southern coast between Licata and Cape Passero has a succession of naturally sandy beaches formed by the incessantly pounding waves of the deep Sicilian Channel. Over on the Ionian coast, Vendicari is a large marshland protected as a nature reserve, home to indigenous flora and migratory birds.
• The Heartland - The Rugged Interior of Sicily
Far from beaches and marshes, the terrain of Sicily's interior is as varied as can be. There are rocky mountains, grassy pastures and hills, and the occasional forest, woods and stream. This is the Sicily of imagination and cinema - hilltop villages reached by winding roads. Overlooking the eastern part of this vast heartland is Enna, the Arabs' Kasr'Janni, a mountaintop town populated from the earliest times by the Sikanians, associated with the eponymous mountain range to the west.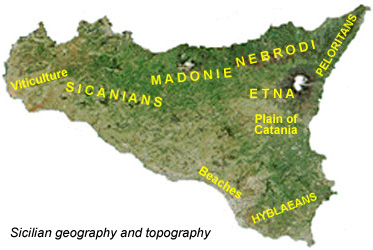 Like most of Sicily, this is an important region for the cultivation of almonds and olives, but it is as a granary that it has been most strongly identified since Roman times. Today feeding grasses are widely cultivated, but so is the hard wheat (triticum durum) made popular during the Arab period, used in the making of durum flour for pasta. Much of the pasta produced in Italy today is made from imported grain, as the nation could never meet its current level of production based exclusively on domestic sources. There's a common misconception that the grasses of Sicily turn amber by late June because of a lack of rain; in fact the drying is based on a genetic characteristic, and occurs "early" even when there is an unusually high level of precipitation in the Spring months. The grain harvest begins in August. (You will notice that while citrus trees are irrigated, olive trees and wheat fields are not.) Wild artichokes, harvested twice a year, are native to this region.
Travelling westward toward the ridges of the Sicanian Mountains, dominated by Mount Cammarata, are a number of towns, including Caltanissetta. Most visitors are unaware of the invisible line dividing the island into two Sicilies. The imaginary boundary separates Enna and 'eastern' Sicily (with Catania as its point of reference) from Caltanissetta and 'western' Sicily (with its orientation toward Palermo). The division is not entirely political; it reflects the flow of rivers through steep valleys and the complex paths carved into mountain passes in antiquity.
The central regions have extensive sulfur deposits but there are few operating mines today. A charming spot on the northern edge of the Sicanian Mountains, beneath Rocca Bussambra, is the Ficuzza Woods and a man-made lake. This is one of the most delightful nature reserves in western Sicily.
• An Island and Her Islands
It comes as no great revelation that Sicily is the Mediterranean's largest island, but there are a number of islands off its coast. This includes several archipelagos and a few isolated islands. The Aeolian Islands are a volcanic archipelago in the Tyrrhenian Sea. The Egadian Islands lie off the western coast near Trapani and Marsala. In the Sicilian Channel south of the island, Pantelleria and Lampedusa are farther away. All have inviting beaches. Ustica is essentially a marine reserve. Malta, though not part of Italy, was a nominal dependency of the Kingdom of Sicily until 1798.