Home Page
Site Search
Sights & Activities
Localities • Places
Good Travel Faqs
Sicily's Top 12
Hotels • Planning
Maps of Sicily
Weather • Climate
Nature • History • People
Food • Wine • Dining
Arts • Literature • Culture
Monthly Magazine
Sicilian Identity
Sicily Links
Contact • Follow


Per­sonal Travel in Si­cily
Shouldn't your tailor-made vaca­tion be ar­ranged by your own travel ex­pert in Si­cily? Sicily Con­cierge will plan your trip from ar­rival to de­parture, whether it's a one-day excur­sion or a one-week itinerary. You can ex­pect real travel services from real travel agents. Start dream­ing, and visit Sicily Con­cierge. Castles in the clouds are just the begin­ning.


See Si­cily with a great Si­cily tour!
• Small group size, usual­ly fewer than 16.
• Con­venient itineraries with just 2 or 3 hotel check-ins.
• Tours al­most every week.
• Good prices be­cause there's no re-seller be­tween you and us.
• "Must-see" sights plus a few "secret" ones.
• Choice of several tours.
• Excep­tional tour leaders/guides.
• Good hotels and restaurants.
• Person­alized services like air­port pick-up or ex­tra nights before/after your tour, be­cause our staff of Si­cily travel specialists is based in Si­cily.
• Visit us right now for de­tails, FAQs and reserva­tions. We also do cus­tom tours, for groups of any size.


The travel guide for Palermo and northwestern Sicily. Sights, hotels, restaurants, shopping, tours. Come See Palermo.


Dine in a rustic restaurant, or enjoy rural lodging, hiking, wine tastings, cooking classes and more. Visit our working winery near Alcamo and Camporeale in the hills of Sicily's enchanting wine country. Visit our site for more information.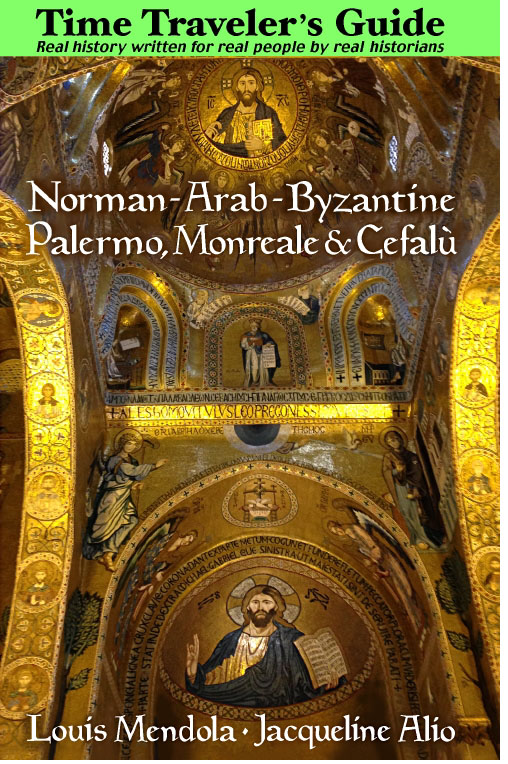 Time Trav­eler's Guide to Nor­man Arab Byzan­tine Pa­ler­mo, Mon­reale & Cef­alù. Dis­cover the greatest won­ders of med­ieval Si­cily. From Ama­zon US, Ama­zon UK, Ama­zon CA, Barnes & Noble, BAM!, Water­stones, Indigo, Fish Pond and other ven­dors. Pa­lermo: Lib­rer­ia del Cor­so. Mon­reale: Cathe­dral Book­shop.
Weather in Sicily
Sicily's Climate • Precipitation Map • Daylight Hours • Culinary Seasons
Related pages: Sights & Activities • Travel Faqs • Sightseeing Tips • Transportation • Scenic Regions • Cities & Towns • Top 12 • Airports • Planning & Hotels • Challenged Visitors • Safety • Beaches • Culture • Museums • Annual Events

Presented in cooperation with Weather Underground. Before you plan a day (or a week) at the beach or in the mountains, get the current weather conditions and forecast. (The report will open in a new browser window or tab.) An accurate precipitation map follows below.
Current Weather Conditions and Forecasts in Sicily

Palermo Weather
Regional capital and Sicily's largest urban area. Sunny Palermo typically has less rainfall annually than any other large city in Italy.

Catania Weather
In the shadow of Mount Etna, this region sees more precipitation than other areas, but also some occasional volcanic ash.

Messina Weather
A gateway to Sicily if you arrive by land. Taormina nearby gets a surprising amount of rain during the winter, but it's a great time to visit.
Average Temperatures, Precipitation & Daylight in Sicily
Month
Jan
Feb
Mar
Apr
May
Jun
Jul
Aug
Sep
Oct
Nov
Dec
Year
Average High Temp °C (°F)
15
(59)
15
(59)
16
(61)
18
(64)
22
(72)
25
(77)
28
(82)
30
(86)
27
(81)
23
(73)
19
(66)
16
(61)
20
(68)
Average Low Temp °C (°F)
10
(50)
10
(50)
11
(52)
13
(55)
16
(61)
20
(68)
23
(73)
24
(75)
22
(72)
18
(64)
14
(57)
11
(52)
16
(61)
Precipitation mm (inches)
72
(2.83)
65
(2.56)
60
(2.36)
44
(1.73)
26
(1.02)
12
(.47)
5
(.20)
2
(.08)
42
(1.65)
98
(3.86)
94
(3.7)
80
(3.15)
611
(24.06)
Hours of Daylight
10
11
12
13
14
15
14.5
14
12.5
11
10
9.5
Monthly Averages
Hours of Sunshine
4
4.5
6
7
9
11
12
10
9
6.5
5
4
Monthly Averages
NOTE: What you see reported in this chart is based on statistical generalities; January and February in Sicily can be unpredictably cool and wet. In January 2009 there were 199 millimeters of precipitation, more than Sicily sometimes gets in an entire year. These figures reflect general averages for the ENTIRE island but some regions get more rain (and snow) than others, as indicated in the following precipitation map. See the Celsius-Fahrenheit chart at left for specific temperature conversions.
Change of Seasons: Sicily Month-by-Month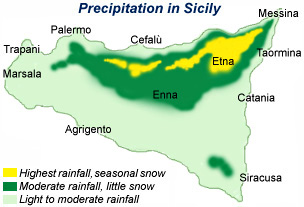 See our events page for annual festivals and other interesting experiences. The best time to visit? A very individualistic choice, and we have a few travel ideas, but... For general sightseeing, we recommend the periods October through December and March through June. For skiing on Mount Etna, late January and early February are best. If you're a dedicated vacationer who can't get enough sunshine and beaches, we suggest June through September. Remember that July, August and the first two weeks of September are extremely hot, and bear in mind that almost everybody in Italy goes on holiday in August, making for some crowded beaches. Winter is a good time to come to Sicily if the focus of your visit is history and culture and you want to avoid the crowds.
Time Change: Italy is on Central European Time (UTC+1); throughout the European Union clocks are changed on the last Sunday in March - to Daylight Time - and the last Sunday in October (compared to the second Sunday in March and the first Sunday of November in most of the US and Canada). Holidays indicated below are those on which banks, schools and public offices may be closed.
• January: Usually the coolest month in the mountains, with snow on Mount Etna's ski trails, and slightly warmer in coastal areas, though there have been some exceptions. By now, the autumn rains - ever more frequent since November - have turned the fields of grass and grain a deep green. Late January marks the beginning of the sea urchin season; try them at one of Sicily's restaurants. Certain crops are available during Sicily's second harvest, from December through March; this includes the semi-domesticated broccoli sometimes called sparacelli in western Sicily (though elsewhere that word refers to wild asparagus). Tasty cardoon, the artichoke's poor cousin, is in season too. Holidays: 1 January (New Years), 6 January (Epiphany).
• February: It may still seem cool, but the almonds will start to blossom by mid-month, especially in southern regions such as Agrigento, which celebrates with a folk festival. This is the season for almond marzipan pastries (pasta reale). A great time for golf in Sicily. Holidays: 5 February (St Agatha, Catania).
• March: Late in the month the wildflowers begin to bloom. A carpet of colourful snapdragons coats the fields of the interior. The summit of Etna is still snow-covered, and so are the highest peaks of the Nebrodi and Madonie. The artichokes are harvested. In Sicily March can be windy and rainy. The 19th is Saint Joseph's Day, celebrated with cream-filled sfingi, puffy pastries similar to Neapolitan zeppole. Good Friday is one of those holy days when Sicilians eat sfincione, a kind of cheese-less pizza. Holidays: Easter and Easter Monday sometime occur in March.
• April: The wheat fields are their greenest green, with wildflowers blooming in uncultivated areas around Sicily. This is the Easter season - though the holy day's date varies. There's still snow on Etna. Time for fritedda, made with artichokes, fresh fava beans and other green products (like fennel) of the first of Sicily's two harvests. Holidays: 25 April (Liberation Day), Easter and Easter Monday sometime occur in April.
• May: The wildflowers are in bloom and the countryside is still green, even in relatively low regions like the Sicanian Mountains. By the middle of the month the water has warmed enough to make a day at the beach a pleasant outing. Some of outdoor attractions for children are now open. This is the season for granita (ices) and ice cream in fruity flavours. Holidays: 1 May (Labour Day).
• June: Beach season formally begins, especially for students, whose school year ends. An array of fruit, including strawberries and mulberries, is already being harvested. Holidays: 2 June (Republic Day).
• July: Summer begins and rain is now extremely rare. The grassy fields are turning the colour of brownish straw, not for lack of rain but out of longstanding habit. Bring a jacket if you venture to the summit regions of Etna, where it's still chilly. It's ground snail season. Holidays: 15 July (St Rosalie, Palermo).
• August: It probably will not rain this month. That's almost a certainty. Beware that the beaches may be crowded as Italians go on holiday en masse. In the cities many restaurants and shops will be closed the week of Ferragosto (15 August), or even for the entire month. Yet many crops are harvested in August, including figs, the sweet watermelon and the venerable citron. In late August grape harvesting begins in Sicily's wine country and around the island, a friendly reminder to try some Sicilian wines. Holidays: 15 August (Ferragosto).
• September: Autumn harvests continue around Sicily, not only of grapes but also pistachios, delicious almonds and other nuts, as well as prickly pears (which Italians call 'fichi d'India'). The first substantial rains arrive, usually after mid-month. Temperature-wise, the first two or three weeks of September are an extension of the long Sicilian summer, though by mid-month the nights are usually slightly cooler than those of August. The couscous festival is held in Trapani.
• October: This is when the olive harvest begins, and street vendors in larger cities sell chestnuts they roast for you. The nights are relatively cool, especially in higher areas, but the days are comfortably warm. This is one of the best times to visit Sicily, especially for sightseeing or general touring.
• November: Marked by the feasts of All Saints and All Souls at month's beginning, this is 'officially' the time for harvesting oranges. It is cooler except for an occasionally warm day of Saint Martin's Summer. In Sicily his feast, on the 11th, is celebrated with hard biscuits served with fortified wines like Moscato or Malvasia. Novello, Sicily's nouveau wine, goes on sale during the third week of the month. Miraculously, the fields of grain and grasses are green again, and this is when the grazing sheep begin to produce the milk used to make ricotta, the main ingredient in the cream filling of cannoli and cassata (Sicilian cheese cake). Holidays: 1 November (All Saints Day).
• December: The 13th is Saint Lucy's Day. The patroness of Syracuse is celebrated with arancini (rice balls) or wheat-berry pudding (cuccìa) to mark her saving the island from starvation in 1643, when a ship arriving loaded with grain was commandeered and its cargo seized to feed the people, who didn't bother grinding the wheat into flour. On Saint Lucy's Day ground flour products are not consumed, so expect bakeries to be closed. Buccellato is Sicily's fruitcake or panforte. Christmas is a magical time in Sicily, and historical sites are not crowded during this season. Holidays: 8 December (Immaculate Conception), 25 December (Christmas), 26 December (St Stephen).