Home Page
Site Search
Sights & Activities
Localities • Places
Good Travel Faqs
Sicily's Top 12
Hotels • Planning
Maps of Sicily
Weather • Climate
Nature • History • People
Food • Wine • Dining
Arts • Literature • Culture
Monthly Magazine
Sicilian Identity
Sicily Links
Contact • Follow

Best of Sicily Books
In cooperation with our publishing partner Trinacria Editions and other publishers around the world, Best of Sicily announces a program promoting books by Siculophiles dedicated to our favorite island. Numerous books about Sicily are available for purchase on our Sicily books page, but the titles on this one are works that we have sponsored directly. These are authors we know personally, part of our informal "Sicilian cultural network." Subjects range from history and fiction to cuisine and current topics, and most titles are available in electronic editions (e-books) as well as paper.
Online since 1999, Best of Sicily is the most popular international publication dedicated to Sicily, with over two million readers per year – some 6,000 per day. That's a responsibility we take seriously. This is an independent publication, not one owned by a media conglomerate, publishing house or public institution, or by a company dedicated exclusively to travel services.
Best of Sicily sponsors more book titles about Sicily than any other online travel/destination guide.
Trinacria Editions was established in New York as the international division of Sicily-based Officina Trinacria. It is the only Italian publishing house south of Rome having a subsidiary based in the United States for the publication of books in English. Some are works in translation from Italian, while others are written in English as their original language. Each volume is printed on archival-quality, acid-free paper in a durable binding.
The book publishing arm of Best of Sicily? Not quite. But this partnership is a growing (and much-needed) resource dedicated to Sicilian books and authors. Sicily deserves it, and so do you.
These titles are available through a wide network of book shops – they can be ordered through such stores as Daunt in London and Idlewild in New York – as well as online vendors, including Amazon in various countries, Fishpond in Australia and New Zealand, and of course Barnes & Noble in the United States.
Women of Sicily: Saints, Queens and Rebels (Jacqueline Alio). The first book about the historical women of Sicily written in English in the original by a Sicilian woman in Sicily. Well known to this site's readers, Jacqueline Alio is one of very few Sicilian historians whose work has been read beyond Italian borders. In 2013, she co-authored The Peoples of Sicily. While its point of view is arguably feminist and slightly Sicilianist, this is a very objective, unbiased look at the lives of seventeen women who shaped Sicilian history in some way – and a significant contributation to the field of women's studies. An appendix considers the status of Sicilian women today, but this is a book of biographical history, not sociology. For context, it provides a concise introduction to Sicilian history and a detailed chronology, along with a good reading list. The focus is essentially medieval – most of the women discussed lived before 1500 – but the profile of Maria Sophia, the last Queen of the Two Sicilies (who died in 1925) brings it into modern times, with some candid, sobering facts regarding Italian unification, Fascism and other movements that overlooked the rights of Italian women. (Read More →)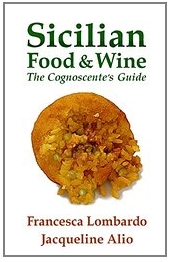 Sicilian Food and Wine (Francesca Lombardo with Jacqueline Alio). It's not a cook book, except for a dozen classic recipes the authors felt compelled to include. This is a general guide to Sicilian cuisine. Unlike many such books, this one dedicates ample space to wines, olive oils and geography. Yet its focus is not a particular author's Sicilian identity or quest for self-discovery through food, "personality driven" topics that seem to have hijacked many otherwise good, well-written books about Sicilian cookery. For Lombardo and Alio – the former is a certified sommelier – the food and its history are more than enough to make your culinary adventure interesting. Here the star of the show, invariably, is the food, not the author. This is a very factual book, describing authentic traditions without the urban legends and folklore that influence common perceptions about Sicily's complex, delicious cuisine. This volume has a very simple format that makes it easy to find what you're looking for, in the book and in Sicily. (Read More →)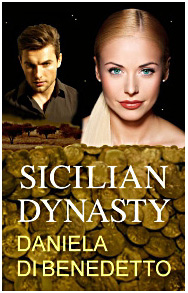 Sicilian Dynasty (Daniela Di Benedetto). First published in Italian as L'Erede, this novel tells the story of a wealthy agricultural family whose fortunes change through personal tragedy, the threat of the Mafia and a touch of disloyalty. Told from the parallel perspectives of a husband and wife, the journey takes the reader along a path full of twists and turns. Antonio, the protagonist, must confront all kinds of challenges among his family and friends but, as is so often the case, his worst demons live within himself. Set late in the twentieth century and spanning two decades, Sicilian Dynasty reflects the stark – often bizarre – realities of Sicily faced by many people during those times. It is their reactions, ranging from disillusion to denial, that make this an interesting psychological study. Social circumstances among Sicilians are often so outlandish that outsiders (even other Italians) are reluctant to believe that such things are possible. This is one of just a few novels by Sicilian women to find their way into hard copy in English, reaching an international readership. (Read More →)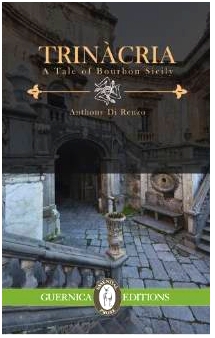 Trinàcria: A Tale of Bourbon Sicily (Anthony Di Renzo). "The past never dies." This historical novel captures the spirit of a simpler time, and the essence of a place and its people viewed through the eyes of a fictional Sicilian aristocrat, the marchesa of Scalea. Transcending mere history, it touches the emotions of a family and a people better than any historical account ever could, with sobriety, pragmatism and – most of all – passion. Trinàcria is not "ethnic" or nationalist niche literature. At 160 pages, it's an overdue reality check revealing the true colors of Sicily and Italy. In the tradition of Giuseppe Tomasi di Lampedusa's timeless novel, The Leopard, Anthony Di Renzo's book glimpses the true face of the unification movement in Sicily and the revisionism spawned in its wake. In a world of literary clichés, this is a story full of interesting characters in a thought-provoking story.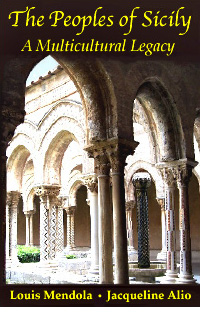 The Peoples of Sicily: A Multicultural Legacy (Louis Mendola and Jacqueline Alio). This long-awaited, landmark work breaks new ground in its multidiscliplinary exploration of Sicily's polyglot history. Featuring a fairly lengthy historical outline and a long chronology, along with some good maps and an introduction to the religions of Sicily, this 368-page book is a fairly detailed look at Sicilian history during the Arab, Norman and Swabian periods, until around 1250. However, it considers the island's complex history into the fifteenth century, always from a sophisticated, cosmopolitan view – something absent from the histories produced by Sicilian authors whose knowledge of cultures and languages beyond Italian shores is less than that of these two. At this length, it is substantial, but its innovative format makes it easy to read a chapter or two at a time without losing your sense of the overall story. And an engrossing tale it is. Here the prose is inspiring but never too esoteric to be interesting. (Read More →)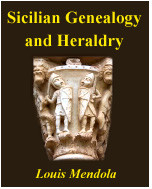 Sicilian Genealogy and Heraldry (Louis Mendola). Sicily boasts the world's best genealogical records, revealing the deep roots of a Sicilian identity and facilitating the construction of many pedigrees into the fifteenth century. Based on the author's thirty years of experience, this book is the first guide ever published in English dedicated exclusively to Sicilian genealogical research. Topics range from parochial, civil and feudal records to DNA haplotyping, religion, rural life, cuisine, coats of arms, surname origins and Jewish genealogy, with insightful information on historiography and research strategies. Its reading list is a definitive canon constituting a syllabus for Sicilian studies. When it's not answering specific questions, this book tells you how and where to get the answers. Here "the Indiana Jones of Italian history" shows you how to "push the envelope" of family history research into Sicily's multicultural Middle Ages. (Read More →)
The History of Sicily (Louis Mendola). A simple title for an enjoyable yet enlightening read. At 400 informative, fact-filled pages, the long-awaited volume by one of Sicily's favorite historians captures four thousand years of history in just over four hundred fascinating pages. The History of Sicily is a rare treasure that treats Sicily in the sophisticated, cosmopolitan light she deserves, without avoiding modern topics that many authors have chosen to ignore. Here Fascism and the Mafia, each with its own chapter, are covered in what is a fairly detailed manner for a "generalist" work of this kind. But so are other subjects which most historians practically ignore, things like Judaism in Sicily and the genetic research that confirms the island's colonization by successive civilizations. (Distribution in the US and UK is scheduled for early 2016.)