Good Sicily Links
We select sites based on objective editorial factors. While our linking to a site does not necessarily imply our editors' agreement with its content or point of view, all the sites linked here have been reviewed for quality of presentation and/or content. We link to relevant sites presented in English. Visit the links guide to suggest a link (we do not "exchange" links or banners).

Linked sites will open in a new browser window.
• Tours, Transportation, Guides
• Theatre, Music, Dance
• Cinema, Film, Personalities
• Social Issues, Volunteerism, Religion, LGBT
• History, Society, Genealogy
• Cooking Courses, Wine Tours, Motorcycling
• Destination Guides (cities & nature)
• Wedding Planners
• Fashion, Art, Antiques
• Cooking, Food and Wine
• Villas, Guest Farms, House Rentals
• Newspapers & Expatriate Info
• Sites & blogs we love!!!
• Search Best of Sicily
Tours, Transportation, Guides
More info on our airport and transportation pages.
Italian Trains. Railway schedules and ticket purchasing procedures. English section is useful. (When using the destination features, remember to use Italian names for certain cities, Siracusa instead of Syracuse, and that some cities have more than one station.)
Ryan Air. Frequent direct flights between London and Sicily at great prices.
Easy Jet. Service across Europe.
Alitalia. Good "go to" choice for flexibility in flight selection.
Catania Airport. Fairly usable site of the main airport in eastern Sicily, for Taormina, Messina, Siracusa, Ragusa, Enna.
Palermo Airport. Slightly less usable site (compared to Catania's) of the main airport in western Sicily, for Cefalù, Caltanissetta, Trapani, Marsala, Agrigento.
Trapani Airport. Site of the secondary airport in western Sicily, for Palermo, Trapani, Marsala.
Sicily Concierge. Completely personalised, custom-tailored holidays and specialised travel planning. One of very few firms of this kind in Sicily.
Best of Sicily Tours. Interesting (and affordable) tours of Sicily that visit major sights and sites of interest. May be purchased directly from the tour operators in Sicily. Departure from Palermo or Catania. Shore excursions, too.
Sicily Moto Rent. Motorcycle rental in Sicily. Good place to rent a bike for your trip around the island.
Excursions from Palermo. Twice weekly (regularly-scheduled) guided day tours to Segesta, Erice and Agrigento.
Walking Tours of Palermo and Monreale. Personalized guided walking tours, ideal for small groups.
Excursions on Mount Etna. Hiking, jeeps, quads with expert guides.
Ships, Ferries, Hydrofoils. Several services can get you to the Italian or African mainland or the smaller islands. Tirrenia is the most important ship operator servicing Sicily, with daily departures to Lipari, Naples, Genoa, Tunis and Sardinia. This bilingual site provides schedules and useful ticket information. Snav has faster ships and a fleet of hydrofoils (service is only seasonal and their site has no English text). Or try Siremar. For travel to Malta, check out Virtu Ferries.
Special Projects. Hire Best of Sicily's staff for specialized editing, consulting, photographic or research projects, travel writing, public relations and advertising.
Theatre, Music and Dance, Entertainment
Teatro Massimo (Palermo). Informative bilingual Italian-English site of Sicily's most important opera house and concert hall, with a list of currently scheduled concerts, opera and ballet. The site includes an excellent history of the theatre's past seasons and its role as a symbol of Palermitan culture for a century. Concert-goers and opera-lovers can check out what's scheduled before they arrive in Palermo. Online ticket purchase too.
Teatro Massimo Bellini (Catania). Informative multilingual site of eastern Sicily's most important opera house and concert hall, with a list of currently scheduled concerts, opera and ballet. Easy on-line ticket purchase.
Taormina Film Festival. Good guide to this annual international cinematic celebration. Sometimes described in English.
Classical Drama in Syracuse's Amphitheatre. Bilingual Italian-English site of the National Institute of Ancient Drama of Syracuse, which performs classical Greek and Roman dramas in the ancient amphitheatre of that eastern Sicilian city. Presents a seasonal calendar of performances and ticket purchasing information. The plays are usually performed in Italian rather than their original languages.
Balletto di Sicilia (Sicilian Ballet). Bilingual Italian-English site of Sicily's most important ballet company, now known as the Compagnia Zappalà of Catania.
Pasqualino Brothers Sicilian Puppet Theatre. Bilingual site (this link is to the English version) of a well-known Sicilian puppet theatre operated outside Italy by the Pasqualino family. The "puppets" are actually wooden marionettes made in the traditional manner. These Pasqualinos have no connection with the Pasqualino Marionette Museum in Palermo.
Giuseppe Tornatore. The Oscar-winning director was born in Bagheria, near Palermo, and filmed some of his most successful movies in Sicily. This is a link to our article about Tornatore and his work.
Maria Grazia Cucinotta Outside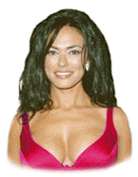 Italy, you might recognize this actress from The Postman (Il Postino), A Brooklyn State of Mind, and other films. The talented and beautiful Maria Grazia Cucinotta was born and raised in Messina. This is the link to our profile of her. Her official fan site (mostly in Italian) is at MariaGraziaCucinotta.it.
Social Issues, Volunteerism, Religion, LGBT
The Sicilian Project. Primarily a program to improve the English skills, and hence career opportunities, of young people in Sicily.
Sicilia Ortodossa. Bilingual Italian-English site of the Diocese of Sicily of the Eastern Orthodox Church, located in Palermo.
Anglican Church. Site of Holy Cross Church, located on Via Roma in central Palermo.
Addio Pizzo. This site represents efforts of a young generation of Sicilians to combat the Mafia, Sicily's most serious social problem. Ignore the silly propaganda that says there's no Mafia. This is the real deal.
GuideMag. Gay-friendly travel in Sicily. Lodging, pubs, night spots.
History, Society, Genealogy and Heraldry
Two Sicilies. Bilingual site of the Royal House of Bourbon of the Two Sicilies, the dynasty that ruled Sicily (and most of southern Italy) from 1734 until 1860. Featuring interesting sections on aristocratic traditions, dynastic history, orders of knighthood and other current activities of Sicily's royal family, this site is particularly practical as a way of mentally linking places like the Chinese Villa, the Favorita Park and the Ficuzza Hunting Lodge to their royal heritage.
The Peoples of Sicily. Books by Jackie Alio and Lou Mendola, two of Sicily's leading historians.
Family tree DNA. Good source for DNA testing, which can be useful in genealogical research. The procedure is simple, painless and inexpensive.
Sicily DNA Project. Good place to complement genealogical research with genetic information through a network of Sicilian descendants who have had their DNA tested.
Genealogical Research. We're not a genealogical research service, but every week Best of Sicily gets more questions about genealogical assistance than we could ever possibly answer – everything from queries about locations of small towns to requests for free research assistance and even validation of supposedly "aristocratic" lineage. For basic suggestions, visit our Genealogy page, but there are other sites for detailed discussions of genealogical topics. There and on our tour guide page are specialists who can accompany you to an ancestral town to conduct genealogical research or just visit.
Allied War Cemeteries. There are a number of these in Sicily, but note that many fallen Americans are buried at the Sicily-Rome Cemetery maintained by the American Battle Monuments Commission in Nettuno near Rome. There are several British Commonwealth cemeteries in eastern Sicily. See the Commonwealth War Graves Commission site for more information or to search for a particular soldier from Britain, Canada or elsewhere in the Commonwealth. The Canadian War Cemetery is at Agira. The principal British War Cemetery is outside Catania; a smaller one is located outside Siracusa. German burials are at a dedicated cemetery at Motta Sant'Anastasia outside Catania, near the Sigonella facility housing air bases of Italy, NATO and the US Navy.
Sicilian Campaign 1943. Official United States Army military history of the campaign in Sicily in Summer 1943.
Battle of Hastings 1066. The other Norman conquest --of England. Great site dealing with this English battle fought five years after the Normans' Battle of Messina. Good general information on the conquerors of both Sicily and England. (Some Norman knights actually fought in both places.)
A Bequest Unearthed: Phoenicia. Best online source of information on the Phoenicians, who founded settlements in western Sicily around 750 BC. The site presents numerous specialised articles on all aspects of Phoenician history, society and culture – in Phoenicia and around the Mediterranean. Well-indexed and easily searched.
Cooking and Wine Tours, Wineries and Recreation
Sicily Moto Rent. Motorcycle rental in Sicily. Good place to rent a bike for your trip around the island.
Cooking Classes in Sicily. Informative article listing a number of cookery programmes around Sicily.
Food and Wine Tours of Sicily. Francesca Lombardo's personalized tours.
Destination Guides to Archeology, Localities, Nature
See Palermo. Good general guide to Palermo and nearby attractions.
Taormina Online. Good locality site with no commercial clutter or local political promotion. Sponsored by the Taormina Friends Club. Graphically simple but very useful guide to a unique town.
Taormina Film Festival (and other events). The site sometimes includes English text, and describes this annual Summer event and others.
Vendicari Oasis. Info on the Vendicari nature reserve, a marshland in southeastern Sicily.
Baroque Sicily. A great guide to the Ragusa area and southwestern Sicily, but also all kinds of things, by an accomplished writer.
Sicily Wedding. Magical destinations in western Sicily - Cefalù, Castelbuono, Palermo.
Weddings on the Move. American-based wedding consultant (working with clients in Canada and the United states) whose growing list of locations includes several in mainland Italy and, of course, Sicily. On-site representatives arrange everything from your wedding and reception to your honeymoon.
Weather Page. Weather reports and forecasts for Sicily's largest cities - Palermo, Catania, Messina. It's amazing how many folks ask us about the weather. This useful page makes it easy.
CNN Weather Page - Palermo. Convenient weather reports and forecasts for Sicily's largest city.
Marella Ferrera. One of Sicily's best known fashion designers, based in Catania.
Pietro Boscia. Master of Sicilian painting on glass.
Cin-Cin Restaurant. Exceptional restaurant in central Palermo off Via Libertà between Politeama Theatre and English Gardens.
Sicilian Cuisine Blog. A great source for recipes.
La Cucina Eoliana e Siciliana In addition to recipes, useful information about the Aeolian (or Lipari) Islands.
Tarantola. Stay at a working winery near Alcamo.
Sicily 4 U. Villa, apartment and house rentals around Sicily, including out-of-the-way places like Scopello.
San Leonardello. Charming farm house near Catania.
Newspapers in Sicily and Expatriate Info
Not much English in the two Sicily-based dailies but they're a good resource to complement (or, if you prefer, "confirm") the information we occasionally present on social issues and life here in Sicily - which we admit may sometimes seem bizarre to outsiders. Both present national and international news as well. They're also good for current info such as announcements of strikes and political developments.
World Crunch. Articles of various publications, including Italian newspapers, translated into English from their original languages.
The American Mag. Despite its name, an original, online publication with a focus on life in Italy based on articles by real writers (not just bloggers) from around the world.
Expats in Italy. Good, accurate information for those planning to live in Italy.
Giornale di Sicilia. Based in Palermo with local sections for some cities in central and western Sicily.
La Sicilia. Based in Catania, the focus of this newspaper is eastern Sicily.
Sites and blogs we love!
Interesting, genuinely original content in the true spirit of the Web is what makes these sites and blogs so special that we almost wish we'd written them ourselves. Considering our critical attitude and obsessive attention to quality in content, that's a sincere compliment.
Baroque Sicily. Author Jann Huizenga lives part of each year in southeastern Sicily. Her site is an insightful, informative jewel, part blog and part destination guide to Ragusa and its environs – and to Sicily in general.
Unwilling Expat. Rochelle Del Borrello is Sicilian by blood, Australian by birth, and passionate about Sicily.
Lost in Sicilia. Karen Abend lends an American voice to the Sicilian experience.
Sicilian Diary. Experiences of Lola Montez.
Sicilian Godmother. Veronica Di Grigoli is from London but has made her home in Sicily for years.
Driving Like a Maniac. Englishwoman Kate Bailward teaches English in Sicily.
Sicilian Cuisine Blog. There are some good Sicilian food and wine sites, but this one is in English. Language aside, Giorgia's recipes are very understandable and easy to follow. (It's always nice to encounter sites like this one published by real writers based here in Sicily.)
Revealed Rome. A practical guide to Rome and central Italy. Amanda Ruggeri is the real deal, a bona fide author with a passion for Italy.
Search Best of Sicily
Can't find it on this page? Search our site...
We try to keep these links up to date. Please let us know if you try one that doesn't work. These hypertext links are presented for reader convenience only. Our linking to a site does not necessarily constitute an endorsement of the goods or services (or editorial content) offered via that web site, and Best of Sicily receives no payment for listing non-graphical hypertext links on this page, though advertisers' sites are usually linked here as a courtesy. Your submissions to this page are welcome. If you wish to suggest a link, please go to our submission page for standards and additional information.