Home Page
Site Search
Sights & Activities
Localities • Places
Good Travel Faqs
Sicily's Top 12
Hotels • Planning
Maps of Sicily
Weather • Climate
Nature • History • People
Food • Wine • Dining
Arts • Literature • Culture
Monthly Magazine
Sicilian Identity
Sicily Links
Contact • Follow


See Sicily with a great Sicily tour!
• Small group size, usually fewer than 16.
• Convenient itineraries with just 2 or 3 hotel check-ins.
• Tours almost every week.
• Good prices because there's no re-seller between you and us.
• "Must-see" sights plus a few "secret" ones.
• Choice of several tours.
• Exceptional tour leaders/guides.
• Good hotels and restaurants.
• Personalized services like airport pick-up or extra nights before/after your tour, because our staff of Sicily travel specialists is based in Sicily.
• Visit us right now for details, FAQs and reservations. We also do custom tours, for groups of any size.


Personal Travel in Sicily
Shouldn't your tailor-made vacation be arranged by your own travel expert in Sicily? Sicily Concierge will plan your trip from arrival to departure, whether it's a one-day excursion or a one-week itinerary. You can expect real travel services from real travel agents.

Start dreaming, and visit Sicily Concierge. Castles in the clouds are just the beginning.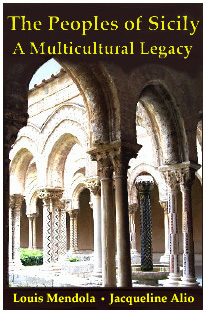 The Peoples of Sicily: A Multi­cultural Legacy. Full of Greeks, Arabs, Normans, Germans and Jews, the most signif­icant general history of Sicily ever pub­lished is about much more than an island in the sun. Can the eclectic medieval experience of the world's most conquered island be a lesson for our times? Find out as you meet the peoples! (368 pages on acid-free paper, ebook available) Read more.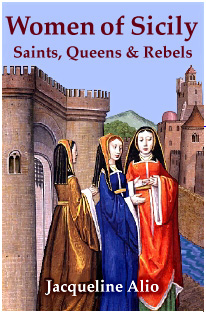 Women of Sicily: Saints, Queens & Rebels. Meet a time­less sister­hood of pious Roman maidens, stead­fast Sicilian queens, and a Jewish mother who faced the horrors of the Inquisi­tion. Find an island's feminine soul in the first book about Sicily's historical women written in English by a Sicilian woman in Sicily. (224 pages on acid-free paper, ebook available) Read more.



Sicilian Culture
Arts, Literature, Music, Dance, Cinema, Cuisine and all things Sicilian


Related pages: Real Sicilians • Sicily's Religions • Sicilian Literature • Arts & Artists • History • Ethnology • Events & Festivals • Museums • Sicilian Identity Today • The 'Invisible' Sicily • Sicilian Diaspora

How does one define a people? If we presume to "define" any culture, the pages linked here are reliable points of reference for Sicily's.
Among this site's "gateway pages" are some dedicated to history, literature, the arts, food & wine and even the Sicilian identity. The beauty lies in the fact that so many things overlap. Sicilian culture is "multi-disciplinary" almost by definition. Sure, you can easily search this site to find what interests you, but we know it's possible to lose your way, so we hope that these pages, with their numerous links, will be helpful in "organizing" your thoughts.
Not that it should be an academic exercise (though we have a page for students). While this information may seem especially useful if you're visiting Sicily or seriously studying our island, we suggest that the culture transcends the place, and that Sicilian culture has had a global influence - often in subtle ways. Benvenuti in Sicilia!
• Arts and Artists - Links to topics encompassing everything from painting and sculpture to literature and cinema.
• Sicilian Literature - The best-known novelists, playwrights, poets and other Sicilian writers, from ancient plays to historic novels to contemporary erotic fiction.
• Peoples of Sicily - Introduction to the civilizations that conquered and colonized Sicily.
• History & Biography - Large links page covering numerous topics, from ancient history and mythology to the modern era.
• Religions of Sicily - East to West, from mytholoigy to Catholicism and every movement along the way.
• Arcana - The "invisible" side of Sicilian life: good, bad, ugly.
• Sicilian Food - The art of cookery. Links to dozens of culinary topics, from street markets to desserts.
• Sicilian Wine - Is wine making an art? We think so, and in Sicily it's an ancient one.
• Sicilian Identity - If you wanted to be or become Sicilian, this would be a good place to begin.
• Events in Sicily - Cultural events and festivals.
• Real Sicilians - A glimpse of the people of Sicily today.
• Sicilian Language - A tongue spoken since the 12th century.
• The Two Sicilies - We love Italy, but Sicily existed as a distinct nation long before 1861 and is still very, well, Sicilian. Here's why.
• Cities and Towns - This is by no means a complete list, but the map and links will take you into the realm of the local.
• Sicilian Regions - Whether its mountains, forests, coastlines or beaches - or perhaps our resident volcano - that interests you, this is a good guide.
• Sicilian Family History - Useful if you're already Sicilian but tracing your roots.
• Sicilian Heraldry - Relevant to architecture and genealogy, heraldry touches many aspects of art and history.
• Sicily Books - Some good books to deepen your knowledge of much information presented on Best of Sicily.