Home Page
Site Search
Sights & Activities
Localities • Places
Good Travel Faqs
Sicily's Top 12
Hotels • Planning
Maps of Sicily
Weather • Climate
Nature • History • People
Food • Wine • Dining
Arts • Literature • Culture
Monthly Magazine
Sicilian Identity
Sicily Links
Contact • Follow


See Sicily with a great Sicily tour!
• Small group size, usually fewer than 16.
• Convenient itineraries with just 2 or 3 hotel check-ins.
• Tours almost every week.
• Good prices because there's no re-seller between you and us.
• "Must-see" sights plus a few "secret" ones.
• Choice of several tours.
• Exceptional tour leaders/guides.
• Good hotels and restaurants.
• Personalized services like airport pick-up or extra nights before/after your tour, because our staff of Sicily travel specialists is based in Sicily.
• Visit us right now for details, FAQs and reservations. We also do custom tours, for groups of any size.


Personal Travel in Sicily
Shouldn't your tailor-made vacation be arranged by your own travel expert in Sicily? Sicily Concierge will plan your trip from arrival to departure, whether it's a one-day excursion or a one-week itinerary. You can expect real travel services from real travel agents.

Start dreaming, and visit Sicily Concierge. Castles in the clouds are just the beginning.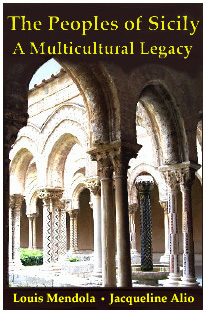 The Peoples of Sicily: A Multi­cultural Legacy. Full of Greeks, Arabs, Normans, Germans and Jews, the most signif­icant general history of Sicily ever pub­lished is about much more than an island in the sun. Can the eclectic medieval experience of the world's most conquered island be a lesson for our times? Find out as you meet the peoples! (368 pages on acid-free paper, ebook available) Read more.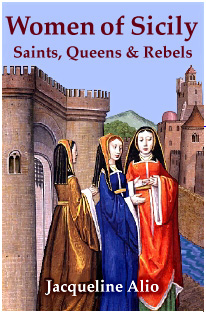 Women of Sicily: Saints, Queens & Rebels. Meet a time­less sister­hood of pious Roman maidens, stead­fast Sicilian queens, and a Jewish mother who faced the horrors of the Inquisi­tion. Find an island's feminine soul in the first book about Sicily's historical women written in English by a Sicilian woman in Sicily. (224 pages on acid-free paper, ebook available) Read more.
Sicilian Legacy
Identity of Sicily and Sicilians in the Modern Era
Related pages: Real Sicilians • Sicilian Culture • Ethnology • Sicilian Literature • Arts & Artists • Genealogy • Sicilian Diaspora

The people are the essence of the place. Meeting the people helps you to learn about them. It's not just anthropology or an observer's curiosity, and it transcends the superficial. It's a personal experience.
Viewed from a wider perspective, while this is not a "Sicilianist," nationalist or ethnocentric publication, many of our articles deal with Sicily and Sicilians today, and the heritage of Sicilians before the unification of Italy in 1861. It is an identity spanning thirty centuries that overshadows stereotypes and a few fragile layers of recent historical revisionism. In 1860 the Kingdom of the Two Sicilies was Italy's most prosperous region. The unification - in one form or another - was a necessary effort, but Italy's Risorgimento (unlike Germany's "federal" unification of 1871) left thousands of dead in its wake. Indeed, more Italian civilians south of Rome died during the unification war than during the Second World War. With the publication of Pino Aprile's best-selling Terroni and David Gilmour's insightful Pursuit of Italy in 2011, and the increasing historical awareness of Sicilians (in Sicily and around the world), we thought it was finally time to link various related articles on a single "gateway" page.
This page isn't just for Sicilians. Whether your ancestry is Irish, Scots (or Cornish or East Anglian), Bavarian, Latvian, Aragonese, Savoyard, Kurdish, Bangladeshi, Iroquois, Hawaiian, West African or anything else, the widespread political phenomenon of defined regions and their peoples being subsumed by others is a fact of life in our modern world. Fortunately for Sicily and Sicilians, the place and its people survive. Here the focus is on the modern era (post 1450). Supplanting an existing misperception with reality is not a facile exercise. Whatever your ancestry, if you wanted to be or "become" Sicilian, these pages would be a good introduction (and a list of a few recommended books follows). In a sense we are all Sicilians. Benvenuti fra noi!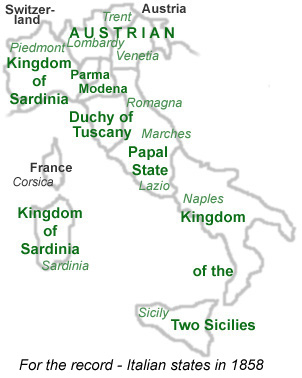 • Sicilians - Meet the islanders.
• Sicilian - The language.
• Sicilian Writers - The literature of Sicily.
• Arts & Artists - Visual and performing arts.
• The Trinacria - Triskelion, symbol of Sicily.
• Sicilian Diaspora - Sicilians outside Italy.
• Sicilian Regional Government - Quasi-independence.
• Italy's Unification - Risorgimento revisted.
• Revising History - Historical revisionism in Sicily.
• Arcana - Sicily's invisible side.
• Family History - An introduction.
• Genealogy - Finding the records.
• Onomatology - Surnames origins.
• Heraldry - Families and coats of arms.
• Ciullo d'Alcamo - Sicilian School of poetry.
• The Leopard Lives - Historical fiction.
• Popolino - Sicily's Underclass - Forgotten Sicilians.
• The New Sicilians - Multicultural island redux.
• Giuseppe Garibaldi - Who he was and wasn't.
• The Two Sicilies - A kingdom and its dynasty.
• Carlo de Bourbon-Sicilies Interviewed - Man who would be king.
• Maria Sophia, Last Queen of the Two Sicilies - German princess with a Neapolitan heart.
• Francis II, Last King of the Two Sicilies - Gone but never forgotten.
• Constantinian Order of St George of the Two Sicilies - Five centuries of chivalry.
• Order of Saint John (Knights of Malta) - From the Middle Ages to the 21st century.
• Emperor Charles V, King of Sicily - Europe's last medieval knight.
• The House of Savoy - The dynasty and its traditions.
• Kings of Sicily Listed - Rulers since the Middle Ages.
• Who runs Sicily today? - Social and political realities in a semi-autonomous region.
• Peoples of Sicily - Who we are (really).
• Religion in Sicily - A land of faiths.
Further Reading
The modern era:
• The Pursuit of Italy - A History of a Land, Its Regions, and Their Peoples by David Gilmour (2011).
• Terroni - All that has been done to ensure that the Italians of the South became 'southerners' by Pino Aprile (2011).
• The Force of Destiny - A History of Italy Since 1796 by Christopher Duggan (2008).
• The Dark Heart of Italy - An incisive portrait of Europe's most beautiful, most disconcerting country by Tobias Jones (2004).
• A History of Sicily by Moses Finley and Denis Mack Smith.
• Italy and Its Monarchy by Denis Mack Smith.
• The Bourbons of Naples and The Last Bourbons of Naples by Sir Harold Acton.
• The Fall of the House of Savoy by Robert Katz.
• The Leopard by Giuseppe Tomasi di Lampedusa (historical fiction, Sicily's all-time bestseller).
The Middle Ages and the shaping of multicultural Sicily:
• The Normans in the South (1967) and The Kingdom in the Sun (1970) by John Julius Norwich.
• Frederick II - A Medieval Emperor by David Abulafia.
• The Sicilian Vespers - A History of the Mediterranean World in the Later Thirteenth Century by Steven Runciman (1958).