Home Page
Site Search
Sights & Activities
Localities • Places
Good Travel Faqs
Sicily's Top 12
Hotels • Planning
Maps of Sicily
Weather • Climate
Nature • History • People
Food • Wine • Dining
Arts • Literature • Culture
Monthly Magazine
Sicilian Identity
Sicily Links
Contact • Follow


See Sicily with a great Sicily tour!
• Small group size, usually fewer than 16.
• Convenient itineraries with just 2 or 3 hotel check-ins.
• Tours almost every week.
• Good prices because there's no re-seller between you and us.
• "Must-see" sights plus a few "secret" ones.
• Choice of several tours.
• Exceptional tour leaders/guides.
• Good hotels and restaurants.
• Personalized services like airport pick-up or extra nights before/after your tour, because our staff of Sicily travel specialists is based in Sicily.
• Visit us right now for details, FAQs and reservations. We also do custom tours, for groups of any size.


Personal Travel in Sicily
Shouldn't your tailor-made vacation be arranged by your own travel expert in Sicily? Sicily Concierge will plan your trip from arrival to departure, whether it's a one-day excursion or a one-week itinerary. You can expect real travel services from real travel agents.

Start dreaming, and visit Sicily Concierge. Castles in the clouds are just the beginning.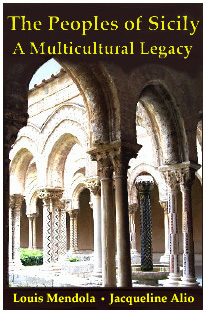 The Peoples of Sicily: A Multi­cultural Legacy. Full of Greeks, Arabs, Normans, Germans and Jews, the most signif­icant general history of Sicily ever pub­lished is about much more than an island in the sun. Can the eclectic medieval experience of the world's most conquered island be a lesson for our times? Find out as you meet the peoples! (368 pages on acid-free paper, ebook available) Read more.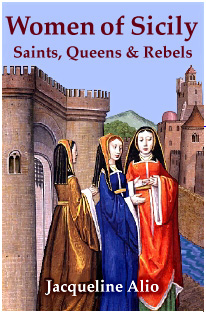 Women of Sicily: Saints, Queens & Rebels. Meet a time­less sister­hood of pious Roman maidens, stead­fast Sicilian queens, and a Jewish mother who faced the horrors of the Inquisi­tion. Find an island's feminine soul in the first book about Sicily's historical women written in English by a Sicilian woman in Sicily. (224 pages on acid-free paper, ebook available) Read more.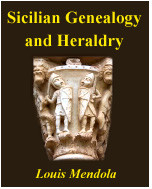 Sicilian Gene­alo­gy & Heraldry. The only book ever pub­lished about Sicilian family history re­search is now available from Amazon and other vendors. Histori­ography, folk customs, religious practices, research strategies, records to consult. A definitive guide to Sicilian genealogy and a Sicilian identity. (300 pages on acid-free paper, ebook available soon) Read more.