Incentive Vacations & Corporate Events in Sicily
What makes an incentive holiday or corporate event different?
That's the question you should be asking if you're considering an incentive solution or corporate event in Sicily, and it's the question we bear in mind in planning your group's experience. Because just being in Sicily isn't enough – it's the details and service that spell the difference.
We've organized all kinds of experiences. Here are a few of the most popular:
• Private cruises sailing around Sicily.
• Adventure travel around Mount Etna, including jeep or helicopter excursions.
• Culinary tours featuring wine tastings, cooking demonstrations and visits to wineries around Sicily.
• Riding, hiking or golf in eastern or western Sicily.
• Team building activities based on bicycling, hiking or other sports.
• Stays in rural retreats (agriturismo), dinners in aristocratic palaces.
• Corporate conferences (with complete lodging, meeting and audio-visual facilities) enhanced by any of these special features.
It's easy enough for a travel services company to talk about their competence and attention to detail, but actually planning and managing an incentive holiday or business conference is quite another matter. What you're really looking for is the best possible partner to assist you. Nothing should be left to chance — it's obvious that logistics are important. Our on-site personnel are highly trained and experienced, while our management staff boasts more native speakers of English than any other travel services firm south of Rome. Even more importantly, we're seriously dedicated to making your Sicily experience satisfying and memorable.
We don't come to your project with a lot of preconceptions, just practical solutions. An initial consultation considers your budget and objectives. Next we provide a range of possibilities leading, step-by-step, to the realization of your vacation or event. Getting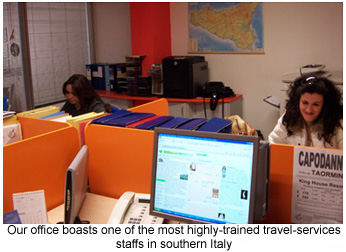 started is easy...
CONTACT US at tours@bestofsicily.com indicating "incentive" in the subject line, or by phone at +39 091 626 9685, or fax +39 091 380 9900. From the United States or Canada you may also contact us by SkypeIn at 718-473-0803. (Please remember that there's a six-hour time difference between Central European Time here in Italy and American Eastern Time in Toronto and New York.)
ABOUT US: Best of Sicily promotes corporate incentive holidays and conferences (and other travel services) organized by Chat & Tour (under the trade name 'Tradizione Turismo'), a Sicily-based travel services company affiliated with the IATA (International Air Transport Association) and ASTA (American Society of Travel Agents). Best of Sicily itself is more than a destination guide; it's a general interest publication about Sicily and Sicilian-oriented topics, with over two million readers each year.
Plan your next business conference, convention, chapter, congress, seminar or workshop in sunny Sicily! Our unique island is the perfect place for a meeting, or even a group incentive holiday or vacation. Think of it as The Sicilian Solution. For international conferences, Sicily is Italy's best kept secret — a unique place to plan your conference and holiday all in one!
With the only English-speaking conference team in Sicily, you're guaranteed efficient, pleasant service in one of Europe's favorite destinations. Think about Sicily, where people have been planning successful international meetings for three thousand years.
From scenic mountaintop resorts like Taormina and Erice to seaside retreats, as well as bustling cities like Palermo and Catania, Sicily offers enough interesting attractions and entertainment to rival any other destination, and the service and infrastructure for conferences are excellent. Our island in the sun has two international airports and one of Italy's most hospitable climates, offering year-round opportunities for conventions. In February, while northern Europe, Japan and most of the United States (and most parts of Italy) are still cool, Sicily is enjoying the first fruits of Spring — the blossoming of the almond trees. If you're thinking about a different kind of place for your group's next conference, think about Sicily!
You'll find our audio-visual facilities, support staff and accomodations exceptional. That includes full interpreting services and infrastructure for everything from PowerPoint presentations to state-of-the-art video.
Don't forget that you're in Sicily. Your group will love Sicilian food, a unique cuisine influenced by Italian, Spanish and Arabic culinary cultures. Banquet and catering services in Sicily are unsurpassed for quality and service. But a successful conference is about more than food. It's our attention to service that spells the difference. And you can expect costs that are remarkably competitive with those of other facilities around the world, and in fact lower than those in many other parts of Europe.
Sicily is the place where northern Italians go on holiday (vacation). Apart from the climate, the beaches and the conference itself, there's plenty to see and experience in Sicily. That's what makes our island perfect for excursions, as well as corporate incentive vacations, even for smaller business groups. It's a great place for sophisticated visitors who appreciate thirty centuries of history and culture bathed in Mediterranean sunshine. Compared to Sicily, everything else is in the shade.
For conference events, Sicily offers some exceptional settings. Imagine a gala dinner in an aristocratic palace or castle, or an informal luncheon on a rural estate in the mountains.
Sicily is closer than you think. We're just a fifty minute flight from Rome, slightly over an hour from Milan, and not much farther from London, Paris and Berlin. Getting here is easy.
To get started, simply email us with your requirements (dates, programme, number of participants) and one of our representatives will let you know how Sicily can fit into your group's conference planning schedule.

Print this page
©2014 Best of Sicily, Palermo, Italy. Unauthorized use is illegal.
This page is a paid advertisement.