Home Page
Site Search
Sights & Activities
Localities • Places
Good Travel Faqs
Sicily's Top 12
Hotels • Planning
Maps of Sicily
Weather • Climate
Nature • History • People
Food • Wine • Dining
Arts • Literature • Culture
Monthly Magazine
Sicilian Identity
Sicily Links
Contact • Follow

Sights of a timeless city. Personal tours of Palermo with your own guide, at your own pace, and your own itinerary.


Palermo's Judaic heritage is a hidden legacy carved in stone. See it with an exclusive tour of Jewish Palermo.


The travel guide for Palermo and northwestern Sicily. Sights, hotels, restaurants, shopping, tours. Come See Palermo.

Via Libertà Quarter
Mount Pellegrino - Saint Rosalie's Shrine
Chinese Villa
Favorita Park
Mondello Beach
Addaura
Villa Trabia
Ficuzza
Palermo Links Page
Mount Pellegrino & Saint Rosalie's Shrine
Translated "Pilgrims' Mountain," crown-shaped Mount Pellegrino offers panoramic views of Palermo and the Sea but is most famous for the Sanctuary of Saint Rosalie, located near the summit along winding roads that traverse woods of typically Mediterranean stone pines. Venerated for centuries, this medieval saint is thought to have been of Norman ancestry, though in fact there exists little evidence to support that idea. She sought a hermit's life on Mount Pellegrino and many miracles were attributed to her. The feast of Saint Rosalie (Santa Rosalia), heavenly patroness of Palermo, is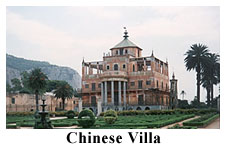 celebrated 13-15 July. By following the main road past the Sanctuary one reaches the mountain's summit, with its views of Mondello and the Sea.
This interesting residence was built for King Ferdinando I of the Two Sicilies during his sojourn in Palermo while his mainland capital, Naples, was occupied by French troops. Constructed to plans drawn by Marvuglia in 1799, the Villa and its oriental gardens reflect the "Chinese Revival" architectural style, albeit with certain Neo Classical elements. It was one of the largest Oriental style residences built in Europe during that period, and it was much preferred by the monarch and his consort, Queen Maria Carolina. Another resident of the Chinese Villa was Ferdinando's son and heir, Francesco I, who lived here with his wife, Maria Isabella of Spain, who gave birth to the future Ferdinando II at Palermo in 1810. The Chinese Villa is located in the Favorita Royal Park near the hamlet of Pallavicino. The nearby Pitré Folk Museum is open to the public.
Surrounding the Chinese Villa, in the shadow of Mount Pellegrino, the Royal Park ("La Favorita") is a vast wooded tract that once served as a royal hunting estate. Rabbits and migratory birds are still seen here occasionally. The Scuderia (royal mews) is now used as an office, though an equestrian club is located elsewhere on the estate. Villa Niscemi, the palatial estate of an aristocratic family, forms part of the Favorita and serves as the mayor's official residence. The Royal Park is owned by the City of Palermo. Despite encroaching development, most notably with the construction of a soccer stadium and other structures at its eastern end, the Favorita still retains much of its original charm. It is an attractive segue to Mondello Beach.
This district of Palermo on the western side of Mount Pellegrino seems like a separate town, and in many ways it is. Mondello has a public beach and plenty of excellent seafood restaurants. Except for parking problems once you get there, it's convenient to drive to Mondello, though there is also public bus service from Palermo. With its freestanding houses and tree lined streets, Mondello is the part of Palermo that most resembles the residential areas of medium-sized North American and Northern European cities and towns. There's little of historical interest here except for several round medieval watch towers. Mondello is particularly crowded on weekends, especially during the warmer months, and especially in July and August, when Sferracavallo, a few miles away, might be a better choice for dining.
This is a coastal district at the northern base of Mount Pellegrino. The hamlet itself is unremarkable, really little more than an overdeveloped fishing village. However, Addaura Cavern is famous for its prehistoric drawings and engravings,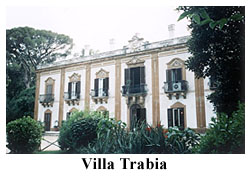 discovered only in 1952, proof of a human presence in the Palermo area from an early date.
Located in the center of Palermo, near Via Libertà.and Piazza Croci, Villa Trabia is one of the few aristocratic homes open to the public. This estate, which is now owned by the City of Palermo, houses civic offices and a public library. The palace is set in a beautiful wooded park open to the public most days. Built for the Prince of Trabia (Lanza family) in the eighteenth century, Villa Trabia provides a glimpse of the lifestyle of the Palermitan aristocracy of that era. When it was built, Villa Trabia was just outside the city proper. The differences between this residence and Palazzo Mirto (near Piazza Marina) is that Villa Trabia has a park, and Palazzo Mirto still has most of its original furnishings.
Since we're mentioning royal residences like the Chinese Villa... The Ficuzza royal hunting lodge is actually about fifty kilometers south of Palermo, in a hamlet (Ficuzza) in the township of Corleone, whose rustic bandits used to poach its vast woods. (It seems appropriate to mention the Ficuzza Palace here because, like the Chinese Villa, it was a residence of King Ferdinando I of the Two Sicilies designed by Marvuglia.) Completed in the early years of the nineteenth century, Ficuzza is set amidst a large woods which today is protected as part of a nature reserve that includes streams and a man-made lake. The "lodge" is actually a small palace based on the style of English halls of this period, though much more spartan inside. The English influence seems appropriate considering that Ferdinando's hunting companions were often British officers and diplomats stationed in Sicily during the Napoleonic occupation of mainland Italy. The lodge itself is now open to the public, and its grounds make a nice spot for picnics. Unfortunately, there is little public access to the lush woods except for a series of trails behind the Palace. Nevertheless, Ficuzza offers the visitor a glimpse of Western Sicily's woodlands and Old Sicily's grandeur. While you're there, visit the Regional Wildlife Hospital (Centro Regionale Recupero Fauna Selvatica) off the main piazza. The center, unique in Sicily, cares for injured birds and other creatures which must be rehabilitated before being released into the wild. Most of its patients are usually birds such as eagles, owls and hawks, but the center cares for everything from squirrels to porcupines. Read more about Ficuzza.