Solunto, Bagheria & Porticello
Related pages: Ancient & Medieval History • Timeline • Phoenicians • Greeks • Carthaginians • Romans • Coastal Sicily • Sicilian Baroque

To the Greeks it was simply Solus, to the Romans Soluntum. Located about ten kilometers east of Palermo overlooking the coast just outside Santa Flavia, Solunto sits along the upper slopes of Mount Catalfamo, not far from Bagheria. (It's easy to reach from the Santa Flavia train station.) This town was built on the site of a Phoenician village called Kfra founded around 700 BC (BCE) but expanded by the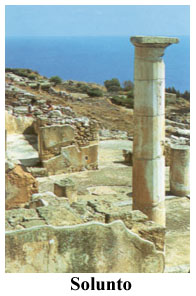 Greeks, who conquered it in 396 BC, making it a satellite of Himera. In 254 BC, during the First Punic War, it fell into Roman hands, and most of the construction visible at Solunto is distinctly Roman. During the third century AD, the town was abandoned for reasons unknown to us. The ruins of Solunto were "rediscovered" in the sixteenth century and excavations have continued since then. It is one of three principal Phoenician settlements in Sicily --the others being Zis (Palermo) and Motya (Mozia). Other Punic cities, such as Eryx (Erice), were simply conquered from the Elymians by the Carthaginians, the Phoenicians' successors based in northern Africa.
From what can be seen, the Greek city of Solus was built on a grid plan. The Romans enlarged the wide central passage they called the "decumanus," known today as the "Via dell'Agorà," the Greek "agora" meaning a marketplace or other large square. Solunto has no complete structures; all that remains of most of the buildings here are floors and the lower portions of some walls and columns. However, a few of the dwellings and public buildings are well enough preserved to provide us with a tangible idea of their construction and purpose. Portions of a few mosaics and fresco paintings are visible, and the (partially-reconstructed) peristyle of one of the houses suggests its former grandeur. There is even a small odeum (theatre) and a meeting chamber.
While Solunto remains a "minor" archeological site, it is certainly easy to reach. From Palermo, Solunto is more convenient than hilltop Tindari to the east toward Messina, though the latter site is better preserved in certain respects. Solunto is interesting for being essentially Roman in character, with little visible evidence of its Phoenician or Greek origins. While Palermo itself has visible traces of Roman architecture (most notably in Piazza Vittoria and near the church of San Cataldo) and some Punic foundations (such as those under the Royal Palace and in the Cassaro district), most of these are not nearly as evident as the paved streets and other features that await you at Solunto, which also offers a nice view of the sea. A hike up to the wooded area near the summit above Solunto will reward you with a more impressive view of the entire Gulf of Palermo.
Solunto has an archaeological museum (Antiquarium), but the larger one in Palermo houses some of the more noteworthy finds from the site.
Bagheria
How times change. In the nineteenth century, Bagheria, a town just east of Palermo, was still the country retreat of the aristocracy, and a number of Baroque mansions and villas remain. Some have fallen to decay, and the few that are better preserved are not open to the public. An exception is Villa Palagonia, conveniently located in the town proper. Built in 1705 by the Prince of Palagonia, the villa was later expanded and restored. The sixty-two stone sculptures that embellish the villa depict mythological monsters (grotesques) and whimsical creatures. The figures might not be considered particularly exceptional today, in our age of fantasy and science fiction, but for the era of their construction they were a sight to behold.
Porticello
Its name could be translated "pretty port," and Porticello is one of western Sicily's relatively unknown seaside pleasures --at least to foreign visitors. Sicilians love the place. Sometimes you can't help but wonder how the authors of travel books overlook places like this. Certain excellent guides ignore Porticello and nearby Santa Flavia, though they usually mention Solunto, the ancient Phoenician city overlooking this charming fishing village from the slopes of Mount Catalfano. Porticello itself, easily reached from Santa Flavia, near Bagheria (east of Palermo), is located near Cape Zafferano, visible from Palermo. The Porticello area has been inhabited since ancient times (circa 800 BC). No doubt about that. But what you'll actually find here is an inviting town with great restaurants and a small beach.
Porticello is a pleasant getaway from Palermo, and usually less crowded than Mondello, Palermo's main beach. Except for Santa Flavia, which has a few interesting little restaurants and quaint sights dating from its history as a farming village, Bagheria is the closest large town, famous for its aristocratic homes - though nowadays they're sometimes difficult to find among the unchecked urban construction development.
Unless you use Porticello as the base for a Mediterranean cruise in a small yacht, an idea which could be said to have originated with the Phoenicians, eating is the main activity that awaits you here. Even without a car, Porticello is easy to reach (Santa Flavia is a stop along the main Palermo-Messina railway line). And there's always Solunto. Porticello is perfect for a morning or afternoon visit, and summer evenings are magical.
Last revision November 2012.