Home Page
Site Search
Sights & Activities
Localities • Places
Good Travel Faqs
Sicily's Top 12
Hotels • Planning
Maps of Sicily
Weather • Climate
Nature • History • People
Food • Wine • Dining
Arts • Literature • Culture
Monthly Magazine
Sicilian Identity
Sicily Links
Contact • Follow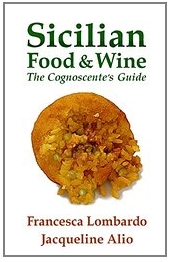 Sicilian Food & Wine. A simple, practical guide to the en­chanting world of Si­cilian cuisine, with chapters on wines and olive oils, and a few simple, time­less recipes. Real in­forma­tion for real people. (224 pages on acid-free paper, ebook available) Read more.

The travel guide for Palermo and northwestern Sicily. Sights, hotels, restaurants, shopping, tours. Come See Palermo.


Sights of a timeless city. Personal tours of Palermo with your own guide, at your own pace, and your own itinerary.



It's more than artichokes and red wine! Enjoy learning to cook classic, and not so classic, Sicilian dishes with the staff of one of Palermo's finest restaurants.

From market to table! Visit our site for more information. (Above: Fritella, made with fave, artichokes, peas and virgin olive oil)


Stay in a bed and breakfast at a working winery near Alcamo in the hills of Sicily's enchanting wine country. Or just drop by our rustic restaurant for a country lunch to enjoy our wine and organic cuisine. Come be our guest soon.
Restaurants in Sicily
The best places to dine around Sicily - in the city, in town and in the country.
Most of these restaurants are open evenings, and many serve lunch too. In Sicily the luncheon hour starts around 1:00 PM, and dinner is usually served from around 8:00. Many restaurants are closed Mondays, and trattorias, less formal restaurants which don't always serve evening meals, are usually closed Sundays. Pizzerias usually serve dinner but not lunch. Reservations are always advised, and for restaurants in the country they're required. On our all-encompassing food and wine page you'll find links to dozens of specialised culinary topics, including pages on wines, cheeses and olive oil, and translations of common culinary terms (in Italian and Sicilian). Restaurants don't pay to be listed here. (Read more about our critical criteria below.) Prices are for reference only and, unless otherwise indicated, do not include wine, beer or gratuities; 10% is the recommended tip. To clarify a few oft-misused Italian terms describing various kinds of eateries you'll encounter in Sicily:
• Ristorante - a rather formal restaurant; expect uniformed waiters and a good but pricey menu.
• Trattoria - a less formal restaurant, though a trattoria meal can cost as much as one in a ristorante.
• Osteria - a small restaurant, in theory less formal than a trattoria and less expensive, offering a limited menu.
• Pizzeria - a restaurant specialized in a wide selection of pizzas; typically open only in evenings, some pizzerias serve pasta.
• Polleria - a stand or small shop that serves chicken on a skewer, usually as a take-away food.
• Rosticceria - a stand that sells arancine (rice balls), french fries and other fried "street food."
• Gelateria - an ice cream parlor, which also serves various drinks.
• Pasticceria - a pastry shop, which may also serve ice cream.
Buon appetito!
Palermo • Taormina • Catania • Siracusa • Erice • Cefalù • In the Country • Art of Dining in Sicily
» Palermo Restaurants Reviewed
(More restaurants are reviewed on See Palermo's restaurant page.)
Spinnato. Stylish but affordable café-style eatery offering tasty lunches (in a central part of the city where finding restaurants that serve lunch isn't always easy). Salads and cold plates, baked pasta with beef or aubergines (eggplant), rice balls (arancine) and even sfincione (a cheeseless Sicilian pizza). The bresaola (cured beef slices) served on a bed of fresh endive and arugula, with slices of Parmigiano-Reggiano cheese and seasoned with olive oil and lemon, is a timeless favourite. Outdoor service in warmer months, when the ice cream is fantastic. Get there between 12:30 and 1:00 to avoid the cowd. €25 per person. Via Principe di Belmonte 117.
Cin-Cin. It's amazing how many of Palermo's best restaurants are disguised by unpretentious facades on the city's side streets. This one is hidden down a flight of steps behind a gate on Via Manin, off Via Libertà between the Politeama opera house and the English Garden (Giardino Inglese). The setting is serene: Cin-Cin occupies a number of rooms that allow for an intimate ambience – a pleasant change from the typical noisy Palermitan restaurant. The cuisine is a very refined, aristocratic "Baroque" style. The beef fillet in brandy is exquisite, and the pasta with urchin sauce is not to be missed. Dinner averages about €40.00 per person (with wine). The wine list is large and includes many fine regional Sicilian vintages. Open evenings, all year. Please note that reservations are required. Major credit cards are welcome. Via Manin 22. RistoranteCinCin.Com
Cantunera. Another well-kept secret. Traditional cuisine in a historical setting, more refined than the other informal eateries mentioned here. That means no television noise in the background. €20 per person. Lunch only. Live folk music some days. Piazza Monte Santa Rosalia. (No credit cards accepted. For more info see the link ad on this page.)
Cucina Papoff. It owes its foreign name to a Bulgarian founder of the former bakery where it is now housed. No other surprises, just traditional Sicilian fare in an elegant but relaxed setting. It's all fresh, and while many of these specialties are served in a slightly "updated" way, the basic recipes themselves haven't changed much in two or three centuries. The only "novelty" we found, and it was thoroughly delicious, was the stuffed radicchio. The gnocchi in gorgonzola (blue cheese) and pistachio sauce were great. Or try the maccu, a creamy fava bean soup flavored with wild fennel. With its high stone walls and graceful arches (in a building on a street off Via Libertà near the Politeama opera house), Papoff's decor resembles the chambers of a castle. The wine list is extensive, with some 200 Sicilian vintages. Dinner only (served beginning at 7:30), about €40.00 per person. Lunches only on request (and reservation) for groups. Major credit cards are accepted. Closed for August. Via I. La Lumia 32.
Il Cambusone. An interesting eatery in that it is a slightly rustic ambience in the middle of the city. Cuisine is very Sicilian and there is often a buffet. Open most evenings and sometimes for lunch. Meals average €25. Piazzetta Sant'Andrea (off Piazza San Domenico).
Al Vecchio Club. Located on narrow Vicolo Caldomai between Via Candelai and Vicolo dei Giovenchi a few steps from Via Maqueda and the Quattro Canti, this is where we send people who are looking for something traditionally Sicilian, yet affordable, in a rustic setting in the centre of town. It's one our staff's "secret" restaurants (albeit a secret with some 300 Trip Advisor reviews), the perfect place for a long leisurely lunch. Don't be deceived by the building's austere exterior on a gritty backstreet. This is real food for real people, where generous portions are the norm. About €20 for meals with main courses. Lunch most days except weekends; don't get there much after one o'clock if you want a table. Vicolo Caldomai 18. Most credit cards accepted.
Dima's Late Night Pizza and Sandwiches. Dima's isn't too special for atmosphere. Truth be told, their pizzas, though delicious, aren't necessarily superior to those served elsewhere in Palermo, a town distinguished for its pizza. What makes Dima's special --at least for a Sicilian restaurant-- is their hours. They're open from early evening until about 3 in the morning. Great for a midnight snack when your hotel's restaurant is closed. Dima's is centrally located on Via E. Amari 108 near Via Roma and the Politeama theatre. They deliver in central Palermo. Just have somebody who speaks Italian ring them up. They're usually closed Mondays.
Piazza Olivella. Hidden from the eyes of the casual tourists walking the main streets, this is one of Palermo's most popular informal spots during the warmer months --and that's most of the year. It's not one restaurant but about 15 in and around the square near the archeological museum and San Filippo Neri Church, within the rectangle formed by Via Cavour, Via Roma and Via Maqueda, near the Teatro Massimo. Instead of reviewing a particular restaurant in the small but fascinating Olivella district, we'd like to mention that about thirty dining places and bars are located in the square itself and also along Via Orologio, Via Bara all'Olivella and the surrounding streets. Open evenings beginning around 8 (with outdoor tables from early March until mid-December), many of the restaurants offer hot sandwiches with a Middle Eastern flavor (especially turkey-meat souvlaki which they call 'kebabs') and good beer lists. La Corrida, at the corner of Via Orologio, also serves pizza. The wine bars and (Italian-style) pubs are charming and reasonably affordable, with longer hours. Kebab plates and salads from about €6.00, bottled imported beers from about €4.00, Sicilian vintage wines (by the bottle) from around €10.00. It's crowded on Saturday evenings, when you should arrive just before 8 unless you want to wait for a table.
» Taormina Restaurants Reviewed
Gran Duca. Located in a Baroque palazzo built upon medieval foundations, Gran Duca is something of an institution in Taormina. The facade is rather deceptive because hardly anything is at street level. Steps lead you from the entrance down toward the terraces overlooking the Ionian Sea and nearby valley. The seafod is exceptional, though everything they serve here could be described this way. The wine list is more than ample, though at times pricey for certain local vintages. The service is excellent and a meal usually runs to about €40.00 per person. Lunch and dinner. Major credit cards are accepted. Corso Umberto 172.
La Buca. This delightful restaurant offers an intimate setting and an outdoor terrace with the sea and mountains as a backdrop. Menu is remarkably varied. Lunch and dinner. Major credit cards are accepted. Around €35 per person. Corso Umberto 140.
Dracena. Though open only in the warmer months, this charming venue, with its garden enclosed by a typically Italianate stone wall, offers a romantic serenity. The menu is surprisingly wide, encompassing everything from swordfish to beef fillet and all kinds of pastas and salads. €30.00 per person, open for lunch and dinner from May through October. Major credit cards are accepted. Via Amari 4.
Gambero Rosso. We discovered this pizzeria (they also serve beef, lamb and seafood) one cold February evening when many of Taormina's restaurants, and half the hotels, were closed for the season. It offered a cozy atmosphere and the pizza and pasta were both fantastic. The name means "red shrimp" (in Italian the phrase often connotes superior cuisine and gracious living), just one of the menu's more enticing choices. Outdoor dining in summer. Around €25.00. Via Naumachia 11.
Borgo Antico. Located in Castelmola, the district above Taormina, this restaurant is open in summer. The views from the outdoor terrace are incomparable --Etna, the Ionian and more. Menu is varied but the pasta with wild fennel and shrimp is a specialty. Lunch and dinner. Around €35.00. Via Madonna della Scala 4, Castelmola.
Zammarà. Offering local specialties like Pasta alla Norma, caponata, stuffed swordfish or beef rolls and great wines, this restaurant is traditional in almost every way. Part of it is set upon excavations of an ancient Roman site, visible through a floor of thick glass. There's a folksy, relaxed atmosphere and in summer there's service in the garden. €35.00 per person, noon or evenings. Via Fratelli Bandiera 15.
» Catania Restaurants Reviewed
Al Gabbiano. The name refers to seagulls, but none of the dishes served here are based on winged creatures. Instead, fresh seafood and fish is the norm in this restaurant located in the very centre of Old Catania. €30.00 per person. Open for dinner. Closed in August. Via Giordano Bruno 128.
Metro. Cuisine served here is best described as traditional with an original touch, something creative to complement the place's elegant decor. €40.00, for lunch or dinner. Major credit cards are accepted. Via Crociferi 76.
» Siracusa Restaurants Reviewed
Trattoria La Foglia. Named for its decorative motif, The Leaf serves a number of vegetarian dishes as well as fantastic seafood. Housed in a vaguely rustic, historic building in Ortygia near the Arethusa fountain, it's not too formal, perhaps even a bit on the eccentric side (slightly "bohemian"), and antiques dominate the cozy decor. Each place setting is unique and features antique glasses. The vegetarian soups (maccu, broccoli, greens) are excellent. A typical pasta is giant, ricotta-filled ravioli in delicious sauces - vegetable, meat, seafood, swordfish. The menu includes several meat specialties and lots of fish and seafood, including an unusually good grilled squid served with caponata (aubergine) salad. Don't pass up the house wine. Served chilled, it is a sweetish local "rosé," actually very light amber in colour, typical of the traditional wines of this part of Sicily. €40.00 per person, noon or evenings. Cash payment only. (Credit cards are not accepted.) Via Capodieci 29.
Trattoria Kalliope. Located in the Ortygia historical district, Kalliope offers a variety of dishes in a charming, traditional setting, though seafood reigns supreme. The pasta is home-made and the outdoor terrace is open in summer. €35.00 per person, lunch and dinner. Via del Consiglio Reginale 26.
Don Camillo. This restaurant, with its arched ceilings of stone, was built around a medieval structure. As to the cuisine, we especially enjoyed the vegetable appetizers, including things like caponata (aubergine salad), but everything was delicious. The pasta with neonati or "mucco" (tiny baby herring) is exceptional. €35.00 per person, for noon or evenings. Via della Maestranza 96 in Ortygia.
Don Carmelo Pizzeria. You'll find this pizzeria on one of Ortygia's narrow, sloping Greek streets. While some of the appetizers, seafood and meat specialties are good, it's the pizza that shines here, made in a wood stove built of stone. €25.00 per person, for noon or evenings. (Closed Wednesdays.) Via Claudio Arezzo 7 in Ortygia.
» Erice Restaurants Reviewed
La Pentolaccia. Rustic, informal spot in an old stone building. Seafood couscous is a specialty. The stuffed meat roll (they call it "falsomagro") is good, too. €30.00 per person for lunch or dinner. Via G. Guarnotti 17.
Monte San Giuliano. Located next to Grammatico's pastry shop (a temptation in itself), San Giuliano has an extensive and affordable menu with occasional, seasonal dishes-of-the-day. The stuffed eggplant (aubergine) rolls are exceptional. As a change (from pasta), try the couscous. €25.00 per person for lunch or dinner. Vicolo San Rocco 7.
» Cefalù Restaurants Reviewed
Trappitu. Located on a historic street, with a seaside terrace overlooking the rocky shore, this charming restaurant offers a number of Sicilian specialties and (in evenings) pizza. Good seppia (cuttlefish). Ambience is slightly rustic. The word "trappitu" is Sicilian for an olive mill stone, and one stands in the middle of the main dining room. €25.00 per person for lunch or dinner. Via Bordonaro 96.
Al Porticciolo. With its delightful atmosphere, indoors or out, this restaurant along the shore offers all kinds of seafood specialties and lots of pasta dishes. €25 per person for lunch or dinner. (Closed late November through January.) Via Bordonaro 66.
» Farther Afield – Restaurants in the Country
Tarantola. Set in the midst of rolling hills and vineyards, this charming winery estate in Sicily's scenic wine country off Strada Provinciale (SP) 10 between Alcamo and Camporeale serves lunches and dinners based on the local cuisine accompanied (as you might expect) by their own wine. The menu varies by season. A meal without wine runs to around €25. Reservations are required: GorgodelDrago.It tel +39 329 271 3073.
Villa Miraglia. This rustic alpine lodge on the SS 289 in the highest region of the Nebrodi Mountains is literally in the middle of a dense beech forest. Among their specialities are lamb, goat and the boarish Nebrodian Black Swine. As a point of reference, Cesarò is the nearest town. A meal without wine averages €25. Open days are seasonal (in February there's a metre of snow in this area). Reservations are required: VillaMiraglia.It tel +39 095 697 397.
The Joy of Sicilian Dining
You have to question whether any other place in Europe has brought leisurely dining to the level - if not the exalted status - of high art the way Sicily has. It's not necessarily the service itself or the number of courses that makes the Sicilian approach different, but the way each dish is served, really a meeting of the ways between the best folk traditions and the best aristocratic ones. Here a meal can actually be memorable. By longstanding practice, Sicilian lunches begin around one o'clock and last until three or four. Dinners begin around eight and last forever. Lingering is encouraged. In restaurants there's little difference between the two, though at home a Sicilian lunch might be more substantial than an evening meal. Aperitifs are often offered but rarely obligatory. The antipasti (appetizers or starters) are usually more substantial than what you would have at home: rice balls (arancine), potato croquets, miniature sfincione (a Sicilian pizza without cheese), ceci fritters, aubergine (eggplant) salad with olives and capers (caponata), salamis, cheeses... The Sicilian term "stuzzichini" hardly does justice to this assortment of delights. Then there's the "primo," usually a pasta or Italian (Arborio) rice dish or perhaps a soup or couscous. This is followed by the "secondo," the main course, perhaps accompanied by a contorno (side-dish) and served with mineral water and wine. After this there's fruit followed by coffee, dessert and a liqueur or sweet dessert wine. Of course, if you wish you can content yourself with just some pasta or a salad. In the case of a full meal, it's difficult to imagine enjoying all this in less than an hour. Or wanting to. Though one occasionally laments long lunches that break the weekday in two (afternoon shop and office closings from 1 to 4 are still normal in Sicily), there's something to be said for indulging in great food made from the freshest ingredients. Sicilian cuisine is an ensemble of strong, distinctive flavours, whether it's local lamb, fresh tuna (nothing like the canned variety) or swordfish steaks, sea urchins, aged cheeses made from goat's or sheep's milk, or the island's unique wines (nero d'avola is one of the world's heartiest reds and the whites are far from bland). Nothing is ever meant to be subtle to the point of being ignored, and no sauce or condiment ever overshadows the main show. Even the ice creams seem to have more flavour than their European and American counterparts. There's nothing excessively formal or ritualistic here; pasta to Italians enjoys none of the esteem accorded rice by the Japanese. Yet the seeming chaos created by a latitude in choices doesn't mean that Sicilian cuisine lacks for social conventions: coffees containing milk (cappuccino, for example) are rarely consumed after noon, and (in a place where alcoholism is virtually unknown) it's not at all unusual for young teenagers to enjoy a glass of wine or limoncello, a sweet lemon liqueur. But its great diversity makes Sicilian dining one of life's true pleasures. This is a taste of paradise.
How We Select Restaurants: The principal criteria are quality of food and service, appealing atmosphere, convenient location and, believe it or not, value for cost. Compared to other guides that review or rank restaurants, our reviews are generally more reader-oriented, reflecting real opinions, not just those of "critics." We're not slaves to conformity. And our evaluations are democratic because two or more of our writers dine incognito at each restaurant reviewed. They're not influenced by the opinions of other reviewers, and our staff are familiar with Sicilian cuisine. That's why our reviews may differ from those of certain "professional" restaurant critics, who (like many wine critics) are too often "guns for hire" whose opinions are easily coloured by external factors. Yes, we review a few restaurants which also advertise on this site, but they became advertisers after being reviewed - years later in some cases. Enjoy your meal.
©2012-2018 Best of Sicily