Home Page
Site Search
Sights & Activities
Localities • Places
Good Travel Faqs
Sicily's Top 12
Hotels • Planning
Maps of Sicily
Weather • Climate
Nature • History • People
Food • Wine • Dining
Arts • Literature • Culture
Monthly Magazine
Sicilian Identity
Sicily Links
Contact • Follow

See Sicily with a great Sicily tour!
• Small group size, usually fewer than 16.
• Convenient itineraries with just 2 or 3 hotel check-ins.
• Tours almost every week.
• Good prices because there's no re-seller between you and us.
• "Must-see" sights plus a few "secret" ones.
• Choice of several tours.
• Exceptional tour leaders/guides.
• Good hotels and restaurants.
• Personalized services like airport pick-up or extra nights before/after your tour, because our staff of Sicily travel specialists is based in Sicily.
• Visit us right now for details, FAQs and reservations. We also do custom tours, for groups of any size.


Personal Travel in Sicily
Shouldn't your tailor-made vacation be arranged by your own travel expert in Sicily? Sicily Concierge will plan your trip from arrival to departure, whether it's a one-day excursion or a one-week itinerary. You can expect real travel services from real travel agents.

Start dreaming, and visit Sicily Concierge. Castles in the clouds are just the beginning.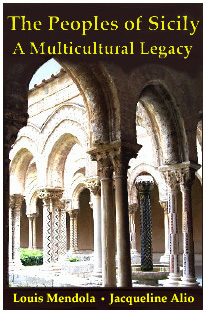 The Peoples of Sicily: A Multi­cultural Legacy. Full of Greeks, Arabs, Normans, Germans and Jews, the most signif­icant general history of Sicily ever pub­lished is about much more than an island in the sun. Can the eclectic medieval experience of the world's most conquered island be a lesson for our times? Find out as you meet the peoples! (368 pages on acid-free paper, ebook available) Read more.
Museums in Sicily
Related pages: Sightseeing • Things to See • Top 12 Places • Arts & Artists • Tours • Travel Faqs • Tour Guides • Transportation • Hotels & Travel Planning • Sicilian Culture

This list includes "dedicated" museums rather than historical sites which happen to feature small museums. In general, the notable museums and art galleries mentioned here are those displaying exceptional permanent collections in major cities rather than towns (Contessa Entellina) or at archeological sites (Solunto and Naxos, Morgantina), but some smaller or remote localities boast remarkable archeological museums, while churches, libraries and state archives often host fascinating exhibits. We have deliberately avoided including those which are usually – and annoyingly – closed, open only during irregular hours, or open to the public only "by appointment" (Palermo's Mormino and Pitré museums).
A reality check: Don't be misled by the deceptive public promotion of various Sicilian museums which may actually be closed when you arrive! If you have any doubt about hours, telephone ahead – hoping that whoever answers can speak at least passable English. Admissions average €8.00, with occasional discounts for European Union citizens under 18 or over 60. We cannot guarantee schedules, which change frequently (even by season), but most of these museums are open from 9:00 AM until noon or 1:00 PM Tuesdays through Saturday, with occasional afternoon hours (usually from 4 till 7) two or three days each week. A few major museums are open on Sunday.
Literary Parks: There really aren't many "literary parks" in Sicily so much as literary itineraries but Pirandello's home outside Agrigento is an exception. (Shown: Crown of Queen Constance in Palermo Cathedral Museum.)
• Agrigento. The Provincial Archeological Museum (Contrada San Nicola 12, in Via dei Templi, Agrigento) collection focuses on Greek items recovered from the Valley of the Temples (museum admission usually includes admission to the nearby archeological site). It is actually built upon the Greek ekklesiasterion and the medieval church of Saint Nicholas.
• Catania. The Art Gallery of Catania (Castello Ursino, Piazza Federico di Svevia, Catania) is located in the large seaside castle built under Frederick II (early 13th century) now located inland due to lava flows having extended the coastline. The art collection consists primarily of works ranging from the Renaissance through the nineteenth century, and the fortress itself is interesting as well.
• Marsala. On the tiny island of Mozia, off Marsala, the Whitaker Museum (in Villa Whitaker) has a remarkable Phoenician and Carthaginian collection, including a life-size statue of a young man. Mozia (Motia) is Sicily's most important extant Punic archeological site.
• Mazara del Vallo. The small Museo del Satiro (Piazza Plebiscito, Mazara del Vallo) has a large bronze, dancing satyr, found underwater some years ago, and other finds from this part of western Sicily. This museum is housed in a former church in the central area of the town.
• Messina. The small but interesting Regional Gallery of Messina (Viale della Libertà 465) has a varied collection of works reflecting certain artistic movements, such as the Byzantine and Gothic, no longer visible in the city of Messina, much restructured following the earthquake of a century ago.
• Palermo. The Salinas Regional Archeological Museum (Piazza Olivella, Palermo), housed in an ex-monastery, boasts one of Sicily's better collections, with a number of Sicanian, Phoenician, Greek and Roman finds, as well as some interesting Paleo-Christian and Arab items. Parts of the ruined temple of Himera (near Termini Imerese) are housed here. In the courtyards numerous Roman statues are displayed in open air. Of particular interest is the Palermo Stone brought from Egypt. The Regional Art Gallery (Via Alloro 4, Palermo) in the charming medieval Palazzo Abatellis houses a fine art collection, featuring many medieval Byzantine and Norman-Arab works. The City Art Gallery (Piazza Sant'Anna, off Discesa dei Giudici, Palermo), located in a large former monastery, has a collection of modern works, particularly eighteenth and nineteenth century paintings in the Romanticist and Expressionist styles. The cathedral has its own small museum, the Tesoro. While it does not house a permanent collection and is not always open to the public, the small Magione monastery museum (Via Teatro Garibaldi 27 off Piazza Magione in the Kalsa district) occasionally presents interesting exhibits. The Oratorio del Rosario, in Via Bambinai behind the San Domenico Basilica, houses Van Dyck's Madonna of the Rosary as well as works by Serpotta and Novelli.
• Siracusa. The Paolo Orsi Museum (Villa Landolina, Viale Teocrito 66, Siracusa) has a fine collection of Greek and Roman finds from the Syracuse area. This is a "must see" if you have any interest in ancient archeology. Several items, such as the Landolina Venus, are world-famous, leading historians to consider this Sicily's finest archeological museum. (It is certainly better organized than Palermo's.) The Regional Art Gallery (Palazzo Bellomo, Via Capodieci, Ortygia, Siracusa) contains an excellent collection of Byzantine and medieval art. The small but interesting Papyrus Museum (Viale Teocrito 66) is also worth a visit. Caravaggio's Burial of Saint Lucy is housed in the Church of Santa Lucia off Piazza Duomo.
FYI: We are working to expand this list and present precise schedules. As you may have inferred from our opening comments, Sicilian museum administration is not as efficient as it should be, and scheduling considerations often overlook the concerns of visitors.