Inside Information: Villas, Guest Farms, Cottages, Bed & Breakfasts
What they are and how to find one that's right for you
Related pages: Top 12 Destinations • Travel Ideas • The Country • Restaurants • Bed & Breakfasts • Country Retreats (Guest Farms)
Definitions • Finding a Villa (secrets revealed) • About Bed & Breakfasts • About Country Retreats & Guest Farms
Before revealing some secrets of the rental-property and vacation home trade, let's establish exactly what it is that you're looking for with contemporary definitions of a few terms used in the Italian property-rental market.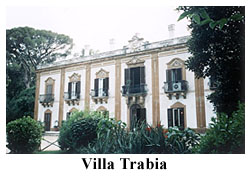 Villas: Here in Italy a villa is a free-standing, single-family residence on its own piece of land. It may be old or new, it may sit on a fairly large piece of property, it may have a pool, it may be fairly close to a city or large town (though ideally not too close), and if part of an estate it may have other (smaller) lodging accommodations on its property - perhaps converted from structures such as stables or servants' quarters. The typical villa has at least two bedrooms. In most cases, you are required to rent a villa by the week. Historically, the term "villa" referred to the residences (set amidst gardens) on the rural or feudal estates of aristocrats. Palermo's Villa Trabia (shown here) is one of many such residences in Sicily. The "town houses" (mansions or palaces) of the aristocracy were, and are, palazzi. A social observation: Until the 1960s no owner of a "modern" country home built after circa 1900 would have called his house a "villa" unless he wished to appear pompous beyond belief, while urban, high-rise apartment buildings were edifici or condomini but never palazzi.
Beach Houses: A beach house, as its name implies, is on the shore. It could be a villa or a cottage, but it must have a beach front or at least its own piece of rocky coast.
Cottages: A cottage is a "country" residence beyond the urban environment, usually smaller than a villa, perhaps with only a single bedroom. Admittedly, the word "cottage" might have a broader meaning in countries other than Italy. Casa di campagna is the usual Italian phrase.
Apartments: In Italy an apartment is usually attached to other, similar residences (in England two-storey row houses are "terraces") or part of a multi-storey building. We usually imagine these being in the city, but there is such a thing as a "country" apartment, and Sicilian towns are full of streets lined with row houses. Here in Italy the generic term casa can refer to almost any kind of home.
Guest Farms: These are bed and breakfasts in the country. A guest farm (agriturismo) is a country retreat which is part of a working farm of some kind, having orchards, vineyards, horses, and whatever you find in rural Sicily. There exist country estates, particularly as parts of historic properties, which are not working farms, but in Italian law a rural bed and breakfast in an agricultural environment which is not a working farm is, at best, turismo rurale rather than agriturismo.
Bed and Breakfasts: Bed and breakfast usually refers to lodging in a residence where the owner actually lives. In practice, these are more often comfortable accommodations (apartments) where the owner is not present, and they are rented by the night rather than for a week.
Unique Lodging: A number of accommodation solutions defy simple classification because of their uniqueness. This applies, in particular, to lodging in historical settings in town or country. How would you describe lodging in a medieval tower on the Sicilian coast which offers hotel-style guest rooms as well as self-catering mini-apartments?
Finding a Villa - Property Rental Secrets Revealed
Unless you search on your own (which is a very real possibility despite what rental agents may imply), you may wish to consider a rental agent. We especially prefer the smaller ones. Nowadays rental agents need not be physically based here in Italy to offer reliable service. What often happens is that an agent based in (for example) the United States specialises in an English-speaking clientele, one based in France specialises in French-speaking clients, and so forth. (As you'll see, an imaginary "language barrier" need not prevent you from finding a villa on your own.)
To enhance your stay in Sicily, some rental and travel agents market additional travel and concierge services - things like winery visits and excursions to Mount Etna. Offering such "add-ons" is a fantastic idea, but you could easily reserve these outings on your own using the resources listed or advertised on our travel ideas or tour guide pages and elsewhere on the web. (That's one of the main reasons why Best of Sicily was launched in the first place.) Finding cooking classes or golf courses in Sicily, for example, is no mystery, and various firms offer sailboat rentals and other experiences. There's really no "secret" or esoteric knowledge involved. The real advantage of agents - indeed perhaps the only one - is that they list a number of villa choices in one convenient source.
Agents often present descriptions of villas and other lodging accomodations under invented names to discourage or even prevent prospective clients from finding the properties on their own on the internet - an approach we Italians call furbo (sly). Are we criticising this practice of adopting an "alias" as deceptive? No, not at all. It's entirely understandable that an agent wants to protect the chance to earn his commission by concealing the precise "identity" of the villa from you until you've made a decision to rent it. We're just revealing "inside" details to you in the interest of transparency so that you can be furbo too.
We know of no "important" villa rental agency (i.e. one that represents more than fifty properties) which actually has exclusive marketing agreements with every property owner they represent. At best, they have exclusivity agreements with some of them. No, we won't mention the names of the agencies that misrepresent themselves using terms such as "exclusive" and we're not going to file formal complaints accusing them of false advertising; that's really not our business. But it is important for you to understand that those claims are grossly inflated and that you may be able to save a substantial amount of euros, dollars or pounds by dealing with the villa owner directly, or perhaps working through a less expensive agency.
Think about it: Would you grant exclusive representation to an agent who could not guarantee that your rental property would be occupied - and therefore generate revenue for you - for a certain number of weeks each year? In other words, under a hypothetical agreement, the agency would have to pay you even for weeks during which they did not send you renters (customers). By the way, we know of several "major" villa rental agencies who have been "fired" by villa owners here in Sicily because the number of customers failed to live up to the agencies' promises - and this was before the global recession that began late in 2008. Others simply got tired of paying a 40% agency commission.
Despite claims to "exclusive" representation of certain properties - which may be accurate regarding a few specific villas - agents cannot prevent your direct contact with a villa owner. Some villa owners work exclusively through agents while others do not work through agents at all. In fact, most villa owners publish their own websites, albeit perhaps in slightly distorted English, so if you search by locality you can sometimes find them. Here are some practical tips...
» For an idea of where in Sicily you may wish to rent a villa, our region page is a good point of reference with a map indicating sights and sites.
» Search with "Siracusa villa piscina" (for example) for a villa near Siracusa having a pool (the word piscina, as you've probably guessed). This is not as tricky as it sounds, regardless of your knowledge of Italian (consider that the word villa, like espresso, is the same in Italian and English).
» If you wish to search generally based on a villa's characteristics rather than its geographic location within Sicily, search generally with the phrase sicilia villa affitto (Sicily villa rent), adding terms such as piscina (pool) as needed. To specify the number of bedrooms, simply add the number followed by the word camere (rooms). Alternately, try this with a number followed by persone (people) based on how many guests the villa sleeps.
» For a more specific geographic search, you might also insert the local telephone prefix into the search, hence "Siracusa villa piscina 0931." (Telephone prefixes, or area codes, vary not only by province but by locality; to find a prefix search with the name of the town and the phrase prefisso telefonico or consult a site like PorTel.it under "Prefissi d'Italia" for "Sicilia.") Here are a few for specific localities and the areas immediately near them:
Agrigento 0922, Catania 095, Caltanissetta 0934, Cefalù 0921, Enna 0935, Lipari (Aeolian Islands) 090, Marsala 0923, Messina 090, Noto 0931, Palermo 091, Pantelleria 0923, Ragusa 0932, Sciacca 0925, Siracusa 0931, Taormina 0942, Trapani 0923.
» To narrow the useful results, and to filter out from the results hotels and other services which happen to have the word "villa" in their name, add a term like settimana for a weekly rental, affitto (which means "rental"), mare for a place near the coast, casa to indicate a residence, or specify casa di vacanza (vacation house). You might also add the symbol (€) or word euro to the search phrase, as it may appear on a villa owner's site.
» On the Italian version of Google you can actually request just the search results in Italian (selecting pagine in italiano), which may make it easier to get to a villa site's homepage; the villa sites themselves may have language options. As the words Italiano and English often appear on sites' homepages, each is yet another potential search word.
» For an efficient search, the sequence of the words is extremely important: Always begin the search phrase with the name of the locality (city or town) or region (Etna, Madonie, Nebrodi, Iblei), followed by the word villa (or casa for a cottage) and then the other terms. Not only do these search strategies work, they can actually be satisfying, even fun - and learning a few Italian words certainly can't hurt considering that you'll be visiting soon. You may come to enjoy your new life as an internet spy!
Some villa owners may not be perfectly fluent in English, but they can usually manage an email; that's why translation software exists, and anyway cognates like the name of the month you'll be coming to Sicily are almost identical in Italian and English (agosto for August, etc.), so it's not the arcane "science" that some folks would have you believe.
One point should be made perfectly clear. We are not suggesting web searches simply as a way of avoiding the use of agents. Some villa owners having a particularly independent spirit (a typically Sicilian trait we admire) or perhaps having seen unsatisfactory results in partnering with marketing people, categorically refuse to work through agents. The only way to find their properties may be by searching on the web.
Will an owner give you a better price than you would get if you rented his property through an agency? A good question. It depends on the length of your stay and various other factors. Rental agents won't tell you this, but the "published" rates they quote are often negotiable, especially during a difficult season - and as the leisure travel industry recovers from the recession 2012 will be a fairly difficult season for many, though not as bad as the last two or three, which saw international leisure/vacation travel to Sicily down by around 50 percent compared to 2008. If the agent may be willing to discount a rate, so might the owner. Even if the rental agent is based outside Italy, the simple fact is that here in Italy negotiating for a better price is a way of life where "big ticket" items and services are concerned, and at well over a thousand euros per week a luxury villa rental is such a product.
Having made villa rental agents angry as can be, we should reiterate that they do offer a convenient service - which is why several good ones advertise on this website. Whether the service is worth as much as 40 percent of the villa rental price (demanded by the more "prestigious" rental agencies in an industry where commissions are unregulated and often subjectively established) is a discussion best left for another time and place. Especially outside the "high" rental season (May through August), it is often possible to negotiate a better price with some agents and even with some owners. Don't be afraid to try, even if it's not your customary approach. So the agent gets 30 percent instead of 40. So what?
Remember that you are the customer and that it's the quality of the villa and the hospitality of the owners that count most, not a rental agent's fancy office or website. Once you've made your reservation, it's up to you to get to Sicily and enjoy your holiday here - the rental agent, helpful and cooperative though she may be, was only the starting point. The whole idea of independent travel is that it's just that: independent. There are plenty of travel ideas and suggestions for things to do described on this site and others.
When it comes to bed and breakfasts, quality is a key issue. For more information, and a listing of a few better bed and breakfasts - in the cities and beyond - visit our bed and breakfast page, which also describes other options such as apartment rentals.
Guest Farms - Farm Houses - Country Retreats
Agriturismo is described in greater detail on our guest farm page. Think of it as a country bed and breakfast. One of the advantages of this kind of lodging is that, being outside of urban traffic (which in Sicily's larger cities can be chaotic and frustrating), it makes excursions to various sights within close driving distance a simple matter.